This post may contain affiliate links, which means I may receive a small commission, at no cost to you, if you make a purchase.
Anything is possible with a good makeup brush!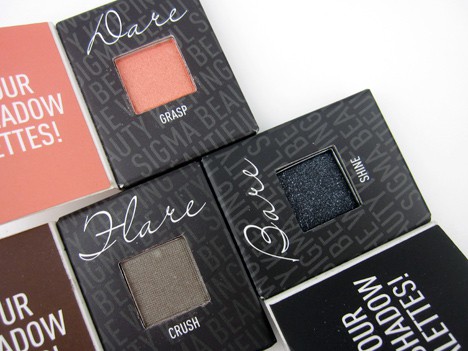 photos: we heart this
These days, it seems like many of us feel an undeniable pressure to measure up to unrealistic standards of perfection. The burden of this pressure extends to our families, jobs, homes and of course our physical beauty. Ultimately, we need to give ourselves a break and realize that perfection rarely exists.
I have, however, found that there are ways to give the illusion of perfection. You know, the "fake it until you make it" approach. Sigma Beauty showed me that with the right tools, we have the potential to at least create the illusion of perfection on our faces.
Sigma was founded in 2008 by a Brazilian couple, Rene, a civil engineer, and his wife Simone, a researcher with a Ph.D. in Molecular Biology. The duo combined their knowledge of engineering and scientific research and put it to use in the beauty industry to create this line of affordable and high-quality beauty products. The company currently seems to emphasize their dynamic and extensive line of cosmetic brushes.
I was able to test a few Sigma items, and the real gem for me was their Flat Kabuki (F80) Brush. It comes from their new Synthetic Kabuki line which is vegan and made with their signature Sigmax fibers. According to the company, the Sigmax fibers are uniquely designed to apply powder, cream, and liquid products without absorption into the bristles.
I was very pleased with this brush. It is incredibly soft, dense, and does not shed. Their claims about absorption were true. I was able to smoothly and evenly apply powder, liquid and cream without losing much product to the brush itself. The brush also made it easier to reach the weird contours of my face, like the corners of my nose that are usually so tricky.
This brush really made it possible for me to actually buff on my foundation and really gave me that illusion of flawless skin. This is absolutely a unique brush, offered at an excellent price point of $16. I highly recommend it to anyone.
In addition to brushes, Sigma offers storage and travel accessories, skin care tools, and a collection of eye shadow palettes. The entire catalog seems to be relatively affordable, with brushes starting at $9. Even better, the company also appears to frequently send free gifts with purchases. Woot.
Along with the Flat Kubiki Brush I received three eyeshadow samplers to explore:
Grasp, a peach shimmer from the Dare Palette
Shine, an intense black sparkle from the Bare palette
Crush, a smoky grey found in the Flare palette
Grasp, Shine, Crush
The shadows were a nice variety of subtle and intense. I experienced no fallout and the application was nice and smooth. After trying these free gifts, I would definitely consider giving their palettes a try.
With quality products and a great price point, Sigma Beauty may be a new kid on the block in the beauty world, but they are certainly worth getting to know.
we heartsters – are you ready to pledge some love to Sigma Beauty?
Disclosure: This review includes products that were provided by the manufacturer/PR firm for our consideration. It also contains an affiliate link, a link that gives us a small commission if you purchase the item. For more info, or any questions, please see our disclosure policy.