This post may contain affiliate links, which means I may receive a small commission, at no cost to you, if you make a purchase.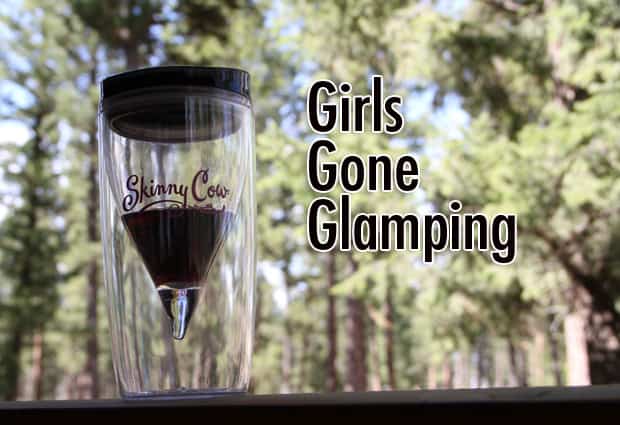 sponsored post
You really can have it all, here's proof…
As loyal readers of we heart this may know, Stef and I have been BFFs since Junior High. We've shared a lot over the years, but lately with full-time jobs, home and family, not to mention running this very site, we haven't been able to take the time to just have fun and relax. The folks at Skinny Cow fixed that by sending us on a once in a life time glamping experience. We spent three days admiring our beautiful surroundings, taking part in a few classic camp activities, relaxing, rewinding and just enjoying each other's company.
A glimpse at Trough, one of two top-notch restaurants at Paws Up
Today, we're bringing you all the details of our trip and pay attention, because you have a chance to go glamping too. Nine chances, actually! Skinny Cow wants to take you and your BFFs on your own glamping vacation with their Girls Gone Glamping Sweepstakes. The grand prize is a weekend of glamping at the posh Resort at Paws Up from October 2-5, 2014, where you will enjoy 5-star tent accommodations, chic campfire cuisine and delicious views with two besties of your choice. Here's a little more detail on what will be in store for you if you win a Girls Gone Glamping trip!
(And if all these pics aren't proof enough that you REALLY want to win this trip, check out our Instagram video.)
Stef and I touched down in Montana, and were instantly whisked away to The Resort at Paws Up. After a quick tour of just a small portion of the unbelievably beautiful 60 square mile ranch, we were brought to our cabin.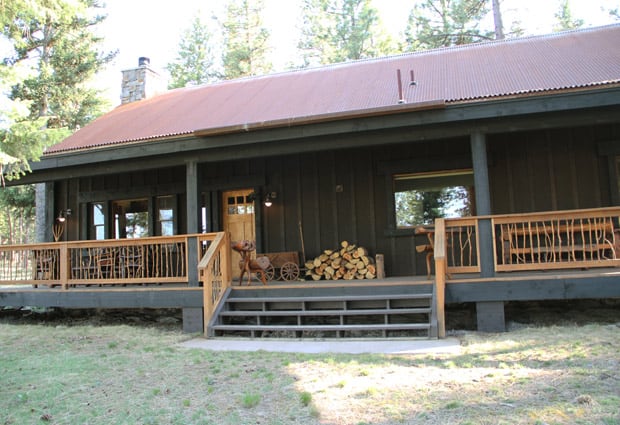 Ok, cabin isn't quite the right word, our accommodations in the Big Timber Homes rivaled that of any five-star hotel.
Our front porch
The Great room – Can you stand it?
Our cabin, named Glimmer Stone (all cabins are named after fishing lures) felt like walking into a dream home away from home. Lovingly decorated with a rustic chic feel, the cabin had three bedrooms, two baths, a fully equipped kitchen, a large front and back porch and even a hot tub. Stef and I wasted no time unpacking and making ourselves comfortable on the front porch, having some wine (from those Skinny Cow wine sippy cups shown at the top of the post!) and giggling over our great fortune.
The view from the loft, the gigantic fireplace, and a look down at the kitchen, complete with copper sink and build in slate cutting blocks
View from the master bath
One of the bedrooms, the KIA Soul each cabin gets use of during their stay, the back porch and hot tub
Morning view from the front porch…
…complete with visiting deer!
Skinny Cow swag galore!
How could you not relax in these settings? Stef and I spent most of our downtime on one of the two porches, nature watching and chatting. We also made sure to take advantage of the Skinny Cow ice cream and candies that magically appeared every evening – thanks Skinny Cow Fairy! A little bit of chocolate just made the whole experience that much sweeter.
The main tent at Pinnacle Camp
But, winners of the sweepstakes won't be staying in cabins. They'll be glamping in true style in the most beautiful campground you've ever seen, Pinnacle Camp. As official Girls Gone Glamping ambassadors, we took a tour of these accommodations our first morning there.
Situated on a bluff overlooking the Blackfoot River, Pinnacle Camp centers on the main tent where you'll find your "Camp Butler", a friendly wealth of knowledge who is there to make sure all of your needs are meet. From whipping up breakfast to keeping the campfire burning, the Camp Butler is always one step ahead of your plans. And if you really love a roaring fire, the main tent also features an incredible stone fireplace (above) surrounded by cozy couches, chairs and dining spaces.
Close by this main tent you'll find six large and comfy "tent suites" complete with featherbeds, ensuite bathrooms with a jetted tub and shower, and a cute little porch where you can sit, relax and watch the day go by.
Stef does what the mirror tells her to!
Stef and Tyna testing out a tent suite porch
An adorable Camp Butler, and the ever-lit outdoor campfire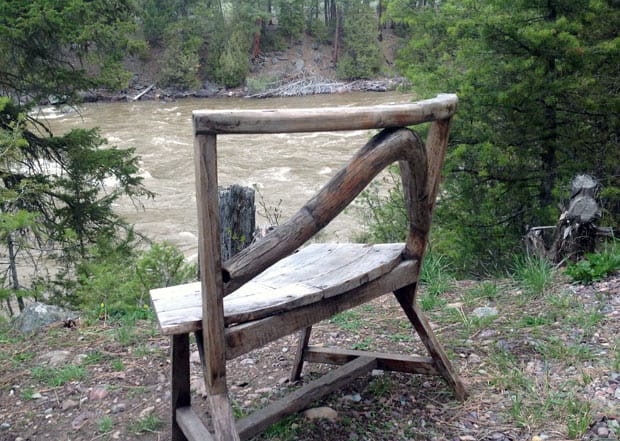 The best seat in the "house" overlooking the Blackfoot River
One could easily spend every hour of your trip to Paws Up relaxing at your cabin or tent, but there are also plenty of activities to keep you busy. Whitewater rafting, archery, fly-fishing and ATV riding are just a few possibilities, but both Stef and I knew we most wanted to go horseback riding!
We headed over to the stables to meet the crew and embark on a breathtaking, two-hour horseback tour of the Montana wilderness and Paws Up Ranch.
Complete with real live cowboys, this one's named Steve
Our tour guides Eva and Paul
Stef loved the scenery, but fell in love with this view the most
We spent a few hours in total eye candy heaven, feasting our eyes on landscapes ranging from towering pine trees to lush green meadows and even a large tranquil pond. Seeing the world atop a horse just brings a sense of peace and wonder, and I know both Stef and I will treasure this ride for many years to come.
Aww, Stef loves Bubba
Oh, and did I mention the food? You won't be roughing it when it comes to dining at Paws Up. With two restaurants specializing in "refined rustic ranch cuisine" made from locally sourced ingredients, even the pickiest foodie will find something to devour (all that outdoorsy-ness makes you hungry!)
Stef and I also discovered the lovely huckleberry, a local fruit you'll find in everything from pancakes and jams to lemonade and cocktails. (That's a peak at the delightful huckleberry-lemonade above right.)
Our Girls Gone Glamping trip not only helped to refresh our friendship, it also introduced us to a few new friends – fellow blogging Glamping ambassadors whose originality and enthusiasm sparked our creative fire here at we heart this. Our last night at the resort, we all gathered back at the Pinnacle Camp for a last hurrah (and another meal!)
After decades of friendship spanning junior high to careers to marriage, I can truly say our stay in Montana was one of our best experiences ever. We left the ranch with high spirits, a relaxed state of mind and memories we'll always cherish. A huge thanks to Skinny Cow and Paws Up for allowing us to experience the wonders of glamping!
So, are YOU ready to "rough it" with your best friends? Head on over to Skinny Cow and their Girls Gone Glamping Sweepstakes for the details on how to enter! You and your besties just may find yourselves in Montana this October. And even if you don't win one of the nine grand prizes, there are oodles of prizes up for grabs with their instant win game. Visit Skinny Cow for all the details.
Disclosure: Compensation was provided by Skinny Cow via Glam Media. The opinions expressed herein are those of the author and are not indicative of the opinions or positions of Skinny Cow.