This post may contain affiliate links, which means I may receive a small commission, at no cost to you, if you make a purchase.
photos: we heart this
The latest collection from the trend setters at Smashbox immediately took me back to my high school days. While the color selection is far from the neon colors of the 80's, it's impossible to hear the collection's name, Girls on Film, without thinking of Duran Duran and their iconic single of the same name.
I can draw a straight line from my love for Duran Duran to my love of makeup. It was impossible to watch their innovative, model filled videos, obsess over their album covers and stare at their glossy photos without picking up some ideas on style and discovering the wonders of makeup. As my Duran Duran album collection grew, so did my makeup stash.
the product boxes even look like video stills!
Sadly, the unflattering 80's color palette was not the best place to start for this heavy handed teen, but you'll have no such problems with any product from the Girls on Film makeup collection. Named as an homage to the photography studio roots of Smashbox cosmetics, this collection is filled with flattering hues and updated classics to get you camera ready and close up worthy.
There are two eye shadow palettes in this line offering a variety of shades to have you ready for anything, from an exotic filming locale in Sri Lanka to a London night club – or maybe just a trip to the grocery store (and you'll sure look good strutting down the produce aisle).
The Smokebox Palette ($42) is loaded with rich, deep shades for getting the perfect smoky eye or high impact drama. With a variety of mix and match but distinct shades in midnight blue, gray, purple and taupe you have the options to create a number of looks. Plus, the dark shadows, like Obsidian, the glittery black, can easily double as an eye liner
If you love the colors, but need some guidance, just check the back of the palette. You can scan a code onto a smart phone, or peel back the label, for information and diagrams on using the palette. How cool is that?
I tested out the other shadow set in this collection, the Softbox Palette ($42). As the name suggest, this palette offers softer, more casual hues in warm browns and taupes for every day wear.
Softbox Palette – Fizz, Pebble, Minx
I've been reaching for this slim palette on a daily basis for getting an easy, polished look. The colors all easily work and blend together and the shadows are rich and smooth. I actually use all six shadows – there's not a klunker in the bunch. My favorite color is Minx is a rich plummy brown with a hint of shimmer -it's become my go to shadow base.
Softbox Palette – Vanilla, Ignite, Sienna
Meanwhile, this palette has taught me to that orange on the eyes can be pretty. I've been amazed with Ignite, an orange-ish, semi nude that when used in the crease of the eye makes my blue eyes really pop. It's my new hue to grab when I want my eyes to really stand out.
For you cheeky lasses, there are two sweet shades of Girls on Film Blush Rush
($24) offering finely milled, super layerable color.
Girls on Film Blush Rush in Pose, Silhouette
Choose between Pose (a rosy pink) and Silhouette (soft nude) and get a natural flush of color that can be built upon and blended as needed. I'm swooning over Pose – it has an amped up, naturally flushed tinge of pink for a healthy glow without looking overly made up. I'm looking forward to hearing our testers thoughts on these beauties.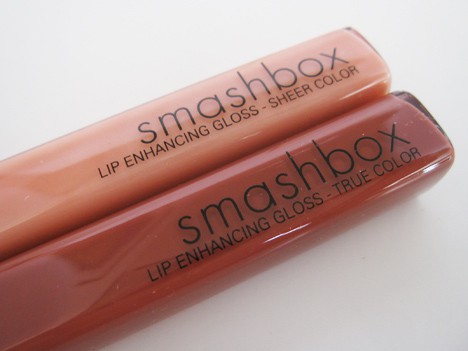 Don't worry gloss lovers, this collection has two new shade offerings for you too. The Girls on Film Lip Enhancing Glosses ($18) in Underexposed (rustic pink) and Overexposed (soft milky pink) housed in Smashbox's signature squared off tubes – these gems will never roll away from you as you're prepping.
Lip Enhancing Gloss in Overexposed, Underexposed
I tested Underexposed a super shiny, sweet brownish pink in a long lasting, slightly sticky formula that lasts for hours and hours. I love that I can apply this hue sans mirror and go, without worrying about the color spreading or fading. I also noticed a new spicy (cinnamon maybe?) note mixed into the soft, sugary scent.
Finally, for the gal on the go, the Girls on Film collection includes the Cream Eye Liner and Travel Brush Set ($28). Available in two shades, Sepia (midnight brown with gold pearl) and Blackout (black with blue pearl) these pots may surprise you.
In the pan, they look demure but once applied on the eye lid, the true colors and pearly highlights shine. Sepia, as it's name suggests, has a color that's hard to define, sometimes looking more plum, sometimes more brown – but always gorgeous and with just a touch of golden glimmer.
With the holiday season (and all those camera happy people) right around the corner, the Girls on Film collection is perfect for achieving that polished, pretty, low maintenance look we all strive to achieve. If you anticipate lots of family photos coming your way – or just feel like reliving a little 80's nostalgia and dancing to some Duran Duran – I highly recommend this tidy collection.
we heartsters – Get ready to strike a pose and smile for your close up with the help of Girls on Film from Smashbox.
Disclosure: This review includes products that were provided by the manufacturer/PR firm for our consideration. It also contains an affiliate link, a link that gives us a small commission if you purchase the item. For more info, or any questions, please see our disclosure policy.