This post may contain affiliate links, which means I may receive a small commission, at no cost to you, if you make a purchase.
I've been a fan of Soap & Glory for years now. This British company is known for creating products that not only work, they're fun to use too! (Their lipgloss is called "Sexy Mother Pucker" and I smile every time I wear it.) You may be familiar with their pink packaging that once graced aisles at Target and Sephora and are wondering where it went.
I am happy to share the news that they are now carried at drugstore.com, beauty.com and skinstore.com—and their prices went down! Woohoo! To celebrate their recent move, I get to review their dynamic duo: Flake Away and The Righteous Butter. With the two of these beauties, you are 2 steps from the softest skin you've ever had.
Step one in any skin softening routine should be exfoliation. You want to get rid of the dull skin to get to that rosy, healthy skin underneath. I'm a big fan of scrubs and as someone who has used too many scrubs to count, let me tell you that not all scrubs are created equal. Soap & Glory Flake Away ($15) is one of my favorites for the simple reason that it doesn't just exfoliate; it moisturizes and softens, too.
The first ingredient in this rich salt-based scrub is glycerin, which is incredibly moisturizing and sensitive skin-friendly. One thing that stands out when I use this product is that it clings to skin and you can really scrub and soften, even the roughest of skin. My pet peeve is a scrub that disintegrates or falls apart as soon as you apply it, but Soap & Glory's Flake Away stays put while you reveal a lovelier you.
In addition to salt and glycerin, this moisturizing scrub also contains shea butter, sugar, peach seed powder, grapeseed and almond oils. Delicately fragranced and a real powerhouse!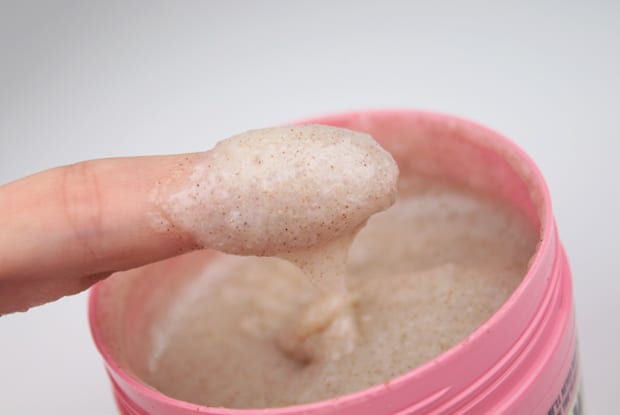 "With the two of these beauties, you are 2 steps from the softest skin you've ever had."
Don't hate on Stef for her customized butter container!
Step two in softening your skin is moisture. I can't get enough body butter in my skincare routine and Soap & Glory The Righteous Butter ($15) is one that frequently enters my moisturizing rotation. This butter is so popular that one is sold every 20 seconds! This moisture-packed butter is just decadently rich and contains shea butter, glycerin, coconut oil, cocoa, aloe vera, rosehip seed oil, omega 3-6-9 fatty acids and vitamin E.
Can I also say that Soap & Glory's signature "pink" fragrance is addictive? It's this lush blend of floral, fruits and musk that leaves you smelling so girly, it's really an instant mood booster.
As someone who has used this scrub and body butter separately and together, let me just say that they are extraordinary individually, but together, their skin softening capabilities are unstoppable. I have delicate skin that easily dries out and this dynamic duo gently buffs and softens the hardest of heels, knees, elbows, etc. It can take any problem areas and leave them as soft as the day you were born.
One of my favorite uses for these in the summer is to use the scrub on my legs to get a closer and smoother shave and then to slick the body butter on as soon as I exit the shower–it's like I have those gleaming, celebrity legs–the kind that look like they're lit from within and perfect (i.e. the kind of legs I DO NOT possess). Thank you, Soap & Glory!
Are any of you Soap & Glory fans, too? What's your favorite Soap & Glory product? Let's hear about it in the comments section!