This post may contain affiliate links, which means I may receive a small commission, at no cost to you, if you make a purchase.
How to add the color of 2011 into your wardrobe
I don't know how ya'll feel, but I am so over winter. The DC/Maryland area has been so icy cold this year that I'm just over it. Last year we had not one, not two, three full on blizzards and this year we've had some seriously low temperatures. I'm a girl from the south and I crave warmth, humidity and lots of sunshine. So it's no surprise that all I can think about is spring and what I will wear as soon as the temps get warm enough for a light jacket (I truly miss those days). Don't get me wrong, I've learned how and shared with all of you how to be cute in the colder months but really, I'm all about spring, summer and fall. So what am I looking most forward to this spring?
COLOR!
Everyone has been showing fabulous color blocking and bold colored solids and I'm just happy that fashion is (finally) returning to bold color.
I knew when the color authority Pantone announced Honeysuckle as the color of the year that bold color was going to be huge for 2011 – YAY! I know that for many of you this may seem daunting, but there are so many ways to incorporate color into your style without it being so scary. So let me give you a few examples of how to incorporate the trend color of the year into your wardrobe, with both subtle and bold options.


MAKEUP: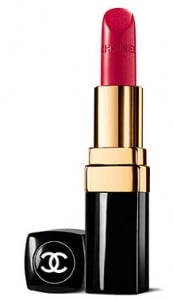 Subtle: Try a bright pink blush. It will go on sheer but still give you a great flush of color and perk up your pale winter skin. I adore NYC Cosmetics cream blush in hot pink. It is such a gorgeous shade in a super creamy and blendable blush. Blush is one of those beauty things I'd want to take with me on a dessert island. It is a staple in my beauty routine.
Bold: Try a bright pink lipstick. I have been obsessed with bright lipsticks lately and a fabulous hot pink has been at the top of my list. My favorite, Chanel Rouge Coco in Cambon, is a richly pigmented hot pink with a very subtle shimmer. It is perfect for both day or night, especially when paired with winged out black liner and lots of mascara.
ACCESSORIES:
Subtle: Try a stack of hot pink bangles, preferably with sparkle like these stainless steel and pink crystal bangles. A stack of these paired with an all black ensemble gives off a great pop of color without feeling like you're covered in pink.
Bold: Instead of a black or brown everyday bag, make your next bag pink! I rarely carry a bag that is black or brown, I prefer to carry color. It's bright, cheery and an instant pick me up. Invest in a gorgeous leather bag, like the Coach Poppy Large Rocker , in a vivid pink and you'll want to carry it everywhere you go.
CLOTHES:
Subtle: We talked about colorful tights last month, so why not try a pair of hot pink tights?! That's my lovely cousin Amelia, modeling the look in my photo at right – see how cute? If you're too scared of the bold hue, pair them with a solid colored dress and knee high boots (then you only have a few inches of color showing) but if you're really daring, pair the tights with something short and grab a pair of ankle boots!
Bold: When I dress I like to do what I call traditional with a twist. Classic shapes but in vivid colors, so try going bold with a classic shaped dress like this scoop neck, but in a super bold shade of pink. Keep your accessories as minimal or as bold as you like.
Want to really go bold? Pair the dress with contrasting color tights like yellow or orange to really stand out.
we heartsters are you loving the Color of 2011? And how ready are you to add some bright colors to your winter staples?
DWJ is an accessories and beauty blogger for The Art of Accessories and is also sharing her love of cooking on Crumbs & Creativity.