This post may contain affiliate links, which means I may receive a small commission, at no cost to you, if you make a purchase.
The latest high end ingredient, Argan Oil, hits drugstore shelves
photos: we heart this
Oil, long the bane of hair for modern women, is having a come back. Moroccan Argan Oil is probably the most popular and is popping up in new products every day. Now you can find this affordable luxury in your major retailer with the new Suave Professionals Moroccan Infusion
line.
Featuring shampoo, conditioner, a styling oil, and a deep conditioning mask, the Moroccan Infusion line has a little bit for everyone. I started my test in the most logical of ways – the Moroccan Infusion Shine Shampoo
($3.69) and Shine Conditioner
($3.69).
Straight out of the bottle, the first thing to hit me was the smell. If the feeling of cashmere had a smell, this would be it – down right luxurious. The product itself has a smoother, weightier feel to it than the average shampoo or conditioner and leaves hair with the perfect amount of slip without leaving a heavy residue.
After towelling my hair I immediately recognized a difference in the way my curls fell. Rather than bunching up they fell in a smooth, relaxed pattern. Who can argue with that? My husband (who wears his hair long) was even complimented by another man after using both the Shine Shampoo and Conditioner. And for those who color their hair (don't worry, I'll never tell) there is a Color Care
version.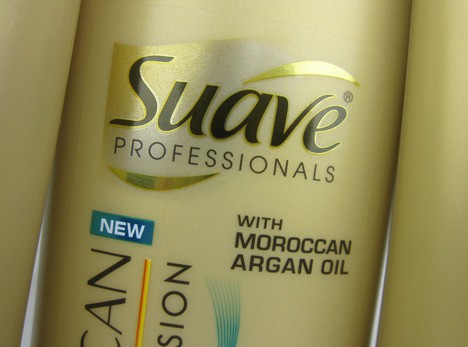 The Moroccan Infusion Deep Conditioning Shine Mask
($3.49) is for when you need to take conditioning to the next level. My hair is feeling crispy from running in and out of heated buildings to the cold, but after just one treatment with the Shine Mask it was like I had a whole new head of hair! I did notice that using it more than twice a week weighed down my hair, so I recommend limiting use.
Finally there is the Moroccan Infusion Argan Styling Oil
($7.09). A light oil meant to impart shine and conditioned softness, it just wasn't cut out for my curls. Without the use of some form of gel or mousse there was just too much frizz. But for those with straight or fine hair, this oil should produce much better results. Happily, on days I wear my hair in a bun it's the perfect finishing touch for healthy, shiny hair.
Pros:
• The price can't be beat
• Fantastic scent
• Easy to find in stores
Cons:
• Styling oil not enough for coarse or curly hair
Suave Professionals is the budget-conscious girl's best friend. With a vast range of products that cost less than your average cup of coffee it's a great way to try new trends and find new favorite products.
we heartsters – Have you tried Suave's new Moroccan Infusions products?
Disclosure: This review includes products that were provided by the manufacturer/PR firm for our consideration. It also contains an affiliate link, a link that gives us a small commission if you purchase the item. For more info, or any questions, please see our disclosure policy.
Latest posts by mandaleem
(see all)