This post may contain affiliate links, which means I may receive a small commission, at no cost to you, if you make a purchase.
Color lovers – take a look at your new favorite line
photos: we heart this
If there is one thing we're learned over the years on this beauty obsessed blog, it's that makeup fiends love color. Bright, vivid, deeply pigmented color. If you are a fellow color fanatic, let us introduce you to Sugarpill Cosmetics.
The story behind this knock out line is a "Glam Girl Makes Good in the Beauty Industry" tale after our own heart. This collection of loose and pressed powders was founded by the uniquely stylish Amy, creator of the wildly colorful clothing line called Shrinkle, inspired by "vintage dance costumes and lingerie, Japanese street fashion, and toddler beauty pageants." Finding that the usual makeup lines didn't pack enough punch, Amy formulated the Sugarpill shadows to compliment her sweet and edgy fashions.
Saying "Hi" to the one and only Amy at IMATS LA – June 2011
Launched in just 2010, Sugarpill Cosmetics quickly built a word of mouth/internet cult following, Amy has an ever growing army of fans. As a company, Sugarpill offers cruelty-free cosmetics in eye popping hues with many vegan friendly options – all at an affordable price.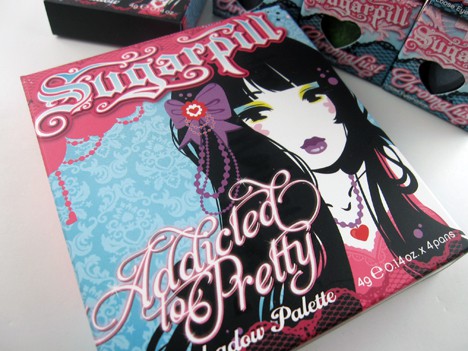 While I adore brightly colored eye shadows, I have to admit that I was a bit intimidated upon opening Sugarpill's Addicted to Beauty 4 Color Palette in Sweetheart ($34). This palette contains four large pans of pressed shadows; Midori, Afterparty, Tako, and Dollipop. I warn you, these are not subdued hues…
As you can see, these shades are bright and vivid and pretty much demand to be worn. And who am I to say "No"? Once I started playing with these shades, I found Sugarpill's pressed shadows have an awesome, velvety texture, which makes them completely blendable.
Right to left: Dollipop, Afterparty, Midori, Tako
Dollipop, a neon pink, seems scary at first, but is fun to play with. While Afterparty, a true and bright blue begs to be used. (I found that Afterparty blends beautifully with Dollipop to make a great purple.) Midori, an intense grass green, really pops (and I love pairing it with Afterparty for a teal effect).
Tako is a pigmented white that is the best highlighter I've used. This is a true white, great for those of us with pale skin – it creates a great canvas to build upon. Tako has become a stable in my eye routine for any colorful eye look.
As far as packaging – Sugarpill has it together when it comes to flair. Bright pink graphics demand attention on a sturdy black, flip style compact with a large mirror inside. I'm a fan of substantial palettes that I can feel confident throwing in my purse. This palette is wonderful, with all the hues working together, and makes a great intro to the company.
Not sold on this exact foursome? All four colors (and more) can be purchased separately in individual pans of Pressed Eyeshadows.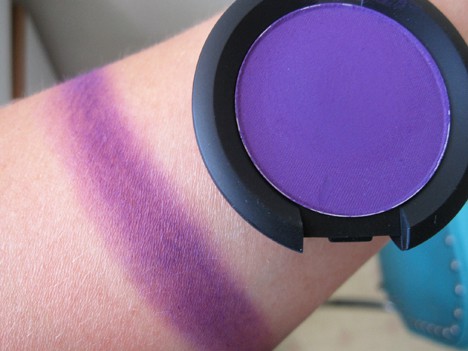 Pressed Eyeshadow in Poison Plum
Featuring more intense hues, like Poison Plum above, this carefully culled collection (nine hues and growing) offers pressed shadows at just $12 a pan.
But where Sugarpill really shines is in their Loose Eyeshadow collection. Offering a dizzying array of unique colors, these powders are full of sparkle and life – and on the face of every It Kid and Drag Queen in town.
Absinthe – A mischievous vivid lime green with yellow undertones.
Weekender – Metallic blue-violet with intense sparkle and sheen.
Magpie – Dramatic silky black with metallic blue sheen and turquoise sparkles.
Loose Eyeshadows: Absinthe, Weekender, Magpie
I had the chance to try Sugarpill's ChromaLust loose shadow in Weekender, a blue-based, metallic lavender. Like most loose, pigmented shadows this color is build-able. You can have a sheer wash of color or a deep hued, sparkly purple.
Plus while there's always some fall out with loose powders, once these are set the color and sparkles stays put. Of course, a great primer and careful application always helps too!
Goldilux – Brilliant, highly-reflective metallic gold with breathtaking shine.
Stella – The blackest of jet blacks, bursting with rainbow diamond sparkle.
Darling – Stunning teal loaded with iridescent turquoise star bursts.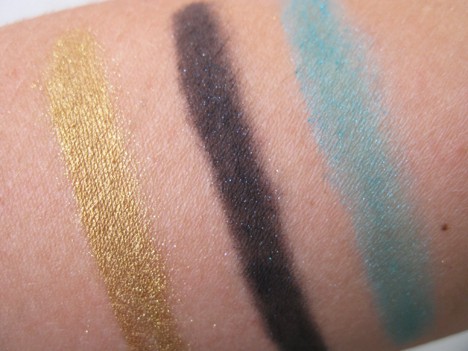 Loose Eyeshadows: Goldilux, Stella, Darling
These 5g containers hold a lot of shadow at a good price, $12 per pot. Plus with loose shadows like these, I always just tip the container while still closed and just use what clings to the lid. This makes it last forever and gives me just the right amount of product without worrying about sneezing and blowing pretty purple powder everywhere.
Sugarpill's bright colors and glitter are perfect for parties and night time events. in fact, pairing a little black dress with a sparkly clutch and bright colored eyes was my holiday look this year.
we heartsters – what do you think about Sugarpill's color saturated shadows? Intimidating or the perfect party accessory?
Lucy loves Lady Gaga, lattes, trashy television and anything zombies. She's a geeky girl who likes tech gadgets, reading tons of books, playing with gender roles and is constantly surrounded by a small army of cats.
Disclosure: This review includes products that were provided by the manufacturer/PR firm for our consideration. For more info, or any questions, please see our disclosure policy.
Latest posts by lucylemonade
(see all)