This post may contain affiliate links, which means I may receive a small commission, at no cost to you, if you make a purchase.
Skin gets a super boost from "superfoods" Apple, Melon and Chia
photos: we heart this
Dr. Nicholas Perricone is my kind of guy: a board certified Dermatologist, a professor of medicine at Michigan State University (Erin's alma mater!), a NY Times bestselling author, nutritionist, a guest on many TV shows and PBS specials, and a research scientist who lucky for us, has incorporated that knowledge into an award-winning line of skin care products.
Dr. Perricone is regarded as the Father of the Inflammation Theory of Aging, which basically states that our skins' breakouts, wrinkles, and loss of firmness is due to microscopic irritation in our cells, which leads to cell damage, and thus the signs of aging.
To treat this inflammation he has developed the holistic line called SUPER, based off his discovery of a select group of foods he calls Superfoods. These brightly colored foods – mostly fruits and vegetables, are rich in powerful antioxidants that are essential for reducing inflammation and overall health and vitality. Eating them naturally and applying them to your skin in the concentrated form of the products will give you the same great healthy benefits.
We got to try three new products to the SUPER brand, from the Apple, Melon and Chia lines, called Activators, which are sort of like a toner – but better. A super toner, if you will. Formulated to be used after washing and before treatments, a swipe of Activator helps "prepare pores to take in nutrients and increase the efficacy of treatment products."
And before I go any further, it's important to note that Dr. Perricone went the extra step in this line and created these cruelty-free products without parabens, propylene glycol, silicones, mineral oil, phthalates, sulfates, or synthetic fragrances. They are made in the USA and packaging is made with 80% PCR paper in a carbon neutral facility.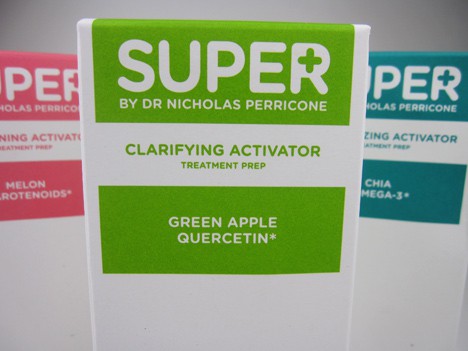 I tested the Clarifying Activator Treatment Prep ($38), which contains the key ingredient Quercetin, a compound found in green apples. Research has shown that Quercetin, among other benefits, reduces inflammation. When applied to the skin it can prevent acne and calm red, irritated and sensitive skin.
This powerhouse activator also includes malic acid for smoother, firmer skin, salicylic acid and glycolic acid for exfoliation and pore reduction, and zinc, which when depleted can lead to acne. I've been testing this for almost a month and have to say I'm SUPER impressed!
I had a few blemishes when I started using it. They cleared up within a couple days and none have returned since. My oily areas seem under control and my pores even seem to be a bit smaller.
The formula is very gentle too. It doesn't dry my skin out at all – for the sake of testing I've gone sans moisturizer after using it a few times and had no dryness or irritation. But it does prep the skin beautifully for moisturizer though, which seems to soak in better and do more of its job.
I would definitely say my skin looks brighter and smoother after a month of using this and I feel confident and am excited to see if it keeps away the acne for good!
A fellow review team member tested the Chia oil infused Moisturizing Activator Treatment Prep. Chia oil creates a natural, air-tight barrier to keep moisture in and hydration-suckers out, while delivering unparalleled levels of Omega-3 for nourished, moisturized skin. This formula also contains Lactic and Glycolic Acid for exfoliation, Ceramides and Oat Protein to soften, condition, and smooth dry skin.
Another tester tried the Brightening Activator Treatment Prep part of the Melon fortified group. Melon contains Beta-carotene, which is an antioxidant that penetrates and absorbs in the skin for fast acting brightening and protection. This oil-free base also contains Lactic, Ferulic, and Phytic Acids to exfoliate and brighten skin suffering from sun damage and hyperpigmentation. Vitamin C is included along with the soothing Comfrey Root and Green Tea.
If either of these sound super intriguing, make sure to check the comments to see what our testers thought of the Activator Prep step.
we heartsters – are you SUPER excited to try out the latest from Dr. Perricone?
Disclosure: This review includes products that were provided by the manufacturer/PR firm for our consideration. For more info, or any questions, please see our disclosure policy.