This post may contain affiliate links, which means I may receive a small commission, at no cost to you, if you make a purchase.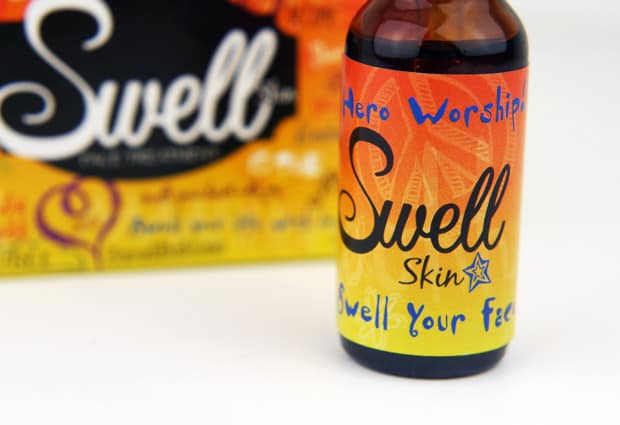 Two steps to help conquer two annoying skin issues
I've turned into something of an oil aficionado: coconut, castor, rosehip and tamanu oil have all cycled their way through my skincare lineup. Basically, I'm a happy, shiny oil-slick each night before bed – I love the multi-tasking nature of oils (face cleansing, eye makeup removing and moisturizing), as well as their skin-nourishing properties.
However, although I've seen the overall quality of my skin improve since I've incorporated oils, I still have trouble with hormonal jawline acne, accompanied by fine lines and a truly dastardly forehead wrinkle. (That's the most charming combination ever, right?) Enter a two-step regimen, created especially to help quell those very issues: Swell Skin.
Naturally, I was thrilled to review the Swell Skin line: two simple products, a face treatment and oil, made with sea buckthorn. Sea buckthorn is actually a hardy shrub; I was hoping it would be a magical aquatic plant, like something mermaids would use, but no. However, sea buckthorn is chock full of amazing goodies for your skin, like Vitamin E and omega fatty acids, and its been used for sunburns, chemical burns, eczema, and even radiation poisoning.
Plus, according to the Swell packaging, Genghis Khan and his armies drank sea buckthorn juice to help heal battle wounds – I mean, I'm not trying to become a fearsome warlord or anything, but I'm all about conquering my skin concerns.
The first product is the Swell Skin Face Treatment ($25), a sea buckthorn soap with aloe, astragalus, Vitamin E and coconut oil. You just wash your face with it every night; you can even spot treat acne by leaving the soap on for a minute and then rinsing.
The soap lathers nicely and easily strips a full face of makeup; I did find it a little drying, but my skin seems to hate any soap, so no surprise there. Overall, it left my face feeling really clean.
The mild dryness was quickly alleviated by step two, the Swell Skin Oil of Sea Buckthorn ($17). The oil is thick, golden-green, and spreads and absorbs easily; a little goes a long way. You can just dab it onto acne spots or fine lines, but I am a fan of the slather-it-on method, so I smoothed it over my entire face, concentrating on my jawline.
Upon application, my skin felt really moisturized, like it was drinking all that sea buckthorn goodness right up. I made it a point to do a heavier application at night, when the skin repairs itself, but I also added a few drops to my moisturizer in the morning.
Now, a note on the scent of the oil – remember how I hoped sea buckthorn came from the ocean? Well, it definitely smells like the sea, only not the fresh ocean-breeze type scent. No, this is more a pile of seaweed; there are definitely really strong, musty notes. However, this isn't a deal breaker, because the odor dissipates quickly once applied.
The end result of this dynamic duo? Skin that looked pleasantly plumped-up and glowing and felt silky-smooth. Although it didn't obliterate my jawline spots completely, it definitely calmed the irritation and decreased the swelling; unlike chemical acne treatments, it didn't leave me with dry, peeling areas.
Overall this duo (which you can purchase together for a Swell Skin deal of $37) is an easy, soothing and effective way to keep troubled skin in check – as the packaging notes, "Good enough for Genghis, good enough for me."
we heartsters – Have you ever tried sea buckthorn oil, or are you currently using any other oils in your skin regimen?
photos: we heart this
Amity writes and teaches in Central PA. Her obsessions include: Rodarte (she can't afford any Rodarte, mind you, but a girl can dream), espresso, books, vintage/thrift fashion and fountain pens. She thinks you should dress like a weirdo once in a while, just to shake things up.
skin tone: NC15
skin type: Combination
favorite beauty product: felt-tipped eyeliners