This post may contain affiliate links, which means I may receive a small commission, at no cost to you, if you make a purchase.
Affiliate Link
Our Top 10 Gift Picks To Give or Receive from Target
Confession: the holidays are not always my favorite time of year. I mean, I'm not quite at the point where I'm ready to install the Festivus pole or anything, but huge crowds and relentless loops of Mariah Carey's "All I Want for Christmas is You" wears on a girl after a while, you know?
That being said, there are some foolproof cures for impending Scrooge-hood: the first glittering flakes of snow drifting from the sky, a gingerbread latte with an extra shot of espresso, a perfectly imperfect Charlie Brown-style Christmas tree, and the exact right gift for someone special. Gift giving means a lot to me – I'm not a gift card or generic-present kind of gifter, so I focus on specialized goodies, like design-your-own sneakers or customized Etsy creations or hand-made beauty potions.
However, I have another card up my sleeve – Target. Yes, Target is a big box store, but never underestimate the power of the red bulls-eye. I can always find stocking stuffers, home décor, and affordable but creative presents there. To prove I'm not a total Scrooge, I've shared my top ten treasures to get you and yours through the holidays, festive moods intact:
Decking your halls: I can't get over how cute these "Sugar Cookies for Santa" kitchen towels are. They'd be adorable in your own kitchen, but they'd also make the best wrapping for a gift of homemade cookies (the recipe is on the towel, you guys, so super easy if you don't have a go-to recipe already). If Santa is into something a little harder than milk – and who could blame the poor guy – serve up some piping hot libations in this stoneware beverage dispenser with matching animal-head steins ($34.99). I'm thinking mulled wine would taste even better out of a wolf-head stein.
For the lover of all things beauty: I've long been a fan of Sonia Kashuk, and her brushes are affordable and high quality, so they make great gifts. Her 10 piece limited edition "All that Jazz" brush set ($34.99) has everything a beauty maven needs in one sleek gold package – the contouring brush is really stellar. To go along with those snazzy brushes, pick up this Pixi by Petra Ultimate Beauty Kit ($34) – a palette of shadows, blushes, and glosses in both Warm and Cool to put your whole face on in a hurry. Wrap the whole shebang up with some leopard-print ribbon and you're good to go.
For the fitness enthusiast: Ok, I'm coveting both of these fabulous Orla Kiely items and cannot be blamed if I gift myself with them, seriously. First are these botanical print yoga mats ($24.99) in Rose, Sunflower, Apple Green, and Graphite. And what's a yoga session without an adorable water bottle ($24.99), like these glass ones in matching prints? Yoga is a non-competitive sport, yes, but your giftee will win the stylish accessories contest, hands down.
For the pet-lover: I firmly believe pets should get holiday presents, too – no Grinch-ing out on our four-legged BFF's. There's a whole range of sturdy and bright dog toys, like this set of Christmas tree bulbs on a rope, plus toy-filled stockings ($9.99) for your cat. What I'm really excited about, though, are these antler headbands ($5.99) for your pup. Now, these headbands are really a gift for you, because your pet will probably hate you for it, but think of the photo ops. (We just got a Saint Bernard puppy, and trust me, these antlers will be making an appearance on him for sure).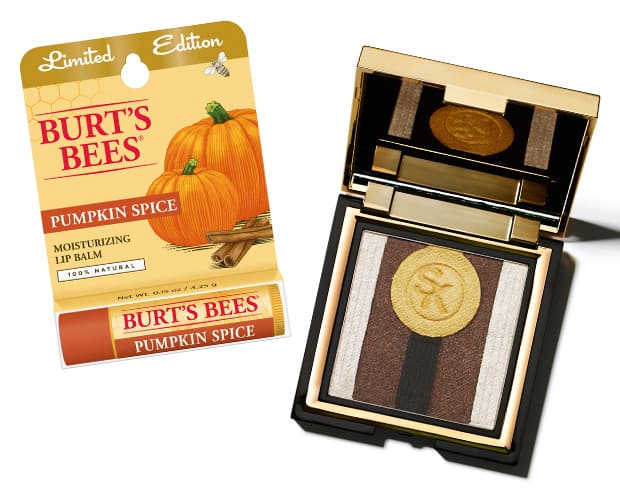 Stocking stuffers: There are a ton of inexpensive options here – don't forget the dollar aisles by the front store entrances, especially if you are shopping for kids. Because I know beauty loot is near and dear to all our hearts, I'd recommend the Burt's Bees Moisturizing Lip Balm in Pumpkin Spice ($2.99), it's limited edition, and you can only get it at Target. I already picked this up, and it's really good – the typical creamy, soothing balm with a hint of pumpkin scent and flavor. Another great pick goes back to Sonia Kashuk: her limited edition Eye Palette in Deco Starlet ($19.99) houses chocolate, black, cream and gold shadow. This gives you a great base (the chocolate), while the white/gold acts as a perfect highlight and the black provides lining drama.
Looking over this list has actually made me excited for the holidays – guess I'll call off the annual airing of the grievances. If you need me, I'll be listening to "Christmas Wrapping" by The Waitresses' and inflicting antler-headband torture on my puppy.
we heartsters – What do you pick up at Target for the holidays? Are you also obsessed with Orla Kiely? And are you pro a Festivus for the Rest of Us, or is it easy to get in the holiday spirit?
Amity writes and teaches in Central PA. Her obsessions include: Rodarte (she can't afford any Rodarte, mind you, but a girl can dream), espresso, books, vintage/thrift fashion and fountain pens. She thinks you should dress like a weirdo once in a while, just to shake things up.
skin tone: NC15
skin type: Combination
favorite beauty product: felt-tipped eyeliners