This post may contain affiliate links, which means I may receive a small commission, at no cost to you, if you make a purchase.
Sweet flowers or abstract freeform – nail art that anyone can do!
Nail art can be intimidating. (Really, art in general can be intimidating, but today we're just tackling nails.) What is it about putting a brush in your hand that can instantly freeze you in your tracks?
Want to know a surefire way I learned to overcome it? Just start. Grab your supplies and JUST PAINT. All you have to lose is a bit of time, some polish, cotton balls and remover. The good news? You will get better, I promise. You may never be this good, but who knows – you might!
Here are two easy tutorials to get you started…
A quick trip to Target gave me everything I need for some fun, spring manicures.
Easy Flower Nail Art Tutorial
Supplies:
• Polish of choice (personally, I think three is the magic number for nail art)
• Toothpicks
• Paperplates
Fierce N Tangy, Sweet Clementine, Shocking Seas
I wanted bright, fun colors for my flowers. And they don't get much more bright and fun than Maybelline Color Show Nail Color ($2.99). Whether you go with a traditional flower color theme (white, pink and red) or an electric theme like I chose here, the color range of this line is hard to beat. Not to mention that they're inexpensive, long wearing and nicely pigmented!
Step 1: Paint a base coat. Whether you paint all your nails the same or mix them up is up to you.
Step 2: Dab a bit of your first flower shade onto a paper plate (just enough for one flower) and pick up a hearty amount of it with the end of your toothpick.
Tip: this is a lot easier to do with a dotting tool. And if you're going to be the next Picasso of Nails, you really should get one.
Step 3: Make 5 dots onto the surface of your nail.
Step 4: Using a fresh toothpick, pull the inner edge of each circle towards the middle to create your petals (as shown on the orange nail above).
Step 5: Repeat steps 3 and 4 one at a time on each nail. Make sure to use a fresh dab of polish and toothpick for each step.
Step 6: When all of your petals have been placed, use a toothpick to create your center in a contrasting shade.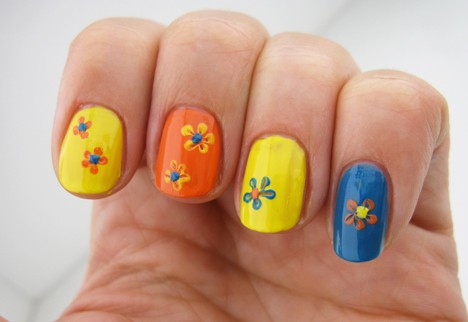 Step 7: apply a top coat and admire your new spring manicure!
Freeform Nail Art Tutorial
Supplies:
• Revlon Nail Art Expressionist Nail Enamel (which has two shades and two brush types in each)
Seriously – that's all you need! The latest and cleverest from Revlon gives anyone all the tools they need to be a Monet.
Which is, incidentally, the name of the shade I bought! Monet is a duo of Tiffany blue green with a standard brush and a sparkling chartreuse with a thin brush.
Night and Degas, a black and white cream, would also be a great one to buy. You can wipe the brush and use either shade as an additional accent.
Step 1: The first step in freeform is that there are no steps to freeform!
Paint a base then doodle, dot, scribble to your heart's content. The talent crew at Kleur can give you all the inspiration you need.
Don't like what you came up with? Remove it and start again. There were a couple of nails here that I tried 3 or 4 times! Try and try again, and stop when you're happy.
we heartsters, who are your favorite nail artists? Share them with us in the comments! And get to Target to start your next masterpiece.
It's Time for Springtime. Disclosure: Compensation was provided by Target via Glam Media. The opinions expressed herein are those of the author and are not indicative of the opinions or positions of Target. For more info, or any questions, please see our disclosure policy.