This post may contain affiliate links, which means I may receive a small commission, at no cost to you, if you make a purchase.
A Magnificent Take On The Biggest Trend Of The Last Few Years
Never mind Emerald Green and Radiant Orchid, beauty lovers know that the colors of the last few years have been neutrals. Taupes, browns, nudes, soft grays and peachy-pinks are the hues every makeup lover has been wearing on their lids. As a low-key makeup lover, I adore this trend, and I was over the moon to get my hands on tarte's unique take on the style – the Be MATTEnificent Eye & Cheek Palette.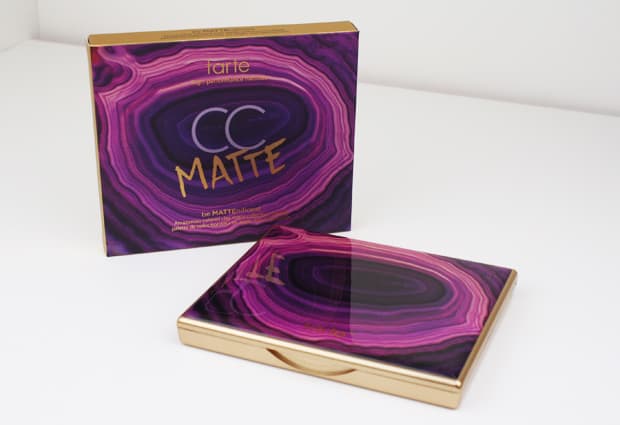 Don't worry color lovers – this palette has just enough oomph to keep you happy. Plus you'll get a pop of that Radiant Orchid in the stellar packaging. The tarte Be MATTEnificent Amazonian Colored Clay Matte Eye & Cheek Palette ($36) is housed in a large, yet sleek compact that is one of a kind.
Trimmed in gold, the face features a swirl of pink and purple reminiscent of a cut mineral rock. Gorgeous, and totally practical and portable at the same time.
Of course, it's the goods inside that really matter, and tarte does not disappoint. Once you're done admiring the palette, you'll open it to find six new and limited-edition eyeshadows, two liners and one blush in "everyday shades that complement all complexions." Tarte takes things one step further by offering the hues of the last few seasons in all matte finishes.
That's right – all matte. Since I am starting to worry over fine lines and wrinkles, I love that there is no shimmer or glitter to draw attention to those little flaws. But if you require a bit of sparkle, no problem, these shadows are super blendable and buildable. You can add your favorite glittery, shimmery shades if you so desire.
Let's talk color! In addition to a double-ended shadow brush (great for touch-ups on the go) you will find these nine shades:
Blush:
Elevated – medium pink nude
Eyeshadows:
Sand out from the Crowd (base) – cream
Peach for the Stars (lid) – cool light peachy brown
Two Plums Up (outer corner) – dark plum
Pink Outside the Box (lid) – cool light pink
Rose to the Occasion (crease) – cool light plummy brown
View from the Taupe (crease) – light brown-leaning taupe
Shadows/Liners:
Dream in Chocolate – dark chocolate
Don't Stand Black – inky black
Eyeshadows – Sand out from the Crowd, Pink Outside the Box, Peach for the Stars, Rose to the Occasion, Two Plums Up, View From the Taupe
While tarte suggests where to apply each shadow on your eyes with a handy inset, the beauty of these soft, matte hues is that they seem to work almost anywhere! I have been wearing Rose to the Occasion, a crease suggestion, almost every single day all over the lid. For me, it is the perfect base and really makes my blue eyes pop. I can add just a sweep of Sand Out From The Crowd over the brow bone for an easy daytime look, or blend Two Plums Up into the crease for a more dramatic style.
Blush – Elevated, Shadows/Liners – Dream in Chocolate, Don't Stand Black
The blush, Elevated, provides a gorgeous, natural looking flush of color and I am loving the matte finish. It lasts all day and even after hours of wear there is no shine on my cheeks.
I think my favorite of all the colors is the Dream in Chocolate shadow/liner. The deep dark brown is heavenly. It defines my eyes and adds a ton of drama, but doesn't look too severe on my pale complexion. Honestly, both liners are amazing. They are so intensely pigmented and easy to work with – they're fabulous!
Overall, imo the Be MATTEnificent Eye & Cheek Palette is a steal! At $36 for nine hues, that works out to just 4 bucks a color. Not to mention the double-ended brush. Best of all, there is not a clunker in the bunch. I've used each and every shade a number of times, and will continue to experiment with them all until I hit pan. Talk about magnificent! What more could you ask for from a makeup palette?
we heartsters – Are you a fan of matte makeup? Or do you need some sparkle?
photos: we heart this, swatches shown on NC25/30 skin tone