This post may contain affiliate links, which means I may receive a small commission, at no cost to you, if you make a purchase.
photos: we heart this and Phyrra
We are well into summer and I imagine you are either crossing the final items off your spring cleaning list or you are happily springing on past them! But hold on a minute, did you remember your beauty stash?
We've already shared Stef and Tyna's envy worthy vanities (as seen above) and waxed on about the importance of having a little space to get your daily prep on. But no matter where or what your prepping space, organization is still key.
No matter how many powders or lipsticks you own, they're no good if you can't see them. And we all know it's hard to get gorgeous when you can't find your daily tinted moisturizer or favorite lip gloss. Those precious morning makeup minutes can slip away if you're not organized.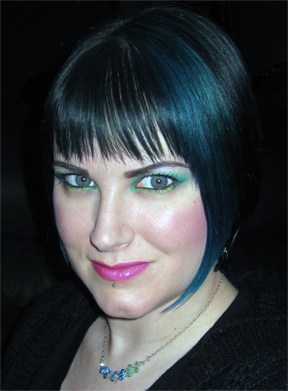 To help us clear out the chaos, I contacted one of the web's top beauty bloggers and friend of wht, Phyrra (that's her, at left), for some tips on beauty organization.
Phyrra, a lover of writing and gaming, standard poodles and sci-fi/horror/fantasy, is also a make up junkie. Over at her beauty site, she's popular for her Face of the Day (FOTD) feature, and she's got a stash of makeup that would make anyone envious. So how does she get it all into its right space? And keep it in place and accessible when she needs it?
For the benefit of wht readers and beauty hoarders, I've boiled Phyrra's genius down to a three step plan: The How, When and Why of Beauty Organization. Let's get started!
The How:
• Take stock of all your makeup. Throw away any makeup that has expired, is broken, has changed color or looks or smells bad. While you're in there, make a pile of good makeup you never wear for friends to pick over ~ when they are done, toss the leftovers.
• Now you know how much you have of each kind of beauty product. Purchase a container or furniture (or pull something from your home) that will hold the entirety of of your collection. It should have some shelves, drawers or space for containers for holding smaller collections like glosses or eye shadows. Keep in mind, the importance of having it all easy to access.
Phyrra as a beauty blogger, for example, is going to require a lot of space for her samples – which she categorizes and files in binders! She uses an Ikea filing cabinet called the Helmer ($39.99) for nail polish and a 10 drawer storage unit (above) for other makeup. Those of us with lesser volume may not need the same size as Phyrra but she has exactly the right idea.
The Why:
• The key is always keep like with like, putting each category of product together and then finding a home for those items where you can easily see them and access them.
Phyrra says her biggest motivation for staying so organized is being able to find exactly what she is looking for when she needs it. Pretty simple reasoning. Knowing where your favorite lipstick and mascara is a simple thing, but that doesn't take away from how powerful it is to be able to have what you want at your fingertips. A little organization saves time, dollars and sanity.
The Where
• You can find storage solutions everywhere! The Container Store, Bed, Bath and Beyond and Ikea are a few of the usual suspects for great storage systems.
• But you can get as creative as you like! Use mason jars, baskets and boxes from around your home. Shop Etsy, eBay, Craigslist and garage sales – they're all fun places to find containers to repurpose for organizing. Additionally, recycling from these sources is kind to the environment as well as your pocketbook.
Need a few suggestions? A few simple, reasonably-priced storage options I like include:
Brushes/Pencils:
* The YNGAREN Brown Jar with Lid (above, left) from Ikea, $5.99
* The LILLHOLMEN Glass Jar and Stainless Lid from Ikea $4.99
* A Vintage, Oblong Silver Tray by SouthSpringSt on Etsy $22
General Makeup
* Stacking Vanity Trays (above, right) from The Container Store $7.99 and up
* The KOMPLEMENT Storage Compartment from Ikea $20
* The Rain Expandable Drawer Organizer from Bed Bath & Beyond $12.99
Once you have a place for everything and everything in its right place, you will be amazed at all the extra time on your hands. And sort of thrilled at how neat and organized it all looks. Not to mention the benefits of lowered stress levels from nixing those panic stricken mornings. And that, dear readers, is the true beauty of organization.
Beauty junkies of wht – How do you store and organize your products? Share your tips, tricks and secrets in the comments!