This post may contain affiliate links, which means I may receive a small commission, at no cost to you, if you make a purchase.
sponsored post
Stop looking: You've found the best hummus pasta salad recipe
Rather bold claims, I know. But make it and tell me you don't agree.
Appetizer, entrée, dessert. Been there, always do that. Are you having people over on July 4th? We (and Sabra) think hanging out with friends and family calls for celebration. It calls for an extra course! That's right, why not have a 4th on the 4th? Sabra has a whole slew of ideas for your fourth course, check them out HERE. And what do you know, we have one right here…
To me, a summer celebration is not complete without pasta salad. It satisfies everyone: adults, kids, vegetarians. But mayo-based salads can get sketchy when they're left out too long. And the standard bottled Italian dressing-laden pasta salad never excites me. You know what does though? Adding Sabra hummus to it!
With the addition of salty olives, tomatoes bursting with flavor, fresh lemon and thyme – this Mediterranean pasta salad is honestly the tastiest I've ever had. And not a shred of cheese in sight!
Ingredients
1 lb of pasta (reserve ¼ cup of water when draining)
7 oz container of Sabra classic hummus
8.5 oz jar sundried tomatoes in olive oil (reserve 2 tsp of oil or more)
1 cucumber
4 oz Kalamata olives
1 ½ tsp fresh thyme
2 tsp fresh lemon juice
Directions
1. Cook pasta to al dente instructions on box. The choice is up to you on the shape of your pasta. Personally I love hollow pasta, especially for salad. When the ingredients get stuck in the middle, it's a delicious lil' peek-a-boo. Stubby mezzi rigatoni, shown here, is perfect.
2. Drain pasta, reserving ¼ cup of the water. Pour into whatever bowl you're going to serve the salad in. (Side note, how cute and convenient is my retro Neoflam stockpot? I get to boil and serve in the same vessel, and it even has a lid!)
3. In a separate bowl, whisk the container of hummus with the ¼ cup reserved pasta water. Then, add it to the pasta and toss.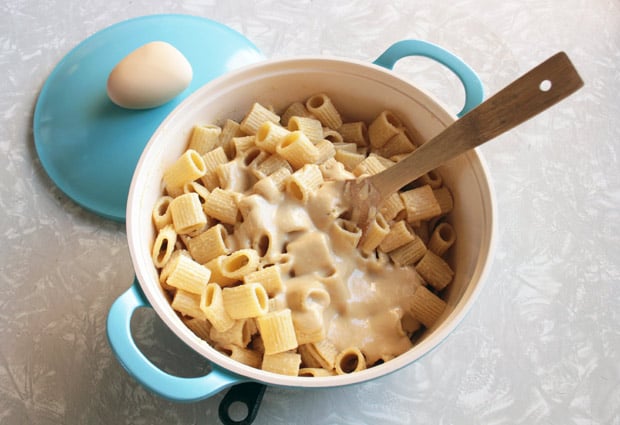 4. Peel and de-seed your cucumber. Want to know the easiest way I know to de-seed? Cut the cucumber flat on one end, then into four lengthwise pieces. Stand each piece up a cutting board and just slice off the seeds with one swoop. Once you have de-seeded the four pieces, cut each in half lengthwise again, then chop into approximate ½ inch pieces and add to the pasta.
5. Drain your tomatoes, reserving all of the olive oil. Not only are you going to add some of it to your pasta salad later, it's damn tasty to cook with! If you weren't able to find strips (like me) cut the tomatoes into strips right into the pasta bowl with scissors. (Confession, I cut everything with scissors that I possibly can.)
6. Add drained olives.
7. Squeeze that lemon and, you guessed it, add it to the pasta.
8. Remove thyme leaves from stem and mince. It's ok to curse at how tiny the leaves are. Toss 'em in the pasta.
9. Remember that olive oil you reserved from the tomatoes? Add 2 tsp of the oil to the pasta and give it all a toss. Look a little dry? Go on, add a little more!
That's it, the BEST hummus pasta salad. Honest.
Want to win a $100 Visa gift card and an assortment of Sabra hummus? It just so happens we're giving exactly that away! Click here.
Tried it or want to try it? Pin this image!