This post may contain affiliate links, which means I may receive a small commission, at no cost to you, if you make a purchase.
Plus a look at Jessica Alba's book "The Honest Life"
As a new parent it's pretty easy to get lost down the rabbit hole that is researching the best products for my baby. Like many folks I'm increasingly concerned about all the chemicals we're exposed to each day. But all that research can get exhausting – and down right confusing! Where do you draw the line?
In her new book The Honest Life, Jessica Alba breaks it down for us. With a chapter for each facet of life, she gives a guide for how she and her family live. With tips on everything from food, dressing before, during, and after baby, and parenting advice; this book really does have it all!
a particularly good section on recycling: develop a vintage wardrobe!
Best of all are the "Keeping it Real" tips. No one is perfect, and Jessica keeps it real. With "no lectures, no judgment, no guilt" this book is a fresh breath of air for people, not just parents, everywhere.
But Jessica doesn't just talk the talk, she walks the walk! Founded with the help of Christopher Gavigan, The Honest Company provides products you can feel good about using.
All the products were created with the mindset that they should be innovative, effective, eye-pleasing and non-toxic – and they are also cruelty-free. With everything from diapers to dish soap, there's something for everyone in the family. My favorites are the body products, multitasking tools good for mama and baby!
When it comes to protecting skin, there is the Honest Healing Balm ($12.95). It is great for minor irritations like heat rash or that weird rub burn that new sandals can cause. A little goes a long way and it can be tacky for a while after application, so keep that in mind.
Healing Balm swatch
Honest Sunscreen ingredients
Honest Sunscreen SPF 30 ($13.95) is hypoallergenic, water resistant, and reef safe broad-spectrum protection for the whole family with zero "sunscreen" scent.
Honest Sunscreen swatch
Best of all, the active ingredient is zinc oxide, no PABA or oxybenzone in sight! Both the balm and the sunscreen separate a little, but kind of squishing the tube before squeezing the product out takes care of that.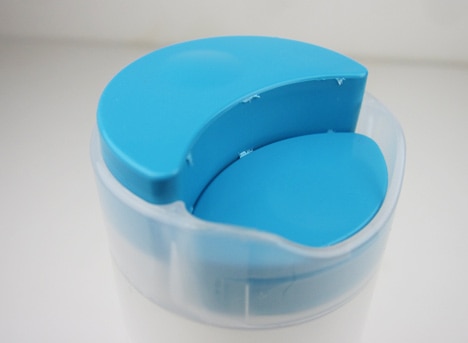 unique packaging on Face and Body Lotion
Honest Face and Body Lotion ($9.95) is a gentle, super moisturizing lotion that is vegan and fragrance free. (Yes, really and actually fragrance free.) As the name implies, it's a multitasker and can be used on both the face and body – anywhere you need some soothing moisture. And just how cool is that blue tipped dispenser?
Face and Body Lotion swatch
Lastly, the Honest Body Oil ($9.95) is also vegan and easily absorbs into the skin. It is perfect for massaging baby's tender skin and Moms will love the soft citrus scent formulated from organic mandarin oil. Both the oil and the face and body lotion are fantastic products for those with sensitive skin, with hydration that lasts all day.
As my son continues to explore his world by putting everything he can in his mouth, it's comforting to know that I can reduce his exposure to harmful chemicals with products that work. Best of all, The Honest Company donates diapers to needy children with every purchase!
we heartsters – So tell me honestly, where would you like to reduce your chemical exposure?
Disclosure: This review includes products that were provided by the manufacturer/PR firm for our consideration. It also contains an affiliate link, a link that gives us a small commission if you purchase the item. For more info, or any questions, please see our disclosure policy.
Latest posts by mandaleem
(see all)