This post may contain affiliate links, which means I may receive a small commission, at no cost to you, if you make a purchase.
photos: we heart this
It's official. Today, I hereby declare 2010 The Year of Drugstore Makeup. As a self-professed drugstore makeup junkie, I have never witnessed another year that has provided us with so many high-quality, long-lasting makeup products, all within arms reach at our nearest drugstore. And the best part? These products retail for a fraction of the cost of their high-end counterparts (even less if you have coupons and/or encounter a sale).
New York Color (N.Y.C. for short) is a drugstore makeup brand that has always been known not only for its affordability, but for its fantastic colors. There are blogs upon blogs that often compare N.Y.C. lipstick shades to high-end products and sometimes you really can't tell the difference between the high-end brand and the N.Y.C. product. For just $1.99 per tube, N.Y.C. makes some lip colors that even your inner makeup snob might find hard to resist. (I still contend that N.Y.C. Retro Red is the most perfect red lipstick you will ever find at the drugstore).
So when wht sent me one of the new N.Y.C. IndividualEyes Custom Compacts and Blushable Crème Sticks for review, I wasn't surprised at all that the colors in both products were absolutely stunning.
For the record, N.Y.C. has released some eye shadows in the past that have not performed well for me. If you have also experienced this, I want to tell you that things have changed, baby! You are going to be blown away by the texture and blendability, not to mention the pigmentation and staying power of the eye shadows in the IndividualEyes Custom Compacts. I received the palette "created for green eyes" called Central Park, which includes four powder eye shadows (two matte browns, a gold shimmer and a champagne shimmer), a cream eye primer (in a drugstore eyeshadow palette!) and a cream highlighter. The shadows in this palette can stand up against the most expensive eye shadows in my collection. And the eye primer? It's not just for show. It truly works and helps keep my shadow in place for hours. It also performs double-duty, as I've been using it to even out the color of my eyelids as well.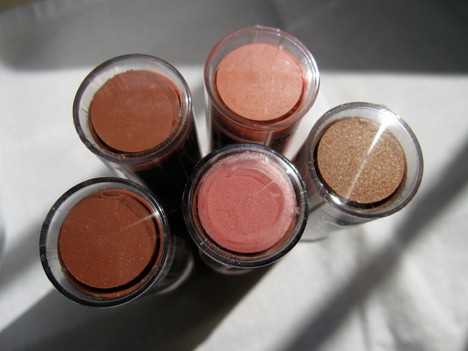 There's already lots of well-deserved buzz in the makeup community about the Limited Edition N.Y.C. Blushable Crème Sticks. I can sum them up in one word: awesome. If you've been scared off by drugstore brand cream blushes in the past because of blending issues, texture or pigmentation, I think that these blush sticks might change your mind.
They blend like a dream because of their wonderful cream-to-powder finish, they wear well (I get even more mileage when I wear a face primer), and the colors will rock your world. The shades in the Blushable Crème Stick collection are on-trend, current, and uber-stylish. The color I received for review, Big Apple Blush (center of image), is a warm pink shimmer that gives a very pretty, subtle flush to the cheeks. I bet you'll find at least one shade that makes you say "Ooooh!" when you see this collection in person.
Please check back soon because the wht team received additional shades of the Blushable Crème Sticks, as well as Metro Quads Palettes (four shadows in trendy but wearable shades to highlight, contour and define eyes. Glamorous is shown in the first picture) and City Duets Eye Shadow Palettes (a duo of generously sized shadows in coordinating shades named after famous NYC neighborhoods), for review. They'll be posting their thoughts shortly.
In the meantime, what's your favorite product from N.Y.C.? Have you tried any of these new products yet?
Disclosure: This review includes products that were provided by the manufacturer/PR firm for our consideration. For more info, or any questions, please see our disclosure policy.
Latest posts by nouveaucheap
(see all)