This post may contain affiliate links, which means I may receive a small commission, at no cost to you, if you make a purchase.
Curious about The Magic Pads? In this Magic Pads review we'll dish all the details!
sponsored post
Ah, my teen years. Such a simpler time. My biggest worry consisted of what to wear to dances. "Mortgage" wasn't even in my vocabulary.
And my skincare?
A quick swoop of an acne pad and I was ready for the day.
What if I told you that skincare could be that easy again?
Magically easy, even.
Introducing The Magic Pads, an all-in-one skin care treatment that's as simple as can be.
The Magic Pads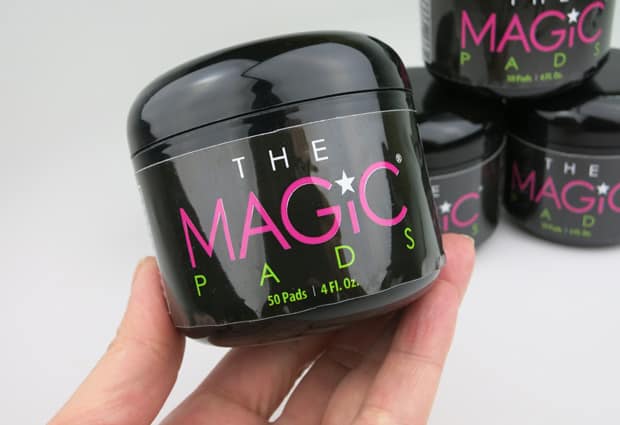 Developed by Rob Harmon, a makeup artist and hairstylist with a long and impressive resume (most recently Broadway's Wicked), Magic Pads deal with skin care concerns from pores to acne to signs of aging.
All in one little pad!
The Magic Pads Ingredients
Unscrew the sleek but simplistic black jar and there sits a stack of cotton pads, saturated in a mixture of Glycolic Acid, Organic Willow Bark, Hyaluronic Acid and Vitamin E suspended in an organic Aloe Vera juice base.
Just five little ingredients, but check out what they do:
Glycolic Acid: derived from sugar cane, it's the smallest molecule structure of all Alpha-Hydroxy-Acids (AHA) so it penetrates the skin better. This little wonder reduces visible signs of aging, evens skin tone and helps with acne AND dryness.
Willow Bark: naturally clears pores and exfoliates (psst, it's Salicylic Acid.)
Hyaluronic Acid: a humectant (moisture-binding ingredient) that's naturally found in almost every cell in the body, The greatest concentrations are in the skin, especially young healthy skin. Applied to skin, it increases hydration and improve elasticity.
Vitamin E: an antioxidant and moisturizer.
Aloe Vera: antimicrobial and anti-inflammatory properties make it great for acne. It also contains both vitamin C and E so it's an anti-aging ingredient as well.
So, five ingredients that will clear blemishes and prevent new ones, smooth and tighten skin, diminish pores, exfoliate, tone, clarify and hydrate.
The golden question: do they work?
The Magic Pads Review
They do indeed, very well. I actually love using these. That simple swipe, delivering all those powerhouse products in seconds, it's really satisfying!
They're also really effective.
I had a terrible round of hormonal breakouts around my chin and these swooped in and saved the day.
Poof, acne gone.
My skin also just feels and looks cleaner when I use them. They're very gentle too, I'm not left with any dry patches like I usually am when treating acne. (If you're more sensitive or notice dryness, you can adjust how often you use them.)
The Magic Pads are not just for your face either.
Chest, neck, shoulders or back, use them where you need them. (Take that, bacne!) Plus, they're cruelty free, vegan and 99% organic.
They remind me a lot of a favorite pad-based product of mine, a peel that I pay A LOT more for.
Which brings me to the best part of all.
THESE ARE ONLY 19.95 for 50 PADS!
Sorry to yell, but that's exciting. A product that truly works for under 20 bucks? That is magic!
Not sure where to buy The Magic Pads?
You can snag them right here on Amazon.
I can't guarantee you'll get a date to the next dance, and you'll still owe on your mortgage, but I promise you The Magic Pads will simplify your skincare routine.
Have you tried The Magic Pads?