This post may contain affiliate links, which means I may receive a small commission, at no cost to you, if you make a purchase.
I'm back with Part 2 of The Makeup Show haul! In Part 1 I showed you the items I purchased, and now you'll get a peek at the items that came in the press/blogger gift bag. Which is probably one of my favorite bags I've ever received! And it felt much like the show itself – hand picked for artists and true lovers of the medium. I'm telling you NYC, if you get a chance to go to this in May…DO.
Here are some of my most loved items in the over 40 piece bag…
One of my favorite items wasn't makeup at all. It was earrings from Elessa Jade aka, the ever-fabulous PurseBuzz. These little candies are totally sweet and have just the right touch of girly for me. Earrings listed on her site are between $10 and $20, so they're affordable too.
I sat next to the lovely Christina Farrell at the press preview, and you should have heard the sigh of joy when we found out there were Senna products in our bag. And when this makeup artist sighs, I listen! They included their Totally Transforming Eyeshadow Primer ($24) in all three shades, plus their flat concealer brush for application.
This stuff is AMAZING. For anyone who needs a bit more coverage than traditional liquid primers give (me), this anti-aging wonder does the trick. Filled with good for you ingredients, it minimizes lines and creates a smooth base that eyeshadow sticks to all day. Honestly, all day!
Favorite. Primer. EVER.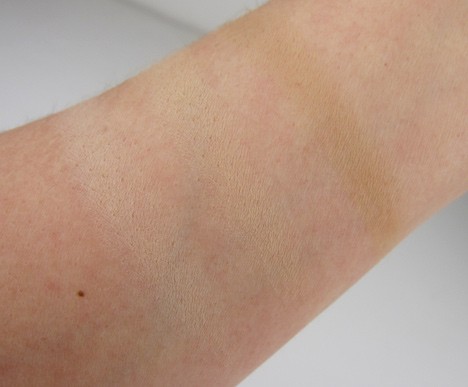 Totally Transforming Eyeshadow Primer in light, medium and tan
If you have never tried Obsessive Compulsive Cosmetics Lip Tar
($18) I need you to stop reading this and come back when you have. Really.
Amazing, right? Incredible pigment (like Pretty Boy, the bright fuchsia pink) and on trend shades (like Power Plant, the light shimmering emerald in honor of both Pantone's color of the year and Lip Tar's 5-year anniversary!)
Green lips not for you? No problem, check out the third swatch above. That's Power Plant and Pretty Boy mixed together. And there within lies the true beauty of Lip Tar!
Speaking of beauty, Ellis Faas gifted Creamy Lips ($35) in L101, their signature color known as Ellis Red. This pure, blood red is available in all three of their textures for a reason; it flatters everyone and is drop dead gorgeous.
It has a sponge tipped applicator with a twist up base and you only need the smallest amount for perfect application. You can apply it heavy for a creamy feel or lightly for a deep, matte stain that lasts all day.
I got to try a new limited edition lip product from Stila called After Glow ($18). It's "black light responsive" with florescent pigments three times brighter in sunlight and literally glowing in black light. Applied fully, Electric Pink nearly glows no matter what light you're in! But you can pat the chubby matte pencil on lightly too, for just a wash of color. They're lightly scented, twist up and wear like a stain with all day color. LOVE!
Ellis Faas, Kevyn Aucoin, Stila
Oh, I wish I could continue the lip love for the Kevyn Aucoin product in the bag; The Liquid Lip Patent in Infernelle. The color is divine; a deep and shiny red. But the product was obviously old and smelled like full-on crayon. Boo!
Anastasia Beverly Hills were incredibly generous. In addition to their legendary Brow Gel
($22 and seriously, the best I've ever used), they included a Covet Waterproof eyeliner, a Matte Highlighter and the beauty shown below.
This Brow Pro Palette has Concealer, Brow Wax and all six shades of their Brow Powder Duos
. I'm sending this to a makeup artist friend of mine who specializes in brows and who will freak the freak out!
I swear they put tweezers in the bag too. I saw them and oohed at one point. But I think I must have wronged a tweezer manufacturer in a past life, because I can't seem to hang on to a pair for longer than a few minutes. Seriously, this is the third pair of tweezers I've lost in a month! They looked lovely for the minute I had them…
I'm excited to try Model in a Bottle Lash Builder ($60), a click pen and brush filled with a gel formula that promises longer lashes in two to three weeks (with a money back guarantee.) I'll report back – hopefully through lush lashes!
Another product that's going to my makeup artist friend is the Temptu Concealer Wheel ($26), a handy-looking silicone based concealer that I'm sure she'll reach for often.
One of everyone's favorite makeup artists Koren Zander (EnKore Makeup) was represented in the gift bag too, with his Pro Brush Soap ($10.95). This is his top of the line soap, filled with conditioning oils for added treatment.
My sample, Apricot Freesia smelled delicious. So much so, I kind of want it for my body rather than my brushes! They even have a built in loofah on the other side for extra cleaning (though our samples didn't). How clever is that?
The fabulous folks at Embroylisse shared two types of Vitivia Pro Vitamins ($55); topical pharmaceutical grade pods of awesomeness. Pro Vitamin A15 (Retinol) is used for refining pores, smoothing lines, reducing skin inflammations and normalizing sebaceous glands. Pro Vitamin C10 is best for reducing hyperpigmentation, fighting wrinkles and age spots.
How genius that the powerful ingredients (that are lessened when exposured to the sun and the elements) are sealed up air and light tight in their own individual 1-dose portions? I am happily testing these now and will report back. They feel a bit more silicone-y than I normally like, but if they're part of the Embroylisse family – I trust them!
we heartsters, see any must-haves in Part 2?
photos: we heart this
Disclosure: This review includes products that were provided by the manufacturer/PR firm for our consideration. It also may contain an affiliate link, a link that gives us a small commission if you purchase the item. For more info, or any questions, please see our disclosure policy.