This post may contain affiliate links, which means I may receive a small commission, at no cost to you, if you make a purchase.
From our group of beauty junkies – The Top 10 Products of 2011
It's a new year and to celebrate we have one of our favorite things – a beauty list! We asked our seen-it-all review team to share their top beauty products that they tested here at we heart this in 2011. Three items on our list of ten beauty products distanced themselves from the pack for a place on our beauty podium:
all photos: we heart this
1. Urban Decay's Lush Lash Mascara – $20
The Gold Medal goes to this new formula from the geniuses at Urban Decay. This mascara not only wowed our review team, it also made it to the top of Stef's faves as well. Sherri raved "I tested (and loved) this mascara…glossy, natural but better, soft–not crunchy. It wasn't until the review came out that I realizes this has a growth serum, too! The mascara is great enough but if it's healthy or my lashes, that's doubly good." (buy it here
)
2. tarte Glow Your Way to Gorgeous Collection – $54.96
Grabbing the Silver Medal was this budget friendly 8 piece set, a QVC Exclusive, that had all us glowing with praise. Erin claimed "I loved this entire set! The eyeshadow and liner are so creamy and amazing; I use them all the time. The smooth concealer is my new favorite. And of course the purple bag rocks!" (buy it here
)
3. MOR The Essentials Collection – $10 to $18
The Bronze Medal was nabbed by this adorable and affordable newish collection from Australian Bath & Body specialists MOR. This collection of eye popping tins and tubes features prices so low you can use these luxuries everyday. Plus as Kirsten noted "The packaging is my favorite aspect of MOR Cosmetics – always so feminine and gorgeous." (buy it here)
Narrowly missing the medals and rounding out the Top Ten:
4. BPAL The Last Unicorn Collection $26 per bottle
The indie darlings behind our favorite oils found inspiration in a modern day fairy tale for their latest moody and mysterious collection. Reviewer Amanda says "Take my favorite childhood movie and add my favorite perfume company and BAM! It's magic. Anyone who loves this movie needs to check out these fragrances" (buy it here)
5. Ole Henriksen African Red Tea collection – price varies
I am a daily user of the citrus smelling African Red Tea Foaming Cleanser
from the same anti-aging collection from this spa quality brand. Team meber Melissa says "I love everything about this line: the pure ingredients, the quick results, and especially the scent! It's mood lifting and I swear it gives me happy dreams. I love Ole's Express The Truth cream so much, I just ordered a new jar as a Cyber Monday treat for myself." (buy it here
)
6. ManGlaze Nail Colours – $6.66 to $13.13
As Amanda said this is nail polish with a badass finish and a badass attitude to match and our team flipped for the rock star hues (like Matte is Murder above). Marilyn tested Hot Mess and claimed "Honestly, this is the BEST GLITTER NAIL POLISH OF ALL TIME. You can get disco ready nails with just two coats, and it dries faster than a lot of "quick dry" nail polishes. The packaging is all kinds of in-your-face-awesome, and the juvenile part of me is still snickering about the brand name." (buy it here)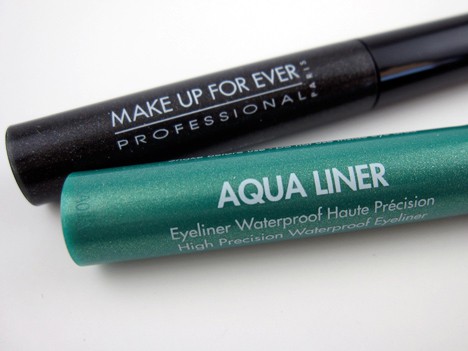 7. Make Up For Ever Aqua Liners – $23
The review team found a lot to love from color experts MUFE this year and the most adored item of all were these smudge-proof, budge-proof, water-proof liners. Dana exclaimed "
These liners are so insanely amazing and they make the most wonderful cat eye. Love them!" (buy it here
)
8. Ojon Color Sustain Shampoo and Conditioner – $22 and $23
Need to care for your color and have an eco-friendly style? Look no further than the Green Monday approved hair care specialists Ojon. Their Color Sustain line helps seal in color, nourish hair and smells divine. Our own Mel gives this endorsement "I've never received more compliments on my hair color since using this product. My color lasts longer, it cleans superbly, I can get a brush through my wet hair without any additional product after using it, and my style holds better." (buy it here
and here
)
9. Bare Escentuals READY Eyeshadow Duos – $20
The beloved mineral make up company made waves this year when they (finally!) dove into the PRESSED powder waters. Not surprisingly this skin friendly, eco-conscious, brand wowed testers with their latest formula. Sherri proclaimed "my love for BE is well documented, and these are the smoothest, creamiest, dreamiest, most saturated shadows ever! Since I've received these duos I haven't been able to wear any other shadows but Mirage from The Vision duo." (buy it here)
10. Benefit They're Real Mascara – $22
We're always loving the latest make up and skin care from Benefit, but the product that caused the most excitement was this new dark and dramatic mascara. Promising to rival the infamous Bad-Girl mascara for lush lashes, this formula and fab brush did not disappoint. Dana raved I'm a mascara junkie and this post (and that brush!) made me drool over how insanely amazing it looked. I ran out and bought some IMMEDIATELY. A wise decision. (buy it here
)
we heartsters – did any of these products make YOUR Top Ten?
Disclosure: This review includes products that were provided by the manufacturer/PR firm for our consideration. It also contains an affiliate link, a link that gives us a small commission if you purchase the item. For more info, or any questions, please see our disclosure policy.