This post may contain affiliate links, which means I may receive a small commission, at no cost to you, if you make a purchase.
It's a Virtual Mad Men party, and we're going retro!
The Unofficial Mad Men Cookbook
combines three of my favorite obsessions into one neat little package: anything retro, cooking and Don Draper…er, Mad Men. So with the season five premiere just a week away, the smart cookies behind the book have organized a Virtual Mad Men party Sunday night. Click here to see the other blogs participating, check out their recipes and get ready to party like a Mad Man! It's the perfect chance to round up some ideas if you're planning your own viewing party.
And speaking of parties, check out the updated the photos in our How to have a Mad Men theme party post. We're proud to say this post was linked by AMC during season four as a reference for "How to Throw the Perfect Party" (along with only two other links, Epicurious and Oprah). But enough horn tooting, on to the party…
Before we get to the dish we've brought to the party, the fabulously retro Rumaki, let's first talk about the cookbook itself. It's an absolute must for any fan. It has more than 70 authentic recipes taken from the kitchens, restaurants and bars seen on Mad Men. It's a go to for anyone who wants to throw a retro shindig, Mad Men fan or not. But what's really clever about this book is that it cites the episode that the recipes appear in, then talks about the historical aspect of the dish.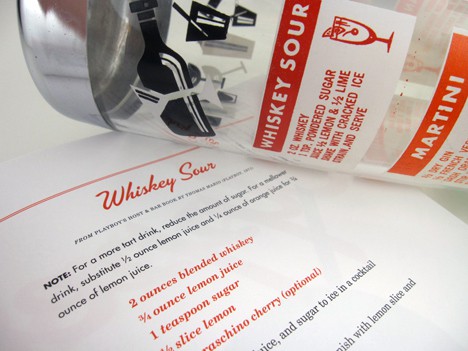 Take for example the whiskey sour, which appears in season 4, episode 10 "Hands and Knees". The drink makes two appearances in the show, first at copywriter Paul Kingsley's party in bohemian New Jersey, where they are drank from glass jars. Then later in a much more posh scenario when Don, Lane and Lane's mean father order them at the Playboy club. The book describes the scenes to a T, then gives history on the Playboy club. It's fascinating, so well done and the only cookbook that I've read from cover to cover.
historical photos
beautiful color photos of select dishes
Ok, bring on the Rumaki!
Rumaki appears in the classic episode "A Night to Remember" (season 2, episode 8) as a dish that Betty makes for her Around the World party, served alongside Heineken beer (a Sterling Cooper client). Don wants to prove that affluent housewives are an untapped market, and Betty beautifully proves his point without even knowing so. That Don's so smart!

A popular dish in the 60s, the book writes that its origins are murky – citing it coming from everywhere from Japan to Trader Vic's to Polynesian roots. But one thing is for sure, it was a rather worldly choice for a party back then.
Chicken livers aren't everyone's favorite. People will eat its French counterpart, pate, without qualm. But in its humble original form, you may get a few wrinkled noses. I love happen to love chicken liver so I was game. And I think you could wrap anything in bacon and it would be good, so there you go.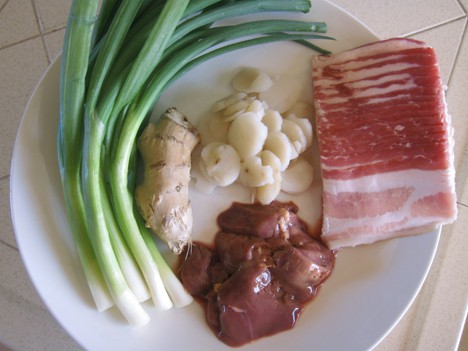 Rumaki
(adapted from The New York Times cookbook, 1961)
6 chicken livers, cut into thirds
18 canned water chestnuts, sliced
9 bacon slices, cut into thirds
9 scallions, sliced lengthwise, then into 1 inch pieces
1/2 c. soy sauce
1/4 tsp. ground ginger (I used fresh instead)
1/2 tsp. curry powder
1. Fold each chicken liver around a water chestnut slice.
2. Wrap a strip of bacon and a scallion piece around the liver/chestnut core, pinning each kabob with 2 toothpicks.
3. Combine soy sauce, ginger and curry powder in a small bowl. Place kabobs in a baking dish and cover with soy sauce mixture. Place in the refrigerator and marinate for 1 hour.
4. Remove kabobs from refrigerator. Drain Marinade. Broil kabobs in a preheated broiler, turning frequently until bacon is cooked, about 5 minutes. Serve on wood skewers.
Makes 18 kabobs.
How perfect is this vintage birds of paradise serving tray for these?
It's official, we heart The Unofficial Mad Men cookbook. Buy it here: The Unofficial Mad Men Cookbook
(it's only $11.32 at Amazon!)
Anyone have any plans for a Mad Men viewing party? How excited are you for the premiere on Sunday, March 25? Share your thoughts in the comments!
Disclosure: This review includes products that were provided by the manufacturer/PR firm for our consideration. It also may contain an affiliate link, a link that gives us a small commission if you purchase the item. For more info, or any questions, please see our disclosure policy.