This post may contain affiliate links, which means I may receive a small commission, at no cost to you, if you make a purchase.
Looking for Lune + Aster CC Cream and Primer reviews? We've got you covered!
You know those rushed mornings where you're just like, "OMG, I have ten minutes to brush my teeth, get dressed and throw enough makeup on to look vaguely human?".
I have those mornings more times than I'd like to admit. At the bare minimum, I need some light coverage to even out my skin tone, and I also need to feel moisturized, with a side of SPF.
The answer to my woes?
Look no further than Lune + Aster (available here), a line of paraben-free and vitamin-infused beauty goodies.
Created by Marla Malcolm Beck, the co-founder and CEO of Bluemercury and the creator of M-61 skincare, Lune + Aster's makeup line is geared towards looking good with less effort. And I'm all about that "foolproof makeup…in minutes" life!
Each item is chock full of beneficial skincare ingredients, with products organized into simple categories for any beauty routine.
I tested two products from the line: the Lune + Aster RealGlow Primer (part of the Prep + Go collection) and the Lune + Aster Cover + Correct/Tinted Moisturizer CC with SPF 50+ (afrom the Protect + Go collection).
Both are paraben and phthalate free, gluten free and vegan, as well as being cruelty-free.
Lune + Aster Primer Review
RealGlow ($30) is a "light diffusing radiance" primer that gives your skin that lit-from-within glow; it contains licorice, watermelon, apple, lentil, and mushroom extracts to moisturize and pamper.
It has a delightfully fresh scent, and goes on like buttah.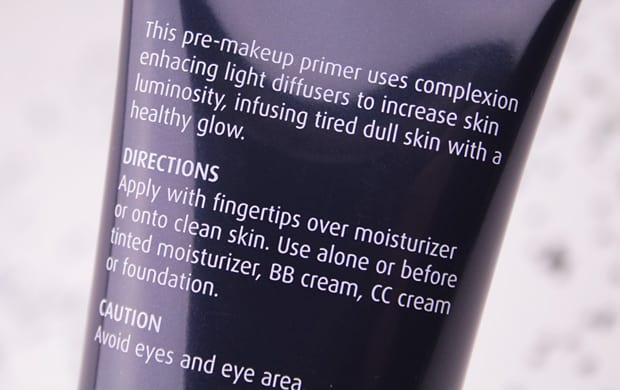 Now, I'm always scared that "glowy" products will give me a disco-ball effect (my highlighter has that covered, thanks) but even on my combination-oily skin, RealGlow imparts a subtle, low-key glow.
It's perfect layered under BB/CC cream or foundation; it provides a nicely smoothing base and extends the wear of my makeup throughout the day.
It even seems to help with the creasing I typically get under my eyes—that's a small miracle, y'all.
Lune + Aster RealGlowPrimer swatch
Lune + Aster CC Cream Review
Equally delightful was the Cover + Correct/Tinted Moisturizer CC with SPF 50+($48), which is available in shades from fair to medium/dark.
As with all CC creams, this one provides light to medium coverage—perfect for rushed mornings or days when you just need a little something, not a full face o' slap.
And I love that Cover + Correct contains vitamin E, hyaluronic acid and sea buckthorn to plump up and moisturize the skin, along with that SPF 50+ to protect from UVA and UVB rays.
Lune + Aster CC Cream swatch in fair
This applies smoothly and easily, sinking right into the skin; it gives a softly diffused sheen of tint and offers natural coverage.
It won't completely cover up hyperpigmentation marks or freckles, but that isn't what a CC cream is for—rather, it just evens everything out and creates a more uniform, polished look.
Even with the high SPF, this doesn't feel sticky or heavy on the skin, and there is no icky white cast. You could literally apply it without a mirror and run out the door; it's that easy!
Lune+ Aster swatches blended
All in all, I'm excited to check out the rest of Lune + Aster's line; I like the brand's philosophy and the efficacy and ease of their products.
Like they say: "All of the polish, none of the primp."
Have you tried any products from Lune + Aster Cosmetics?