This post may contain affiliate links, which means I may receive a small commission, at no cost to you, if you make a purchase.
How to stay cool and look hot when the temperatures rise
As the summer weather kicks in (it was a sweltering 90+ degrees with high humidity here over Memorial Day weekend), I've started to really narrow down what is hanging up in my closet. And I realized that while we've talked about fall, winter and spring wardrobes, summer style for the office has never been a topic of discussion here on we heart this.
I work in Washington, DC, which by all standards can be pretty conservative, but I've definitely got summer dressing down. For this month's post I thought I'd pull out a few photo archives of some of my favorite outfits during the warmer months to illustrate my Top Three Tips for Summer Style at the Office.
Lighter Layers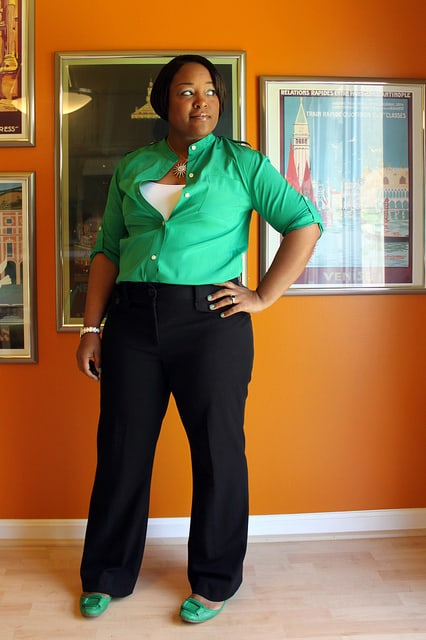 Yup, layers can still apply even in the warmer months. I hate freezing to death in an air conditioned office or dressing too warm for the cold workspace so that you might die of a heat stroke when you step outside.
I live for lightweight silk shirts like the green gem in these three pictures. They are so versatile; you can roll up the sleeves if you leave it on while outside, wear the sleeves down to fight off a frigid office and layer it over tanks, tees and dresses.
A few of my other favorite layering pieces include short sleeved cardigans and light gauzy wrap sweaters over tanktops and camisoles. These layering pieces are also great for making sundresses a bit more work appropriate.
Sweet Separates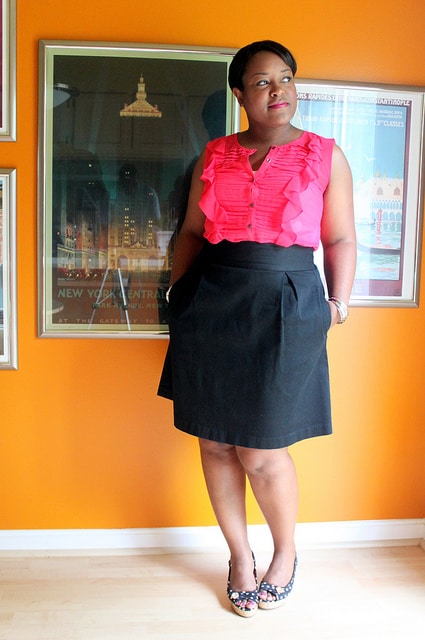 I have a steady staple of skirts, shorts (yes, even shorts can be appropriate for some work environments) and sleeveless or short sleeved tops that can be mixed and matched to make dressing easy. I live for full breezy skirts but I also have an assortment of pencil skirts in my wardrobe too. Whether printed or in a bold color, I can usually mix and match anything in my wardrobe to make getting out the door an easy task.
My favorite combo right now? Mixing florals and stripes. The trick is to make sure your floral pattern and strip pattern are in the same size range (tiny flowers with thin stripes, bolder flowers with bolder stripes) and pick one color in the floral pattern to match your stripes. It's a fun and playful way to punch up your basic separates.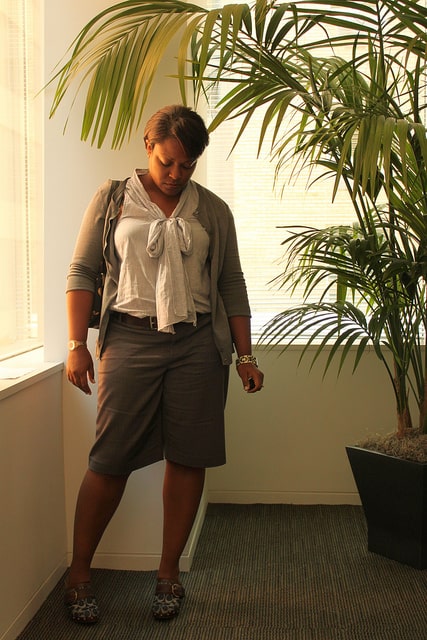 Didn't believe me about shorts at work? Here's one of my go-to shorts outfits that helps get me through the summer. Make sure to stick with a longer length (no booty shorts please) and a solid color to keep the look office friendly.
Dresses, Dresses and more Dresses
I will say this again and again, nothing makes me feel more put together than a great dress. I think I own more dresses than anything else in my wardrobe. Finding a great couple of dresses to interchange throughout your work week will make your morning routine easy and also make you feel oh so chic when the temperatures are soaring.
Go for a great bold color like orange or hot pink, or choose something with a classic pattern like stripes or chevrons. Wrap dresses are always flattering and you can always dress them up with great accessories.
And there you have it, my big three summer style tips, to help you keep your cool when the days are long and hot.
we heartsters – what do you love to wear when the temperatures start to rise?