This post may contain affiliate links, which means I may receive a small commission, at no cost to you, if you make a purchase.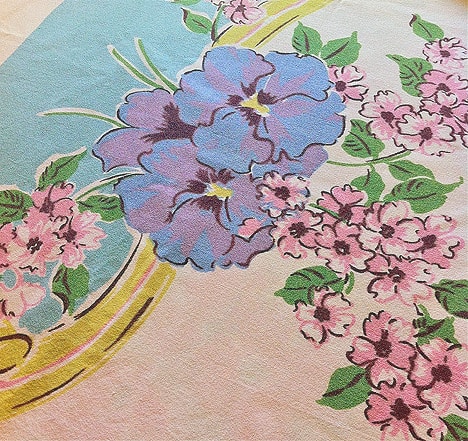 photos: erin for we heart this
Hello, my name is Erin, and I'm a vintage linens addict. Yes, it's true – I have a full blown, over the top, complete addiction to vintage linens. I just can't help but be drawn to the vibrant colors, charming designs, and nostalgia of an embroidered pillowcase or handmade quilt… I can't get enough. Seriously, I can't.
While I adore most any type of linen, my particular obsession lies with vintage tablecloths. Cloths made in the 40's and 50's had so many different patterns and colors, it's hard not to fall in love with their charm. You just can't find anything like them these days.
I have been a collector for about 10 years and probably have over 150 tablecloths, to date, in my collection. Some collectors, with very specific tastes, only search for the best of the best, and never actually use them.
I am completely the opposite. A small stain or tear? That doesn't take away from the integrity and beauty of the cloth, and does not deter me. And I regularly USE my tablecloth collection – for everyday dinners, picnics and of course, parties. A bright and beautiful tablecloth adds elegance to any occasion. With matching linens? You're a hostessing star.
Ready to add some vintage flair and charm to add to your table? Here's 5 tips for building your own vintage linen collection.
1. You can start your search for these fun cloths on places like eBay and Etsy and let your eyes feast on the pretty. When you are ready to buy, try to purchase from a reputable seller, who can give you a time frame of when the cloth was made and shows a variety of pictures, listing any imperfections.
You can also take your search to local antique stores, which often have a selection of linens, and to antique fairs and markets, where I've found some of the best I own. And you just never know what you'll find at any given yard sale.
2. Price is largely dependent on the seller and whether it's collectable brand or name. Wilendur, for example, is a highly desired brand that will often have a bigger price tag on it than other similar looking linens.
My eye is always on the hunt for cloths that are made with quality cotton, have pretty colors and charming patterns – regardless of the name. Expect to pay anywhere from $10 to $35 (and sometimes more) depending on size and condition.
3. You don't have to buy one that's flawless. Some of my favorites are not in perfect shape, but have some of the most amazing pattern and color combinations I've ever seen. Most are made from heavy, soft cotton and, when freshly laundered and dried in the sun, they come back to life with a bang!
Small stains can be very treatable with some soaking and gentle cleansers. Tiny frays or holes, if in indiscreet spots, may not be an issue at all once the cloth is laying on a table. An artfully placed bowl (as seen above) can hide many a flaw!
If you do find one that you love, that's not in the best shape, pick it up for pennies and get to work. Cutting it for scraps to make pillows, throw blankets, framed art, etc, can make a great new decorating project.
4. Size also doesn't matter to me… a cloth doesn't have to cover the entire table to make a beautiful centerpiece. Layer a few linens on top of each other, creating a gorgeous, textured, colorful table.
You can also stack a number of linens of all shapes and sizes together in an open cabinet or shelf – they look amazing and artful when displayed all together.
5. Most importantly, buy what you love. Every linen piece does not have to match your kitchen or dining room or everything you own.
You can step out of your box and buy one simply because you love it and you're drawn to it. It may turn out to be one of your most treasured pieces.
So, enjoy your hunt and have fun! I hope you find some linen treasure that speak to you, the way my favorite pieces speak to me!
we heartsters – any vintage linen lovers out there?
Erin is a secondary science teacher who adores makeup and fashion. She spends her free time pursuing her other passions which include cooking, antiquing, and decorating.
Latest posts by spitfire77
(see all)