This post may contain affiliate links, which means I may receive a small commission, at no cost to you, if you make a purchase.
Contouring can seem difficult. I get it. It has spiraled a little out of control (google "clown contouring"). But, ladies and gentlemen, I'm pretty sure contouring and highlighting are here to stay.
Don't be afraid of it!
Contouring can do awesome things, and it's really not that hard. I pinky promise that you can learn it AND rock it.
Here are my three basic tips on contouring and highlighting for newbies
Use the right tools
Keep it simple (at first)
Blend, blend, blend, blend and blend
Let's take a look at those steps in action…
Kat Von D Shade Light Contour Palette
Tools: I would definitely recommend the Kat Von D Shade + Light Contour Palette (available here) because it has all of the essentials: three "light" and three "shade" matte colors.
All six colors are highly pigmented, with both warmer tones and cooler tones. It's all housed in a cardboard palette with a magnetic closure and mirror inside.
I like the idea of having multiple light and shade options in one palette because it allows me to use just one palette on different people with different coloring, and it also allows me more flexibility with my own contouring.
I can choose subtle or dramatic, and I can customize the shades by blending and layering to get just the right effect, whether it's summer or winter.
Kat Von D Shade Light Contour Palette Packaging
Kat Von D Shade Light Contour Palette Swatches
lucid, lyric, levitation, sombre, shadowplay, subconscious
All of the shades are silky smooth and apply beautifully, particularly with the Kat Von D Shade + Light Contour Brush (available here), which was designed specifically to go with the contour palette.
I LOVE this KvD brush, and it's protective "coffin" case. The cruelty-free, synthetic bristles are dense enough to pick up a lot of color, but also fluffy enough to make blending a breeze, and the brush heads are just the right size for the job.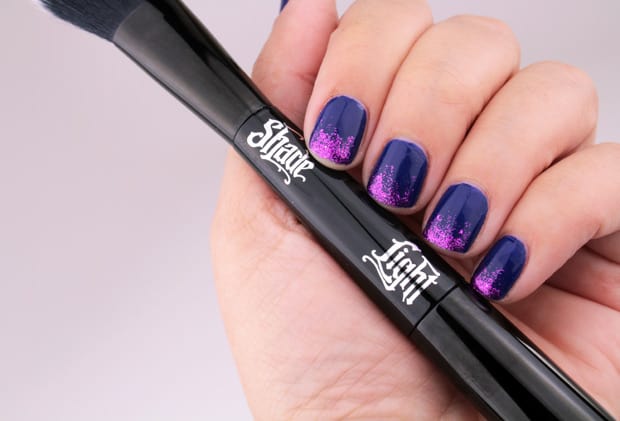 The "light" and "shade" sides have slightly different shapes–the dome-shaped "light" brush allows you to deposit color in smaller areas, and the slanted "shade" brush allows you to swipe on color quickly and blend it out.
Keep it simple:
Instead of contouring EVERYTHING on your whole face, neck and decolletage, try highlighting and contouring just one feature.
The Shade + Light Contour Palette comes with a little cheat sheet to help bring out your cheekbones, shape your nose, or minimize your forehead.
It's especially a good idea if you have fair skin, because it's easy to go overboard with the contouring and end up looking kind of dirty. Mastering one concept at a time will help you succeed!
BLEND! Blend, blend, blend like crazy:
This keeps the contouring from looking like "I'm trying to contour." It's like when you first tried shading in art class, versus how an artist shades–smooth blending makes all the difference.
Kat Von D Shade Light Contour Palette Review
Here's the finished look, but let's look at how I got there…
Bare skin, mascara, eyeliner and brow powder only
Wearing just the basics: foundation, concealer, mascara, eyeliner and brow powder
Full face makeup with Kat Von D Shade + Light palette: highlighting using Lucid, and Lyric blended together (inner corner of eye, lids, browbone, top of cheekbones, forehead), contouring using Sombre, Shadowplay and Subconscious layered/blended together (along hairline, eye crease, under cheekbones, under chin) plus foundation, concealer, mascara, eyeliner and brow powder
we heartsters: what are your favorite contouring products?
Latest posts by lipglossandspandex
(see all)