This post may contain affiliate links, which means I may receive a small commission, at no cost to you, if you make a purchase.
Plus a look at fellow HOF members Shadow Insurance Primer and Perfect Eyes Waterproof Eyeliner
photos: we heart this
Long, long ago, before I ever used Too Faced Cosmetics
, their packaging gave me a fairy tale feeling. Whimsical and clever, with swirly fonts and happy colors, the boxes hinted that "happily ever after" was inside. Once I was lucky enough to own a few Too Faced products, I knew my instincts had been right.
I just have to say it: Too Faced, I love you. Or, in this case, Eye love you! In this look at Hall of Fame worthy Too Faced eye products, I revisited two favorites and also was introduced to a brand new treat that is sure to become a classic.
Way more primer than you need!
First, the favorites. The basis of any great eye look is a solid foundation, and nothing does the job like Shadow Insurance
Anti-Crease Eye Shadow Primer.
Just a teeny dot of this primer really does insure against creasing, smudging and fading. Too Faced says to us "the size of a rain drop," but I say only half a rain drop is needed to even out the skin tone and smooth fine lines, creating a perfect surface.
Shadow Insurance ($18) has a colorless, paraben free formula designed to amplify any eyeshadow color for maximum payoff. The tube might look small, but since it really does take a minuscule amount per use, it will last a long time. This is my favorite primer ever, and I hope Too Faced keeps making it until the end of time.
Shadow Insurance Pros:
• Created with unique binders to extend the wear of your shadow
• Anti-creasing formula minimizes imperfections
• Can be used with powder or cream shadows
• Only a tiny dot does the job
Another HOF inductee from Too Faced, is their Perfect Eyes Waterproof Eyeliner
($18), the gold standard in pencil liners. I revisited this fabulous liner in Perfect Black – and it's just that.
This creamy, highly pigmented pencil glides on like a liquid, and – after a small window in which you can correct mistakes – dries for 8 hours of smudge proof, waterproof liner. While the pencil provides a sharp line, at the the other end of the pencil, is a flexi-firm, beveled smudger which can be used if you prefer a smoky, blended line.
We got a glance at four of the available nine hues, I can't wait to try more!
Perfect Peacock – deep, shimmery teal with lighter teal shimmer
Perfect Purple – grape-plum with gold shimmer
Perfect Black – strong, matte black
Perfect Moss – khaki green with golden undertones
Perfect Peacock, Perfect Purple, Perfect Black, Perfect Moss
Perfect Eyeliner Pros:
• Waterproof
• Smooth application; no pulling, skipping or slipping
• Vegan-friendly; free of parabens, mineral oil and paraffins
So how could Too Faced improve upon their already 5-star eye selection? Say 'Hello' to the 3 – Way Lash Lining Tool
($22), their brand new 3-in-1 pencil that does triple duty for perfectly lined eyes.
Triple duty? It's true – this inventive liner can be used three distinct ways:
1. The 3 tips can be used together to create a triple coated line of the carbon black formula.
2. The individual fine points can be used to line the inside rim of the eye.
3. The entire triple-tip can be dotted within the lash line to fill in spaces between lashes, creating the illusion of thicker, more luscious lashes.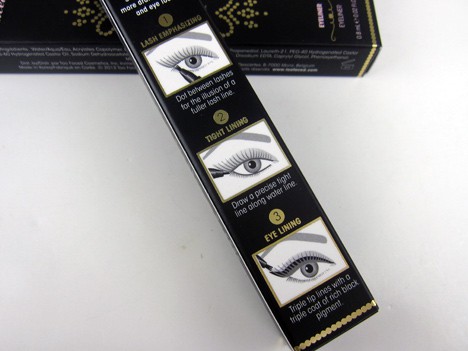 3-Way Lash Lining Tool Pros:
• One tool can be used three different ways
• Color is deep, dark black
• Even novices can create the perfect cat eye thanks to the 3 tips
Cons:
• It's the Hall of Fame – absolutely none!
You might think you're too old to believe in fairy tales, but you just have to look for that magic in more grown up places – like inside the pretty boxes of Too Faced cosmetics.
we heartsters and Testers – do any of these Too Faced eye products make your Hall of Fame?
Melissa loves road trips, bargain shopping, drive-in movies, lip gloss and rock 'n' roll. She lives in Baltimore with her precious pup Zeus.
Disclosure: This review includes products that were provided by the manufacturer/PR firm for our consideration. It also contains an affiliate link, a link that gives us a small commission if you purchase the item. For more info, or any questions, please see our disclosure policy.
Latest posts by turboterp
(see all)