This post may contain affiliate links, which means I may receive a small commission, at no cost to you, if you make a purchase.
You too can look like Norma Jean Baker!
One of my favorite compliments to receive is, "You have such beautiful skin!" Of course, it's not true. "Smoke, mirrors and a great foundation" is my usual comeback. Really, it's not that I can't take a compliment, it is just so. When I received the Too Faced No Makeup Makeup Palette, I was anxious to see how true its proclamation is.
The Too Faced empire was built on fresh-faced goodness housed in a glamorous retro package. It's a concept that appeals to many and seems to work for all. The No Makeup Makeup palette ($39) takes this concept and runs with it in a whole face approach. Who doesn't want to look like Norma Jean Baker (aka Marilyn Monroe before she took a stage name) at the beach?
The palette is housed in a pretty pink tin, continuing the retro-feel of the Too Faced line. I love the substantive quality of metal in the practical sense that it won't crack or break, but it also looks pretty on my counter. Inside the lid is a too-small mirror that I wish extended to the corners, especially since this is a palette for the entire face.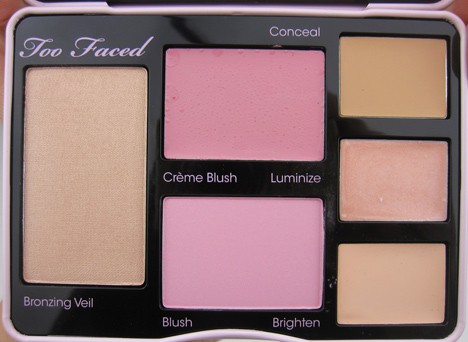 The contents of The Secret to No Makeup Makeup Palette are lovely: a powder Bronzing Veil for a neutral golden-bronze shimmer, a bright doll-pink Crème Blush (that doubles as a lipcolor), a lighter, brighter, pink Powder Blush with silver shimmer, a mid-tone Concealer, a shimmery pinkish-beige Luminizer and a Brightener (really, a lighter concealer).
This does look like all the makings for a fresh no makeup makeup face.
The No Makeup Makeup palette does come with an instruction card so that even the most challenged makeup applicants can create a No Makeup Pinup girl look – the Too Faced folks have come up with three looks of different intensities of natural. I've never been one to follow directions but even I like having this for reference.
Bronzing Veil, Crème Blush, Powder Blush
Both powders, the Bronzing Veil and the Blush, are of a very fine mill making the shimmer (of the Bronzing Veil) seamless and the color (of the blush) smooth and blendable. The smaller size of the blush makes it a bit more difficult to use, but it packs a lot of pigment so I'm ok with it. I found a travel blush brush works pretty well. Unfortunately, there is no keeping that luxe powder out of the crèmes. When is someone going to make little doors for individual products within a palette?
The Crème Blush, like the powder Blush, is also quite pigmented. There are waxes and oils in this one and I was worried that it may slip off my oily skin or cause breakouts. On the contrary, I found this blush to be incredibly non-fading and long wearing while my skin is pimple-free.
Concealer, Luminizer, Brightener
The Concealer is a good formulation in that isn't too heavy but does the job, so long as you don't need to cover anything too glaring. If it's a little too dark for your skin tone, mix it with the Brightener.
The Luminizer adds a nice shimmer to the brow and bridge of the nose, while the Brightener is best under the eyes to give you that "wide awake" look. In using only the palette for my whole face, I tried the Luminizer in place of shadow for a dewy look.
Bronzing Veil, Crème Blush, Powder Blush, Concealer, Luminizer, Brightener
All in all, the Too Faced No Makeup Makeup Palette is a good fresh-face faker. The colors are natural and the formulations are good. Darker-toned women may not have use for the Concealer or Brightener, but the bright blushes would look great on darker tones, as would the Bronzing Veil and Luminizer. I won't be using this in place of foundation every day, but will use it as part of my usual makeup routine or in a pinch when I'm on the run. This palette has earned a place in my purse with my other on-the-go staples.
Ladies – do you like your makeup to look like you're not wearing any in a beachy Norma jean/Marilyn pinup sort of way?
photos: we heart this, swatches shown on NC 25/30 skintone
Disclosure: This review includes products that were provided by the manufacturer/PR firm for our consideration. It also contains an affiliate link, a link that gives us a small commission if you purchase the item. For more info, or any questions, please see our disclosure policy.
Latest posts by sherrishera
(see all)