This post may contain affiliate links, which means I may receive a small commission, at no cost to you, if you make a purchase.
Don't Worry – No Teddy Bears Were Harmed in the Making of this Brush Set!
photos: we heart this
When I was a kid, I used to give every doll and stuffed animal in my possession a hair cut. I fancied myself a world-class hair stylist, but mostly I had a bunch of dolls and teddy bears that looked like they had mange or lived lifestyles way more alternative than those of my little Southwestern Pennsylvania hometown.
I think the biggest victims were my teddy bears. Bless their hearts. Too Faced
did something much more creative with their teddy bear hair – they crafted it into luxurious brushes and produced the Shadow Brushes Essential 3 Piece Set
($39). This cruelty free trio of teddy bear hair-tipped brushes boasts "super soft synthetic fibers that grab and blend pigments for a professional-looking application."
Housed in what is quite possibly the sassiest pink metal tube with gold detailing, this handy brush kit includes three must have brushes – a lid/smoker brush, a crease/blender brush, and a liner/smudger brush. The capped tube means this set stores neatly together – and you'll want to keep these handy!
This trio of eye defining brushes are definitely what I would consider "essential" to have in your makeup stash. For the uninitiated these little pink brushes even have their name and use stamped on the side – smart. Not surprisingly, I have several shadow brush sets, and I find myself reaching for this set over and over again.
from left: liner/smudger, lid/smoker, crease/blender
These brushes are soft, deposit just the right amount of color, and do not shed! The slim, pink handled brushes are also the perfect size for my dainty girl hands, which makes them SO much easier to use and also gives me a more precise application. (By dainty, I mean I probably couldn't wrap my fingers around a basketball…probably…don't you judge me.) In short, they are pretty much PERFECT.
To demonstrate the differences between men and women – while I thought using teddy bear hair in a cosmetic brush was fairly novel and ingenious, not to mention a great cruelty-free alternative to natural hair brushes, my beloved husband thought it was a wee bit creepy. He was all like, "What did they do, shave Teddy Ruxpin? That's kind of wrong. Is there just a warehouse somewhere filled with a bunch of hairless bears?" Personally, I'd shave your kid's favorite stuffed animal (while your kid watched) if it would apply makeup as flawlessly as this trio of brushes.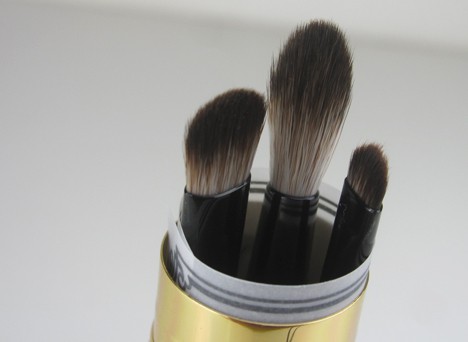 So, if you're in the market for a high quality, highly gift-able set of eye shadow brushes that will pretty much replace all other shadow brushes in your possession, you kind of need to check out these beauties from Too Faced
, if only to experience the difference that is teddy bear hair!
Pros:
• Teddy bear hair = amazing application
• Brush handles are easy to maneuver and provide precise shadow application
Cons:
• $39 price tag is a bit pricey
• Bald teddy bears. Lots of them. (Probably the creepiest thing you'll ever see, next to those hairless cats that movie villains always seem to have)
we heartsters – What do you find essential in a great makeup brush?
Krista resides in the middle of nowhere with her bff/hubby, an obscenely big-eared dog, and a puppy that makes feral capuchins seem mellow. She has an irrational fear of ax murder, owns more than one machete for home defense/the zombie apocalypse, and goes to sleep serenaded by the sounds of the Chupagobbler, a mythical turkey beast that roams the woods around her house. She also has an obsessive love of Tom Selleck's moustache that is, quite frankly, alarming.
Disclosure: This review includes products that were provided by the manufacturer/PR firm for our consideration. It also contains an affiliate link, a link that gives us a small commission if you purchase the item. For more info, or any questions, please see our disclosure policy.