This post may contain affiliate links, which means I may receive a small commission, at no cost to you, if you make a purchase.
Sniff this Tuscan Blood Orange scent for a mini vacation
photos: we heart this
It's that time of year where everyone seems to be planning a little getaway – from week long summer beach trips to mini spring getaways, we're all looking for a little rest and relaxation. However the traveling involved (endless bumper to bumper traffic, crowded airports and stale plane cabins) is anything but a vacation.
The eco-friendly Pacifica
has just the answer to keep you traveling in sweet scented style; the Take Me There Sets
. These economical trios ($18) offer three travel sized pick-me-ups that will have you arriving at your destination refreshed and revived, no matter the traveling obstacles. And for those that can't get away just yet, these little luxuries will add a bit of exotic scented summer fun to your day.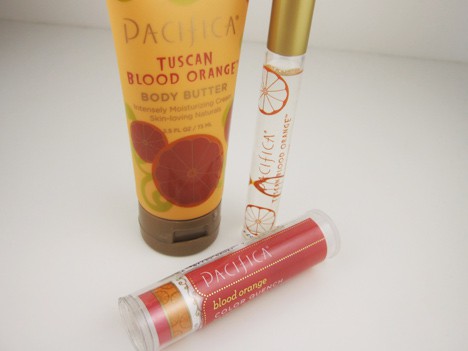 Available in four scents including Indian Coconut Nectar, Island Vanilla
(Pacifica's newest fragrance) and Hawaiian Ruby Guava, the Take Me There Sets capture wanderlust in a bottle – and two tubes as well. I was happy to review the Tuscan Blood Orange
trio, which has me aching for summer (and a few days lounging by a pool under a bright blue and sunny sky).
Tucked inside the specially packaged set you'll find three goodies in one of Pacifica's most loved fragrances, Tuscan Blood Orange. The scent is bright and happy, a little bit sweet (from summer fruits like strawberry and raspberry) with a slightly spicy citrus tang (from Mandarin and blood oranges).
Upon opening I instantly reached for and applied the purse sized Roll-On Perfume – and I've got to say it is a totally portable instant mood lifter! One or two swipes across my wrists, pleases my nose and seems to perk up my mind and spirit. The bubbly scent is a nice burst of happiness, but subtle enough to not distract. It's perfect for quick use after a cramped plane flight or at your desk in the middle of a long day.
For travel-weary and parched skin there's a tube of Pacifica's lush and lovely Tuscan Blood Orange Body Butter. This rich soothing lotion is super hydrating while sinking right into the skin without out a trace of greasiness, just a soft dewy touch. In fact, I can even use it while at my desk, wait a few seconds and continue to type away without worries.
Finally, for lips that are ready to kiss upon arrival, there's a tube of Blood Orange Color Quench Lip Tint, a pearly reddish-pink balm that's loaded with natural moisturizers. Formulated with avocado and coconut oils, this lip tint is rich in essential fatty acids for a plump and nourished pout.
The Blood Orange Color Quench
(also sold individually for $9 each) gives a super sheer touch of pink to lips for that "I just ate a bowl of strawberries" glow. This soft hue is perfect for an on the go touch up sans mirror.
Best of all, this fab trio, valued at $28, is available for just $18 – no need to make a dent in that vacation fund! To add a little sunny joy to your travels or just to help make it through another work day, I recommend you pick up one of Pacifca's Take Me There Sets.
Love Pacifica? Let's hear it! Plus, what's your 'take me there' location: If you could travel anywhere this summer, where would you go?
Click here to shop Pacifica
at Sephora
Disclosure: This review includes products that were provided by the manufacturer/PR firm for our consideration. It also contains an affiliate link, a link that gives us a small commission if you purchase the item. For more info, or any questions, please see our disclosure policy.