This post may contain affiliate links, which means I may receive a small commission, at no cost to you, if you make a purchase.
Grab a cup of tea and join us on an adventure down the rabbit hole, won't you? Because Urban Decay has teamed up with Disney to celebrate the release of Alice Through the Looking Glass. And they're celebrating in the best way possible: with a limited edition eye shadow palette and five lipsticks (all new shades!)
I got a chance to peek at the collection last week at a release party at Disneyland (which in itself felt like some sort of beautiful psychedelic trip). And now, I get to send all of you on a trip too!
Check out this picture heavy post and see for yourself if you need to set your clocks so you won't be late for a very important date(s): it releases April 28 at Ulta and May 2 everywhere else.
WE'RE ALL MAD HERE
The Urban Decay Alice Through the Looking Glass eye shadow palette ($60) is beyond gorgeous. I'm not one for excess packaging (A pop-up room for your primer? Please.) But this really got me with its kaleidoscope print, 3D butterfly and beautiful script quotes. It's just so fantastical.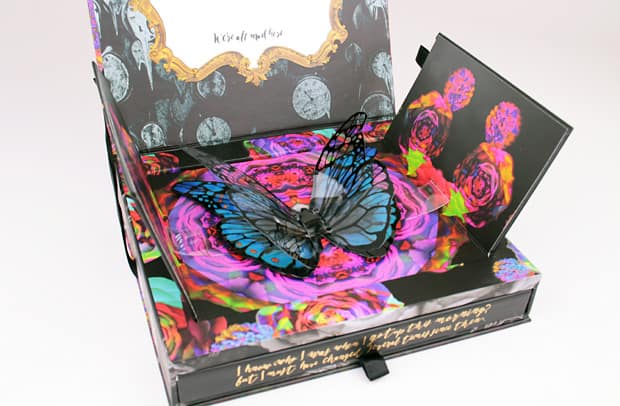 Luckily, the shadows are just as pretty as the packaging. It's a primarily warm palette (hooray!) in an array of textures.
Each vertical row is an ode to a character. From left to right they are: Alice, Mad Hatter, Mirana, Iracebeth and Time. But as you'll see from my swatches (which I did horizontally since I was obviously mesmerized) the whole palette works together. Really, there isn't a shade that you can't pair up!
Looking Glass, Hatter, Lily, Heads Will Roll and Time

Looking Glass – pale pink satin
Hatter – emerald green with micro glitter
Lily – light pink iridescent
Heads Will Roll – aqua with gold micro glitter
Time – purple-tinged dark blue charcoal shimmer
Refelction, Gone Mad, Duchess, Bandersnatch and Dream On
Reflection – pale apricot matte
Gone Mad – dark purple, micro glitter in the pan but looks matte on
Duchess – duochrome of peach and pink shimmer
Bandersnatch – deep ocean blue matte
Dream On – dirty plum, moondust finish (apply wet for the most color payoff)
Dormouse, Paradox, Kingdom, Salazen Grum and Chronosphere
Dormouse – medium caramel brown, micro glitter in the pan but looks matte on
Paradox – orange metallic shimmer
Kingdom – dark rose gold shimmer
Salazen Grum – light red metallic shimmer
Chronosphere – dark chocolate shimmer
Metamorphosis, Cake, Chessboard, Royal Flush and Mirror
Metamorphosis – cornflower blue, micro glitter in the pan but looks matte on
Cake – bright hot pink with micro glitter
Chessboard – milk chocolate matte
Royal Flush – silvery white, moondust finish (apply wet for the most color payoff)
Mirror – charcoal shimmer
Horizontal row three (Dormouse through Chronosphere) absolutely SLAYS me. It will make the prettiest warm eye. I also really love the blues (Bandersnatch, in particular) and greens in the palette (Heads Will Roll is divine).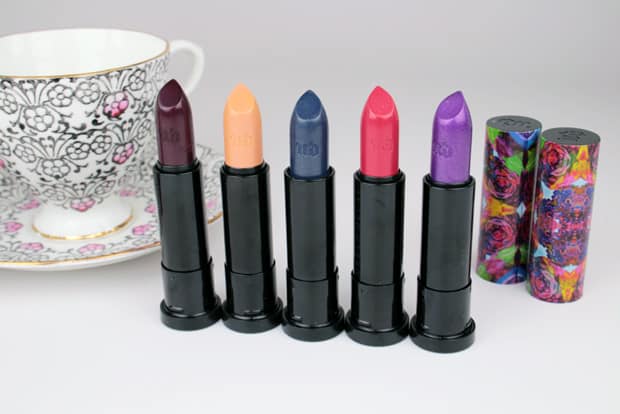 Not to be outdone, in march the five lipsticks all in a pretty row…
Mirana – dark garnet berry, metallized (we'll see what UD says about this new finish, but to me it means micro glitter)
Alice – uber pale peach nude with pink iridescent, sheer shimmer (this remind me a lot of the Duchess eye shadow)
Time – semi sheer blue grey with silver shimmer, metallized
Mad Hatter – bright fuchsia purple, metallized
Iracebeth – bright red, comfort matte
There's something for everyone in this line up. I'll wear Mirana and Iracbeth a lot. But I do wish Alice had more pigment, it's very hard to see. More adventurous folks will look incredible in Time and Mad Hatter. And of course, the packaging is a thing of pure beauty.
So we heartsters, has Urban Decay made you go mad with the Alice Through the Looking Glass collection?
Buy the collection here: Ulta
Stef is many things. Amongst them: editor-in-chief and co-founder of we heart this, photographer, condiment connoisseur, Philly girl in the California desert, borderline hoarder and a hardcore beauty junkie.
skin tone: NC 25/30
skin type: oily with a fear of rosacea
favorite beauty product: high end skincare and lip products