This post may contain affiliate links, which means I may receive a small commission, at no cost to you, if you make a purchase.
We've found a lot to love about these summery glosses!
photos: we heart this
I don't know about you but I can never have enough lip balms and lip therapies. My never ending quest to have smooth lips that don't peel has made me an avid user of a variety of treatments. With that said, any new, exciting balms or glosses that hit the market I want to try! And one of the most consistently exciting brands out there, Urban Decay has a real winner in their Summer 2011 collection with the Lip Love Honey-Infused Lip Therapy
.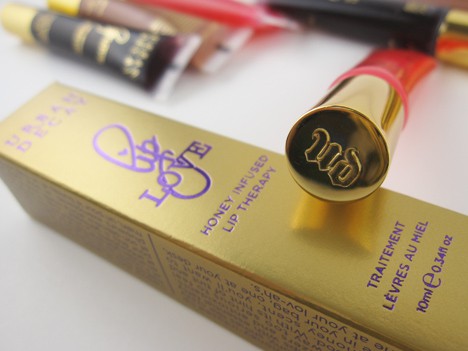 When two of these little tubes landed in my lap for a wht review, I eagerly slathered them on and have been using them everyday since. These are one of Urban Decay's latest creation – part lip therapy, they are infused with honey – and part gloss, offering a variety of soft, summery tints.
Lip Love in Taunt, Stung and Lolita
I tried out Taunt, which is a classic nude, and Stung, which is a deep plum tint. Now, when I say tint, we're talking just a hint of color, so even the deep plum only added a very slight hue to my lips.
These are thick, liquid glosses and felt extremely rich when I put them on. I could see why when I checked out the ingredients. They are packed with Vitamin C, which boosts collagen, and Millet, Jojoba and Apricot Kernel Seed Oils, ALL which attack dry lips with what Urban Decay describes as a "powerful lip healing trifecta."
Let me tell you, I felt the trifecta and was instantly impressed with the consistency and richness these glosses had. They felt great and like they were doing my lips a lot of good! I also immediately tasted the infused honey, which added a nice, subtle flavor, without being too overpowering.
My favorite part about these Lip Love tubes though is the packaging. They come in a sweet little glam squeeze tube and gold cap, and the best part is the soft angled tip that is just the PERFECT size to run over your lips. Too often lip glosses and therapies come in big, fat tubes with giant applicators, making them hard to apply. These tubes are just the right size.. small and compact. Easy to stash them in pockets and purses and way easier to use!
But don't let their small size fool you, a little goes a long way, so they will last for a while. I've barely made a dent in mine, which I've been using for a couple weeks now.
So, wrapping it up, let's take a look at some pro's and con's:
Pros
• Variety of fun tints.
• Thick, rich lip therapy.
• Come in a perfectly portable sized tube.
• Honey scent and nourishing formula.
Cons
• If you aren't a honey fan, you might not like the flavor.
Finally, some may feel $16 is a bit steep for a tiny tube of gloss. I didn't see the price as too much of an issue, if you're looking for a high quality lip therapy that works.
So, needless to say, I am definitely feeling the love for Urban Decay's Lip Love! we heartsters – are you head over heels for Urban Decay's new Lip Loves?
Erin is a secondary science teacher who adores makeup and fashion. She spends her free time pursuing her other passions which include cooking, antiquing, and decorating.
Disclosure: This review includes products that were provided by the manufacturer/PR firm for our consideration. It also contains an affiliate link, a link that gives us a small commission if you purchase the item. For more info, or any questions, please see our disclosure policy.
Latest posts by spitfire77
(see all)