Urban Decay -the Vegan Palette does good
This post may contain affiliate links, which means I may receive a small commission, at no cost to you, if you make a purchase.
a review of UD's new palette, plus lip junkie lip gloss
photos: we heart this
In the extremely unlikely event that Urban Decay is not on your beauty radar, there's one thing you need to know: this is not a line for wimps. These are products designed for women who can make a statement, take a stand, make choices that might be a little risky– just like the line itself.
So this exciting news should be no surprise: besides releasing a bold fall line that has me swooning, Urban Decay is participating in Raffle for the Rescues, generously providing Vegan Palettes for the celebrity hosts and eyeshadow singles for the gift bags! I can't think of a more fitting statement from a company known for its cruelty-free business practices as well as its frankly earthshaking products.
All of Urban Decay's cosmetics are manufactured without animal testing, but their new Vegan Palette
($34), created in honor of PETA's 30th anniversary, goes above and beyond. It's produced without using any animal by-products at all. Even the packaging is vegan, and adorable, too! It's covered with the most precious animal illustrations printed on recycled stock. In fact, it's so beautiful, I would have to own this palette just for the design even if I wasn't crazy about what was inside.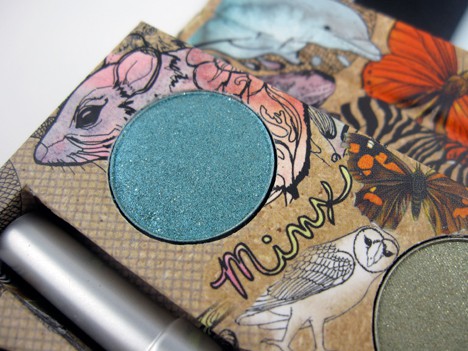 But this is Urban Decay, so no chance of that! This is a standout collection of shadows. No glum fall neutrals; we're talking bright, sparkling, but still totally wearable color. The palette includes shadows in Minx (turquoise, shown above), Urb (light green), Gunmetal (metallic gray), Twice Baked (dark coffee brown), Smog (medium golden brown), and Half-Baked (light gold).
Additionally, the Vegan Palette includes a travel-sized 24/7 Glide-On Eye Pencil in Zero (blackest black) and an Eyeshadow Primer Potion in Sin (metallic champagne nude).
The shadows are super-blendable and full of pigment and, in most cases, glitter. I first used a fluffy eyeshadow brush and ended up with glitter all over my cheeks. More careful application with a smaller brush kept the glitter fallout under control. I'm crazy about the eye pencil, which is so black and so soft, it looks like liquid liner on my lid and is a whole lot easier to apply.
And if this isn't enough excitement for fall, Urban Decay has also brought us a brand new lip gloss line! Lip Junkie Lip gloss
($19) is available in eleven shades, some creamy, some shimmery. These glosses are packaged in soft tubes with a cool metal Gothic-inspired top that twists off for easy squeeze-on gloss application.
Runaway
I tested Runaway, a frosty coral with tiny iridescent glitter. This gloss, which looks very bright in the tube, turned out to be both sheer and pigment-packed on my lips. I was surprised at how long the color lasted; even when the non-sticky glossiness was gone, I still saw pretty, slightly sparkly coral. It has a cool mint flavor that made my lips feel tingly and plump and my breath feel fresh. I'm now trying to decide which Lip Junkie Lip Gloss will be my next.
Melissa, we suggest Perversion, check out that color! ~wht
Urban Decay doesn't just offer lip service when it comes to creating products an animal lover– even a vegan– can support in good conscience. In so many ways, they walk the walk, which is just one more reason I feel good about supporting their cool, captivating company.
Disclosure: This review includes products that were provided by the manufacturer/PR firm for our consideration. It also may contain an affiliate link, a link that gives us a small commission if you purchase the item. For more info, or any questions, please see our disclosure policy.