This post may contain affiliate links, which means I may receive a small commission, at no cost to you, if you make a purchase.
photos: we heart this
Have a weakness for eye shadow? Can your quest for pigment make you consider depraved behavior? Is your love of shimmer downright immoral? If so Urban Decay has the answer for you, the shadow junkie, and the answer is The Vice Palette
.
This limited edition palette (meaning: buy it before it's gone, you'll cry, I'm serious!) whispers luxury from moment one. From the foiled, embossed UD logo on the cover, to the spot varnished shadows shades on the back. And that's just the box! My inner design nerd was pleased before we even got to the actual palette.
But once inside that beautiful box, it's my inner makeup junkie's time to swoon. Beyond the jewelized logo and the rubber-feeling case that opens with an almost hydraulic-like accuracy, lies 20 brand new shadows. Which UD fans know is a big deal! No repromotes here, just 20 shades you don't have in any of your other palettes.
And oh, what shades they are…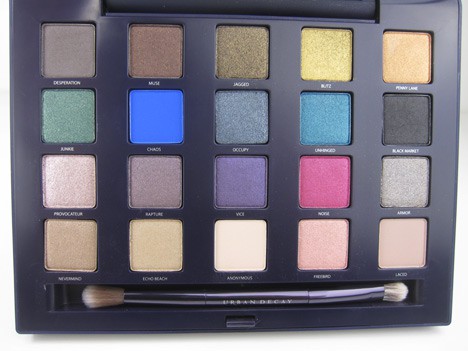 You get a fabulous range of color in Vice; wearable neutrals, rich jewel tones and a few pops of wild color to keep things fresh. And every matte, satin, shimmer and glitter is in their new Pigment Infusion System, which gives the shades "velvety texture, rich color, serious staying power and blendability".
I'd agree with that for the most part, but the glitter shades are problem children (dry, chunky texture and loads of fallout). But luckily, there aren't more than a few of them in Vice (Jagged, Provocateur, Freebird).
Enough of my chatting, let's get a closer look at shades!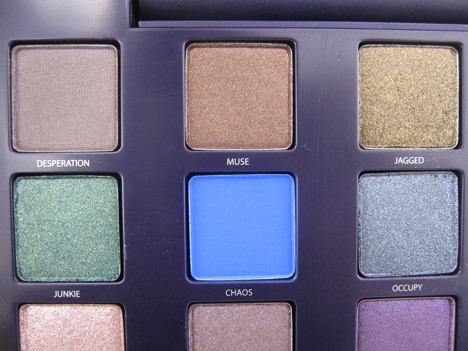 And as a bonus, you'll also get a double-ended Good Karma Shadow and Crease Brush, a really good brush that's hardly an afterthought.
Ready for swatches?
Desperation, Muse, Jagged, Blitz, Penny Lane
Desperation, Muse, Jagged
Muse, Jagged, Blitz, Penny Lane
Desperation – brown-tinged grey taupe with a satin finish
Muse – blackened reddish brown with bronze sparkle
Jagged – olive brown with chunky gold glitter
Blitz – foiled gold metallic with a hint of khaki
Penny Lane – peachy copper with gold shimmer
Junkie, Chaos, Occupy, Unhinged, Black Market
Junkie, Chaos, Occupy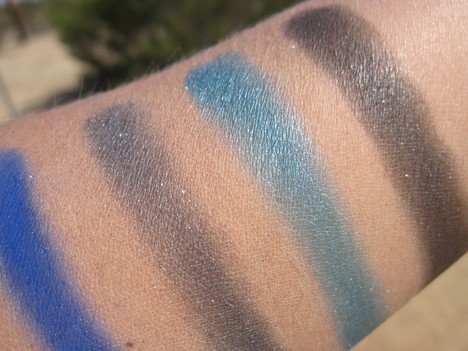 Chaos, Occupy, Unhinged, Black Market
Junkie – emerald green with gold micro glitter
Chaos – rich cobalt blue matte (almost blurple!) with a very fine shimmer that's only noticeable in the pan
Occupy – steel grey blue with silver micro glitter
Unhinged – medium metallic aqua
Black Market – subdued black satin
Provocateur, Rapture, Vice, Noise, Armor
Provocateur, Rapture, Vice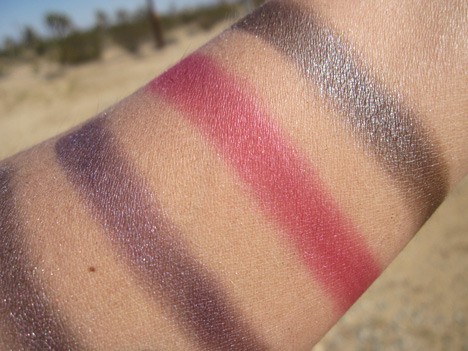 Rapture, Vice, Noise, Armor
Provocateur – chunky, glittery greyish pink
Rapture – greyish purple shimmer
Vice – true grape with grape and red shimmer
Noise – hot pink with pink micro glitter
Armor – grey taupe with silver micro glitter
Nevermind, Echo Beach, Anonymous, Freebird, Laced
Nevermind, Echo Beach, Anonymous
Anonymous, Freebird, Laced
Nevermind – golden light brown shimmer
Echo Beach – golden tan shimmer
Anonymous – matte ivory
Freebird – peachy-pink nude with chunky glitter
Laced – matte pink-tinged mushroom
Whew, I kinda feel like a need a cigarette after that! Here are my overall thoughts…
Pros:
• beautifully designed, gimmick-less palette that utilizes it's space well
• a GIANT, high-quality mirror
• great value, $59 for 20 nearly full size shadows
• fabulous range of shades and textures; bright to neutral, shimmer to matte
• other than the glitters, these are the trifecta of a perfect shadow formula: great pigment, long wearing and smooth texture
Cons:
• the raised logo, though beautiful, makes it hard to stack
• the three glitter shades miss the mark and stick out like sore, glittery thumbs
we heartsters, will this be one Vice you won't be ashamed to have?
Buy it at Sephora
, or at Urban Decay during their Friends and Family Sale for 20% off (use code FFHOLIDAY12 through 10/13/12).
Disclosure: This review includes products that were provided by the manufacturer/PR firm for our consideration. It also may contain an affiliate link, a link that gives us a small commission if you purchase the item. For more info, or any questions, please see our disclosure policy.