This post may contain affiliate links, which means I may receive a small commission, at no cost to you, if you make a purchase.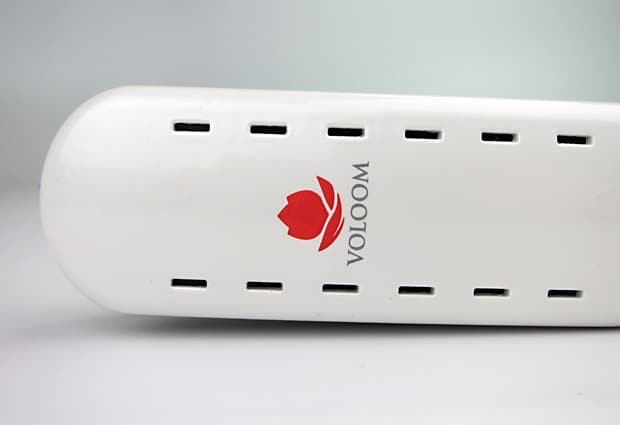 I'll admit, I have a weakness for gadgets. And if it's a beauty gadget; even better! But for every one that works its way into my routine, there are probably five that don't. Hence, a sea of dusty beauty gadgets under my sink. So many so that it looks like I'm running an illicit Sharper Image from my bathroom.
So when I was asked if I wanted to try VOLOOM, a tool that promised to add volume to hair in just minutes, I couldn't say yes fast enough. If it didn't work, there was always a bit more room at the shop under the sink…
But guess what? VOLOOM works. Actually, it doesn't just work; it's a hair game changer. If you're in a constant struggle to get volume in your hair through products and blowdrying, things are about to get A LOT easier.
If you were around in the 80s, you may think you're looking at a crimping iron (oh, I just flashed back to my prom!) Which is both kind of true, and not true at all. Those waffle looking plates are where the power lies. Unlike a crimping iron, you apply these to the under-layers of your hair.
(click the photo for a larger image)
Style your hair as usual, then section it into smaller parts (I did four.) Grab the top layer of your hair, about 1/2 to 1 inch, and move it away from the area you're working on (like you're making a comb over!) Then, quickly squeeze the VOLOOM on the under-layers right at the scalp and as far down the hair shaft as you'd like volume. This creates volumizing structure (something they call "volume pockets") that lift the hair up and away from the scalp. Once you comb your top layer back over, you'll be amazed at the results. It's like you put a petticoat under your hair.
Besides the crazy amount of volume it produces, there are two more facts about VOLOOM that I found amazing. You don't need any styling products with it. I have NEVER got volume out of my hair without the aid of products before! Equally surprising, I didn't need to wash my hair as quickly. My hair is normally dirty and flat by the second day. But with VOLOOM I went three days without washing it. I'd imagine the oil was hiding in all those volume pockets.
But perhaps most the most remarkable fact is how simple it is to use. Easier than a curling iron, by miles. Just how easy? This style you see here was done just two weeks after I broke both of my elbows! Yes, I styled my hair with one arm in a cast and one in a sling.
Hair game changer, I'm telling you folks…
It's available now for $129.99 and that includes free shipping. If you don't like it, you have 30 days to return it for a refund. Give it a shot! The only thing you have to lose is flat hair. (Order it here.)
we heartsters, are you lacking volume? Would you give VOLOOM a try?