This post may contain affiliate links, which means I may receive a small commission, at no cost to you, if you make a purchase.
photos, swatches and thoughts…
photos: we heart this
You hear that? It's the sound of giggles and cheers everywhere because today MAC releases Quite Cute! The new 23 piece collection may just be the most aptly named launch yet, it's cute defined. Think everything little girls of made of. Now take a spoonful of mod and a huge dollop of kawaii and you have a launch so sweet it just may give you a cavity!
The collection is also super cool. Cool as in fab, but more so, cool as in warm toned girls are going to feel a bit left out. That's not to say there aren't products you can wear, there are. But cool girls – this one's for you.
So, just how cute is Quite Cute? I give you, the Mineralize blushes…
Miss Behave
Sakura
Yes, that's a heart in the center of each. Couldn't you just die? We got a look at two of three limited edition blushes in Quite Cute. Miss Behave is a beautiful, sheer peach with a shimmery green heart. On my medium skin, all I saw was shimmer, not much color. But I think this will look beautiful on pale skin. Sakura is lilac pink with a shimmery magenta heart and a satisfy amount of pigment (it's the blush I'm wearing in the photo below).
Candy Yum-Yum, Play Time, Quite Cute
Lipsticks
Here are three of the five rather extreme lipsticks of Quite Cute (four are limited edition, Saint Germian is a repromote). Candy Yum-Yum is neon pink with a matte finish. And they do mean neon, this looks like it's electric. Like a lot of mattes, I also found that it magnified imperfections (like dry lips). Combine that with it's intense brightness and I found it pretty unforgiving when applied full strength. But, when I dabbed it on and added a gloss, this shade is gorgeous and a real stand out in the launch.
The two cremesheens of the bunch are Quite Cute, a cool lilac (very similar to I ♥ U plushglass) and Play Time, a magenta purple. Like Candy Yum-Yum, I had the best luck applying just a wash of color and adding gloss (even though the cremesheen finish is much more forgiving than matte). But honestly, these paired with my warm skin made a pretty sickly combo.
Ice Cream Cake, Little Girl Type, I ♥ U
Nail Lacquers and Plushglasses
The launch contains three creme nail lacquers. Ice Cream Cake is pure bubble gum pink. I found the formula to be a bit thick on this one. But once applied (two coats on both of these shades) the color was quintessential pink. Little Girl Type was my favorite of the two, and had a thinner formula as well so it was easier to apply. It's a beautiful cool lilac (again, very similar to I ♥ U plushglass and Quite Cute lipstick).
Speak of the cute devil – I ♥ U is the only of the four limited edition plushglasses we got to take a look at. I'm a big plushglass fan, it's probably my favorite plumping gloss. They have a vanilla mint scent to them and leave your lips feeling tingly and yes, plumper! The cool lilac shade is very sheer and creamy, so I think it's the most wearable adaptation of this color in the whole launch. (Check it out over a nude pencil in my photo below, pretty right?)
Cutie Eye Shadow Quad
Eye Shadow Quad
Cutie is it's name, and guess what it is? Super tough! Just kidding…it's cute. Moshi Moshi is a pale and frosty green with chunky shimmer (and lots of it!) Goody Goody Gum Drop is a light pink that disappeared on my eyes. Neither of those shades worked for me. But Boycrazy, a pale lavender with silver shimmer, and Azuki Bean, medium toned gray violet, worked surprisingly well on purple-fussy me. Overall, the shadows are all on the sheer side in varying degrees and I do prefer a bit more pigment personally.
In Synch, Naked Liner
Lip Pencils
I'm rarely excited about lip pencils but these were my favorite part of the launch! (All three are repromotes.) I checked out two of the three pencils Naked Liner is a hardcore nude lip lover's dream. The equivalent of putting concealer on your lips! It totally blocks out your lip color, allowing for a pure, pale nude lipstick or gloss to go to town. In Synch is a light yellow based pink, so it's like a pale coral. I'm a fool for coral so I instantly fell for this.
Here's a closer look at Quite Cute…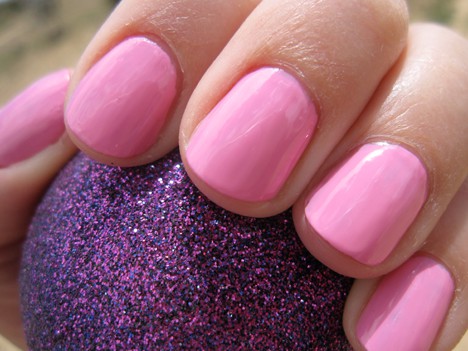 Ice Cream Cake
Little Girl Type
In Synch and Naked Liner lip liner, I ♥ U plushglass, Quite Cute, Play Time and Candy Yum-Yum lipstick
Moshi Moshi, Goody Goody Gum Drop, Azuki Bean and Boycrazy eye shadow
Moshi Moshi, Goody Goody Gum Drop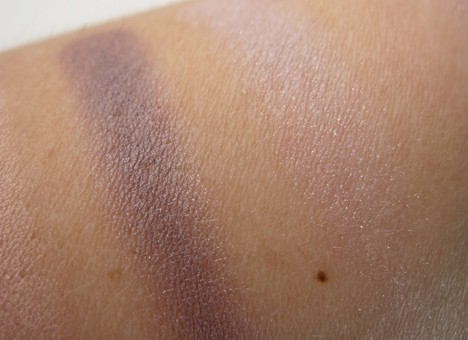 Azuki Bean, Boycrazy
Sakura, Miss Behave mineralize blush
Azuki Bean and Boycrazy eye shadow with black liner, Sakura blush, Naked liner over entire lip with I ♥ U plushglass on top
Overall: I think Quite Cute well lives up to it's name. But with it's extreme pale pastel shades, I also think it's a collection that will speak loudest to the younger set, and a cool toned younger set at that. That said, this warm toned elder found a few gems within!
Quite Cute is available in store and online from April 7 through May, 2011. we heartsters and testers, will you be adding a bit more cute to your life?
Here is the complete collection…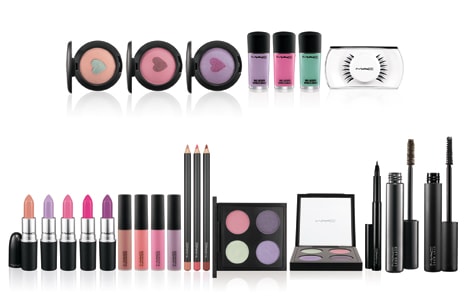 Mineralize Blush
Miss Behave – Light beige with pearly mint green heart
Giggly – Light pink with pearly plum heart
Sakura – Lavender with pearly magenta heart
$23.00 U.S./$27.50 CDN
Nail Lacquer
Little Girl Type – Creamy pale lavender
Ice Cream Cake – Creamy blue pink
Mischievous Mint – Creamy pale blue mint
$14.00 U.S./$17.00 CDN
Lashes
#7 Lash
$14.00 U.S./$17.00 CDN
Lipstick
Playing Koi – Creamy white peach pink (satin)
Quite Cute – Creamy bright whitened lavender (cremesheen)
Saint Germain – Clean pastel pink (amplified)
Candy Yum-Yum – Matte neon pink (matte)
Play Time – Creamy intense violet (cremesheen)
$14.50 U.S./$17.50 CDN
Plushglass
Bubble Tea – Creamy pale nude
Fashion Fanatic – Creamy pale pink
Girl ♥ Boy – Bright light blue pink
I ♥ U – Creamy mid-tone purple
$18.50 U.S./$22.00 CDN
Lip Pencil
Naked Liner – Light neutral
In Synch – Bright yellow pink
Boldly Bare – Dirty red brown
$13.00 U.S./$15.50 CDN
Penultimate Eye Liner
Rapidblack – True black
$17.50 U.S./$21.00 CDN
Loud Lash Mascara
Noisy Black – Black
$14.00 U.S./$17.00 CDN
Zoom Lash Mascara
Zoom Black – Rich black
$14.00 U.S./$17.00 CDN
Cutie Eye Shadow Quad
Goody Goody Gum Drop – Light white pink (satin)
Boycrazy – Pale lavender with silver pearl (lustre)
Moshi Moshi! – Pale white green gold (frost)
Azuki Bean – Mid-tone dirty violet (frost)
$36.00 U.S./$43.00 CDN
Disclosure: This review includes products that were provided by the manufacturer/PR firm for our consideration. For more info, or any questions, please see our disclosure policy.