This post may contain affiliate links, which means I may receive a small commission, at no cost to you, if you make a purchase.
The latest from Stila, MUFE, Sephora and more…
It's one of my favorite times of the year, right up there with Halloween and my birthday. And I'm not even exaggerating one bit. It's when The Makeup Show LA 2015 comes to town.
That's right, March 28 and 29, marks the 7th year that The Makeup Show takes on downtown Los Angeles. This pro-only event is "dedicated to Artistry, Networking, Community, Inspiration and Education." Attend hands-on workshops and seminars, expand your horizons with forums and keynotes speakers. Oh, and shop…do lots and lots of shopping (many brands offer discounts too). It's pretty much a beauty lover's dream.
We received a press box of items that are either launching at The Makeup Show, from brands who have a special event happening there or items from brands that will be attending for the very first time. Whichever category they fall under; it's a big ol' box of fabulous.
• Our love for Ellis Faas is well documented; amazing packaging + equally amazing products = we heart this devotion. So we're super excited to check out the Ellis Faas Icon Gallery, which will include her makeup, photography and beauty brand.
If you are a red lip lover, do yourself a favor and pick up one of her classic Ellis Red lip products; it's the first shade number in all four of her formulas.
Ellis Red in 201 Milky Lips, 101 Creamy Lips and 401 Hot Lips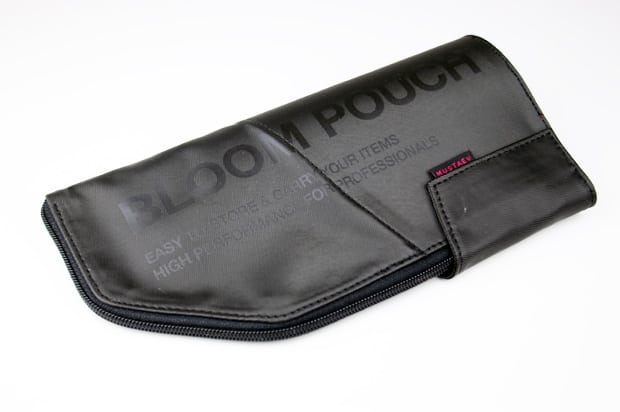 • The Bloom Pouch from MustaeV is all kinds of genius. It zips up to store brushes and pencils on the go, then folds over and stands up to display them for easy use when you arrive!
• I have been so excited to check out the MAKE UP FOR EVER Step 1 Skin Equalizer; ten new primers that deal with whatever your skin issue may be. Shown here is 2, the Smoothing Primer and 1, the Mattifying Primer. Redness Correcting Primer: I'll see you at the show!
2 Smoothing Primer and 1 Mattifying Primer
• The Static Nails in Cristal are made with Swarovski elements and they use a non-damaging glue so the nails can be removed and reused. So pretty!
• Smashbox is one of the most legendary Los Angeles makeup companies (Max Factor history and all), so it's no surprise their presence is large at The Makeup Show.
This year, LA will debut the Smashbox and Donald Robertson Icon Gallery, which will no doubt highlight the artist's work with the brand on the #BingToBasel project. Basically, Robertson covered a vintage Cadillac with signature doodles (lips, in this case) and Smashbox drove it to Miami to hand out these limited edition Cherry Smoke Be Legendary lipsticks in Bing. It's the perfect bright cherry red.
Swoon!
I look forward to experimenting with their Step by Step Contour Stick Trio too, complete with instructions by face shape.
Step by Step Contour Stick Trio in Highlight, Contour and Bronze, Bing Be Legendary lipstick
• Oh hooray, Beautylish is bringing Bioderma to The Makeup Show (just like they brought the French skincare line to the US!) Their Sensibio H2O micellar water removes makeup (even waterproof) and is a cult-classic. They say a bottle is sold around the world every 5 seconds.
2 swipes of Bioderma and product is gone, girl.
Pinnacle Eye Lights in Chrome, Treasure and Purity
• I LOVE the Eye Lights by Pinnacle Cosmetics. This is a private label line, meaning, you can brand their products as your own (and many brands do). I'd TOTALLY put out a we heart this makeup line of the Eye Lights; liquid shimmer that goes exactly where you want, dries quick and doesn't budge. These are a Makeup Show exclusive.
• I'm excited that the Sephora Collection will be at The Makeup Show. I have to admit, I don't give the brand as much attention as they deserve (considering my love of the store itself). If the Colorful Blush is an example of their quality, I've really been missing out. These are highly pigmented and gorgeous.
The #73 Pro Precision Blush brush brush has an extra long handle and a smaller head for more precise application (hence the name!)
Sephora Colorful Blush in Over the Moon, Flirt it Up, I'm Shocked
Senna Brow Shaper Duo in Brunette
• I'm very intriqued by the Senna Cosmetics Double-Sided Pro Brow Brush 40 (the other end not shown is a spoolie) and Brow Shaper Duo, a fiber infused powder paired with a pomade that plumps brows. Totally picking this up in Blonde at The Show!
• The Stila Color Balm Lipstick in Sophie is from their Nude Interlude collection and just moved in to the #1 position on my "current favorite nudes" list. It's also creamy, smells like mint and comes in the prettiest rose gold case.
Senna Brow Shaper Duo in Brunette, Stila Color Balm Lipstick in Sophie
• Ruby Academy will be launching their own line at The Makeup Show. If the LL Cream in Busy Bee is an indication, it's going to fun and colorful!
So, who wants to meet us for shopping and all things beauty at The Makeup Show LA?
Stef is many things. Amongst them: co-editor of we heart this, photographer, condiment connoisseur, Philly girl in the California desert, borderline hoarder and a hardcore beauty junkie.
skin tone: NC 25/30
skin type: oily with a fear of rosacea
favorite beauty product: high end skincare and lip products