This post may contain affiliate links, which means I may receive a small commission, at no cost to you, if you make a purchase.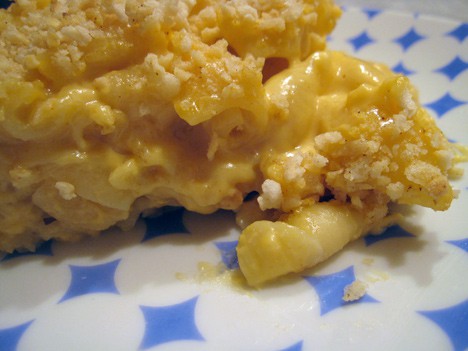 (We were lucky enough to make this recipe on Saturday night, so let us just preface this post by saying, this may just be one of the tastiest things we've ever eaten~wht)
Editor's Note: This is a Casserole-type mac and cheese. If you are looking for a saucy mac and cheese, keep on looking.
I love comfort foods. When I think of comfort food, one of the first things that comes to mind is good, old-fashioned macaroni and cheese. I mean, what isn't comforting about pasta with a ton of cheese? Am I right? In my many years on this Earth, I have made it my quest to find the best recipe of macaroni and cheese possible-I have literally made over a hundred different recipes in my search. I finally found a really good one last year that I tweaked a bit and the end result is carbohydrate heaven. Enjoy!
Topping–
1 1/2 c. panko bread crumbs (These are Japanese breadcrumbs, which are flakier than regular breadcrumbs. If you can't find them with the other breadcrumbs, try the aisle that carries Asian food.)
4 T. butter
1/4 tsp. salt
a few dashes of paprika
Melt butter over medium-high heat, add salt and paprika. Add panko and coat thoroughly with butter. Stirring frequently, heat until toasted, about 8 minutes. Remove from heat and set aside.
Mac and Cheese–
1lb. box of macaroni noodles (Feel free to use other noodles if you're feeling fancy; shells, cavatappi and gemelli work well in this.)
2 eggs
2 12 oz. cans of evaporated milk (Do not use fat free evaporated milk, it will not give the same result and seriously, when you see how much cheese is in this, who are you kidding using fat free milk anyways?)
2 tsp. powdered dry mustard
1 tsp. salt
1/2 tsp black pepper
1/2 tsp. Tabasco
16 oz shredded sharp cheddar
8 oz. shredded Parmesan cheese
8 oz. finely chopped Velveeta
(All 3 cheeses should be combined into one bowl and tossed evenly with each other)
8 T. unsalted butter (note: see step 4 below)
1. Preheat oven to 400 degrees.
2. Combine cans of evaporated milk, eggs, mustard, salt, pepper, and Tabasco in a bowl and whisk together until ingredients are well-combined and eggs are completely beaten. Set aside. Be sure to do this before you boil the pasta because the eggs will need time to acclimate so they are not cold when being added to the pasta. You do not want the eggs to become scrambled eggs once added to hot pasta.
3. Boil pasta in salted water for the time given by the al dente instructions on the box.
4. Once pasta is cooked, drain and return to pot. Toss with unsalted butter until coated. If this is going to be eaten in one sitting, you can skip the butter. The butter helps seal the pasta and keep the leftovers from getting mushy from sitting in cheese sauce in your fridge, but if it's being eaten in one sitting this is a non-issue. (And we really do recommend eating it in one sitting. This recipe is best fresh~wht)
5. Give evaporated milk mixture a few extra whisks and then add to pasta with half of cheese, stirring over medium to medium high heat until cheese is melted. Add remaining cheese and continue stirring until thoroughly melted.
6. Transfer to a large baking dish and top with toasted panko. Bake on top rack of oven for 20 to 25 minutes. If you use a disposable foil pan, place a cookie sheet underneath it while baking so the bottom doesn't burn.
7. Try not to eat the entire pan.
The end result is a creamy, cheesy macaroni and cheese that is anything but bland. I usually only make this if I'm having company because it does produce quite a bit and it is like crack. I wasn't kidding about trying not to eat the entire pan. Take a pan to your next family picnic and you will be worshipped!
Who else out there considers themselves a macaroni and cheese connoisseur?