This post may contain affiliate links, which means I may receive a small commission, at no cost to you, if you make a purchase.
Until now! The wht team tests the Japanese beauty staple.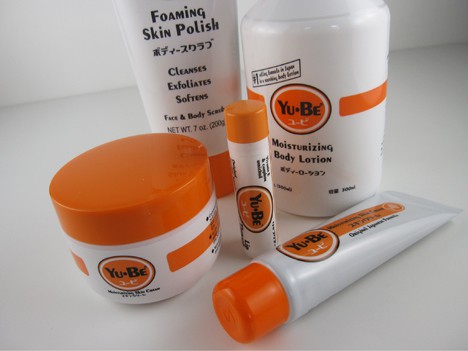 photos: we heart this
I think almost everyone has that one friend who always seems to be 'in the know'. Maybe she was the first one you knew to pick up the Urban Decay Naked palette, or maybe he was the first one to tell you about the cool new internet radio station. Today I feel like I get to be that person for everyone, now that I can tell you all about Yu-Be Skin Care.
Yu-Be is a Japanese line that was developed in the 50s by a pharmacist, with the help of a chemist. Their original glycerin based moisturizer is the longest selling skin product in Japanese history, and after a few weeks of use I can see why.
These products were designed to be used from head to toe, by men, women and children. This is an easy to use, easy to love, skin care line that will work its way into your heart as quickly as it has mine.
Recently, the wht team had a chance to take a closer look at a few of Yu-Be's most beloved products:
Yu-Be Moisturizing Skin Cream
(2.5 oz, $25 – 1.25 oz, $16)
The product that started it all, a glycerin based vitamin enriched cream that's heaven on dry heels, elbows, and even lips. I've used this almost every night since I got it and the flakes on my elbows are gone, and my feet feel smooth.
It's so soothing, I started putting it on my lips a couple of weeks ago as well. Its as thick as Vaseline, but absorbs almost instantly. A teeny tiny amount is enough for both feet and my knees. This jar of Yu-Be Skin Cream will easily last me for months. It's also available in a smaller size in a handy, portable tube.
Moisturizing Body Lotion ($29)
A thinner version of the cream; this is a light weight lotion that's easy to apply. I think of this as a summer version of the cream, a small amount was enough for both of my legs, and applying it straight out of the shower my skin was soft and smooth all day. The website says this is great on sunburns too, while I hope I don't have to use it for that I would certainly reach for it if I had one.
Foaming Skin Polish
($18)
This one was the real winner for me. I didn't get a lot of foaming out of it, but oh boy did I get clean. The rice bran and bamboo really scrubbed my skin clean of dirt and dry skin without irritation.
But where this product really shines is its versatility. Not only is it fab on the BODY, it is easily one of the better exfoliating FACE washes I've used in ages. After using this all of my skin feels shiny and new – without the irritation that comes with some scrubs. I step out of the showering glowing and fresh.
Lip Therapy ($5)
And finally the product that hasn't left my pocket in a month. One of the best lip balms I've used in a long time. Enriched with vitamin E and Camphor this makes for happy lips. A smooth, lightweight, but seriously effective lip balm. Great for any type of weather, light enough for summer wear, moisturizing enough to keep my lips happy in the transition to winter. And for just 5 bucks one of the best values I've seen in ages.
All of the products can be used from head to toe, and a little goes a long way. When my friends ask me what I'm using on my happy healthy skin this winter I will be telling them its Yu-Be.
we heartsters and Testers – Have you discovered Japan's secret to soft skin? Meet me in the comments to talk all things Yu-Be!
Check out the Yu-Be site for a free 3 pack sample of Yu-be products (you pay $5 shipping and handling but I think its well worth it). Click here to get yours – Yu-Be Samples
Or click here to shop Yu-Be
at beauty.com!
Disclosure: This review includes products that were provided by the manufacturer/PR firm for our consideration. For more info, or any questions, please see our disclosure policy.