This post may contain affiliate links, which means I may receive a small commission, at no cost to you, if you make a purchase.
I'm the self-declared captain of the beauty-obsessed portion of this ship. Don't get me wrong, @Tyna could easily steer the wheel in a moment's notice. But she also sails happily knowing that I dutifully try (or at least swatch) every item that passes through the wht harbor. So, all aboard – it's a bit late, but these are my favorite beauty products or collections that sailed our way this year; 13 of them to honor the year (in no particular order).
1. NARS Day Dream blush – The blush for anyone who finds Orgasm awesome, but a bit too shimmery. Day Dream from the Guy Bourdin collection, in its peachy/pink/coral shade, is an absolute must have. (buy it here)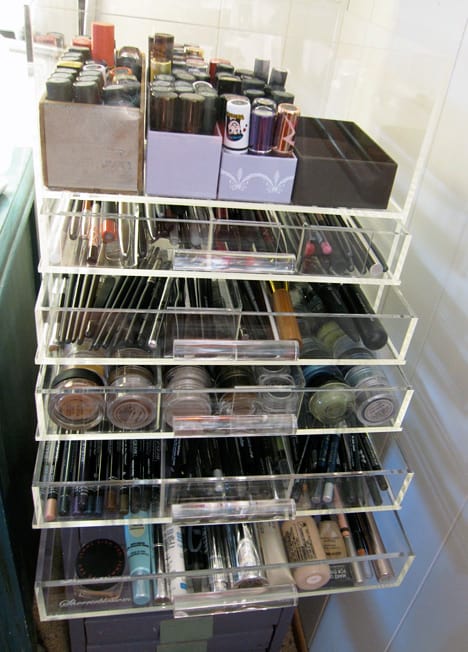 2. ICEbOX Skinny makeup organizer – How could I NOT pick this? It's revolutionized my makeup storage, and that is not even slightly exaggerated! The amount of makeup you can fit into it is shocking. (buy it here)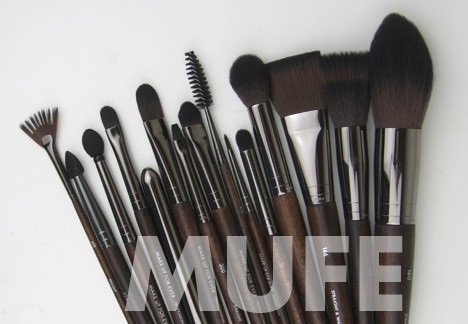 3. MAKE UP FOR EVER Artisan Brush collection – Handcrafted with beech wood handles and different types of synthetic fibers depending on the purpose, these seventy-six brushes really are a work of art. I am especially impressed with the #224 Silicone Applicator, a MUST for loose glitter lovers. (buy them here)
4. Obsessive Compulsive Cosmetics Moderncraft collection – I loved every single item in this launch, a collection of rich and boozy lip tars and nail lacquers that pay homage to the real-life cabarets of 1920s Weimar Berlin. Give me a launch that tells a story (and a sexy one at that) and I am in! (buy it here)
5. Jordana Cosmetics 12HR Made to Last Eyeshadow Pencils – These blew me away. How can you fit this much pigment into a product that sells for $3.99? I'm guessing sorcery, and I have officially jointed the Jordana coven. (buy them in drugstores)
6. MAC Indulge collection – I loved EVERY product I checked out from this launch. It was as if MAC was looking straight into my head when they created this rich color palette, heavy on berry, nude and gold, with random pops of gorgeous color. (sell a kidney and buy on ebay)
7. MAC Temperature Rising – You thought I could pick just one MAC collection? Hi, I'm Stef. I don't think we've met. I am historically wowed by MAC's summer launches and this one was no different. I mean, bronze and magenta, who knew they'd look so fabulous together? Uh, MAC did! (sell other kidney and buy on ebay)
8. 100 Percent Pure Body Cream – Not new, but downright heavenly; rich texture and intoxicatingly fragrant. Plus, I'm a sucker for a good coconut scent, and theirs is the best, EVER. This brand consistently impresses me time after time. (buy it here)
9. Le Metier de Beaute Peau Vierge Anti-Aging Complexe Tinted Treatment – Oh, the glow that this creates! Retinol treats, shimmer diffuses, skin looks incredible. Worth every penny. (buy it here)
10. Hourglass No. 28 Lip Treatment Oil – Dreaming of a magic wand that makes dry lips disappear? Look no further, this looks, works and smells incredible. My lips go through withdrawl without it! (buy it here)
11. NYX Love In eye shadow palettes – Here's another drugstore product that hit it straight out of the park. Whether you choose Love In Rio (three shades) Love In Florence (five shades) or Love In Paris (nine shades) you'll find smooth texture and gorgeous shade pairings. (buy them here)
12. Urban Decay Oz palettes – Oh, it almost seems cruel to be talking about these (as they were Limited Edition and long gone) but they were so perfectly curated that I simply have to. Glinda's palette had ethereal shades; Theodora's were modernly witchy; both were perfectly pigmented. (maybe if you click your heels three times you might find somewhere to buy them?)
13. bareMinerals The Wild Thing Ready 4.0 palette – A modern shade combo, this showing from the Remix collection has a buttery texture, beautiful packaging and is what I reach for almost every time I find myself longing for something unexpected. (buy it…oh, I really am a bad person for picking some many limited edition products)
we heartsters, what were your favorite products of 2013?