photos: we heart this
It's barely Valentine's Day, but it's not too early to start thinking Spring! It's that time of year when we start dreaming of blue skies and sunny days (especially if you are in the snowed-in North East). Smashbox
has a jump on Spring 2010 with their latest collection, Heartbreaker, a totally 80's inspired line sure to put a smile on your face and a spring in your step.
I know what you're thinking, "I love the 80's, but no one looks good in the garish colors and bright hues of the decade." (Do you remember when make up looked like this?) Luckily, Smashbox
has created the Heartbreaker Collection to mimic the vibrancy of the go-go generation with sheer and flattering colors that are totally wearable for all skin tones, day or night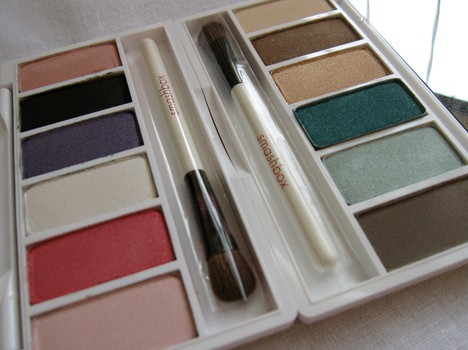 And, if you're looking for that big 80's pop of color, the Heartbreaker Collection has you covered! There are two totally awesome eye shadow palettes, each filled with six eye popping shadows, Kiss n' Tell
(left) has pinks and purples while Hot Date
(right) has teals, green and creams, that can be worn two ways. Use these shadows dry for a hint of brightness and a sheer wash of color. If you want to up the intensity, apply these shadows with a damp brush for deeper, vibrant shades that last all day.
If you want to draw even more attention to your eyes, you can't go wrong with dramatic, black eyeliner. The Liquid Liner Pen in Jet Black
is great for those that love the look of a liquid liner, but have yet to manage the fine art of lining the eyes. This felt tipped pen helps create steady, smooth lines and is virtually skip-free. This Limited Edition liner is a true black with a hint of shine and once in place, stays put until you're ready to take it off.
If you're like me, you may not wear eye shadow everyday (and I tend to stick to neutral eye colors, especially for an everyday look). I've found the easiest way to get some color on my face is with a dazzling lip color. A brightly hued gloss is an almost goof-proof way to brighten your look and the Heartbreaker collection offers three vibrant options. First, the Lip Shine offers lightweight yet highly pigmented shine in two spring shades, Melon-Drama
(top) a super flattering, glistening coral and Berry Hot
(bottom) a pink berry hue with a bit of shimmer. Word on the street is that these glosses are super smooth and glossy and feel great on the lips. I can't wait to see what our review team thought of these high-shine lip glosses!
I however, could not resist the most playful item in this very fun collection, the Roller Gloss in Pink Sugar
(middle). This Limited Edition gloss in the most 80's of applications, smoothly deposits the non-sticky, sweet smelling gloss. The color may look shocking pink, but the hue is soft, sheer pink on lips with lots of shimmer. I was happily surprised to find the roll on gloss is moisturizing on the lips for hours at a time. Snap this up to feel like a kid again!
This Spring 2010 collection is rounded out with the Fusion Soft Lights in Baked Starlight
. This vivid blush features a kaleidoscope of colors (red, pink and orange) with subtle shimmer that gives skin a soft, sunny glow. It's perfect for adding some radiance and dazzle to drab winter complexions.
Lastly, Smashbox breaks out the roller ball a second time with the collections signature scent, the Heartbreaker Eau de Parfum
. It's a blend of sensuous florals and musky spices, including Pink Dianthanus, Fragrant Cloud Rose, Blue Violet, Blushing Gardenia, Sand Jasmine, Nutmeg, Clove and Creamy Vanilla. Take a little bit of spring with you wherever you go with this portable, sunny and sexy scent.
we heartsters and Review team: does the Heartbreaker Collection from Smashbox have you dreaming of Spring?
Disclosure: This review includes products that were provided by the manufacturer/PR firm for our consideration. It also contains an affiliate link, a link that gives us a small commission if you purchase the item. For more info, or any questions, please see our disclosure policy.
Tyna is a former editor and co-founder of we heart this that worries about becoming a crazy cat lady, reads at least a book a week, checks in at a Flyers fan forum every morning and is forever organizing her closets and drawers.
skin tone: NW 20/25
skin type: combination
favorite beauty product: eye shadows and lip balms