A late but very pretty review of MAC 2013 Fashion Sets
Do you remember the 2012 MAC Fashion Sets launch? The release created matching sets based on their best-selling products. It's notable in my mind because it gave me Russian Red lipglass and nail lacquer to pair with my lipstick. (Thanks MAC!) It did the same for Spice lipliner and many other products, 16 sets in total.
MAC's brought back the concept. (And could we have a yearly Fashion sets launch, pretty please?) This time on a much smaller scale with only 4 sets, but they added eye shadows to the mix. And they have another hit on their hands, because the collection is almost entirely sold out. In fact, most of the lips products were gone within a few hours. (You can still find the nail lacquers and eye shadows.)
So, why do we tease you with a post about products that you can't purchase? Because we're mean? No, simply because we see so many of MAC's limited edition products repromoted. So, you could consider us late with this post or SUPER early for the next time these shades come around!
The Embrace Me set gives us a beautiful hot fuchsia pink, and is the set that did the best in terms of matching.
lipstick – hot fuchsia pink with a matte finish
eye shadow – dirty hot pink with a satin finish
lipglass – bright fuchsia pink with a fuchsia shimmer
nail lacquer – fuchsia pink creme, great coverage in 2 coats
Embrace Me lipstick, lipglass and eye shadow
Embrace Me nail lacquer
Heroine was the set that everyone was losing their matchin' minds over, specifically the lipstick (which was a repromote.)
Although gorgeous (especially on darker skin tones), the deep red-toned matte purple of the lipstick, the nearly identical lip pencil and the bright grape magneta "Grape Ape" like lipglass (look it up, kids) were not at all good for my warm medium-toned skin. But wow, I can see what all the fuss was about.
I can, however, wear Heroine eye shadow, a sheer-ish matte finish bright periwinkle purple that looks really pretty as an accent with taupes and greys. But it's far from a match to the lip products.
Heroine eye shadow, lipstick, lipliner and lipglass
And I flipped for the nail lacquer; a lighter, creamy purple version of the lip products that gave perfect coverage in 2 coats.
Ablaze was the set I was most drawn too; a bright orange cream that is oh-so summer.
Ablaze eye shadow, lipliner and lipglass
eye shadow – a light and dirty apricot orange with a matte finish
lip pencil – a dark yet bright orange red (matches the nail lacquer to a T!)
lip glass – a medium orange with shimmer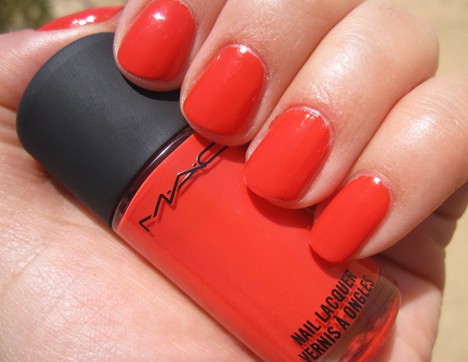 Ablaze nail lacquer
And the nail lacquer is divine; a dark, bright orange red with a creme finish that's opaque in 2 coats. I buy shades like this over and over and don't care a bit!
Finally, there's Silly; a cool, milky pink set.
Silly eye shadow and lipstick
The eye shadow is a light blue pink with a frost finish (that looks rather matte.) And the lipstick is a bright blue pink with a matte finish.
Silly nail lacquer
Silly nail lacquer is a pepto pink sort of light pink creme that was unfortunately pretty streaky and didn't quite cover in 2 coats.
So we heartsters, we apologize for the lateness of this review. But bookmark it and we'll see you again for repromotes – there are quite a few products here that are worth a second (or third…) look.
Did you pick up anything from MAC's 2013 Fashion Sets release?
photo: we heart this, shown on NC 25/30 skintone
Stef is many things. Amongst them: co-editor of we heart this, graphic designer, Philly girl in the California desert, borderline hoarder and a hardcore beauty junkie.
Disclosure: This review includes products that were provided by the manufacturer/PR firm for our consideration. For more info, or any questions, please see our disclosure policy.