This post may contain affiliate links, which means I may receive a small commission, at no cost to you, if you make a purchase.
Hair extensions can work wonders. They can turn flat, fine hair into longer and fuller locks. What a way to boost your confidence!
However, hair extensions are expensive investments. They require special care to be in a good shape for a long time.
To do that, you need to level up your hair care routine. That includes changing the way you brush, style, and even wash your hair.
You can start by choosing the best shampoo for your hair extensions.
And, we will help you find the right product that can help maintain your healthy-looking locks.
How Do You Take Care of Your Hair Extensions?
Whether you have synthetic or Remy human hair extensions, you need to make a lot of effort in maintaining them.
Because without proper care, you can end up with dull, lifeless hair.
Here are the pro tips to make your hair extensions last and stay in tiptop shape:
Brush your hair gently, starting at the ends.
Never sleep with wet extensions.
Minimize heat damage.
Condition your hair weekly.
Separate or detangle the bonds daily.
Wash your hair correctly.
We know that sounds like a lot. But, if you follow this hair care routine, you're sure to keep on being a hair goddess.
What Is the Proper Way of Washing Your Hair Extensions?
When you have hair extensions, your old habit of washing your natural hair just won't do. You have to pay extra attention to keeping your locks clean and healthy.
So, we've listed down the proper way of washing your hair extensions.
1. After your hair extensions are applied, wait 2-3 days before washing your hair.
This is especially true for tape-in and bond extensions. Waiting will give the glue some time to set and stick well to your natural hair, extending your extension's longevity.
2. Don't shampoo every day.
Washing your hair too frequently will cause your hair extensions to dry up, and will even damage your natural hair.
So, shampoo your hair only every other day or every two days to keep it clean.
Now, if you are using clip-in extensions, we suggest washing them after 15-20 wears.
3. Detangle your hair first.
Before stepping under the shower, detangle your hair by using a brush or your fingers. If you have coarse hair, you can also add a little oil to make detangling easier.
This will ensure the even distribution of your shampoo and conditioner when you wash.
4. Do not wash with hot water.
A hot shower can be soothing to your body, but it can be very damaging to your hair.
Instead, wash with warm water to clean your hair effectively. Then, you can use cold water as a last rinse to seal your hair cuticles.
5. Rinse properly.
After shampooing or applying conditioner, rinse your hair extensions until the water runs clear. This way, you can prevent product buildup.
6. Avoid towel drying.
Wrapping your hair, or worse, rubbing it with a towel can lead to frizz. This is because of friction.
Instead of using a towel, gently squeeze out excess water with your hands. Then, use a cool hair dryer to dry out your extensions.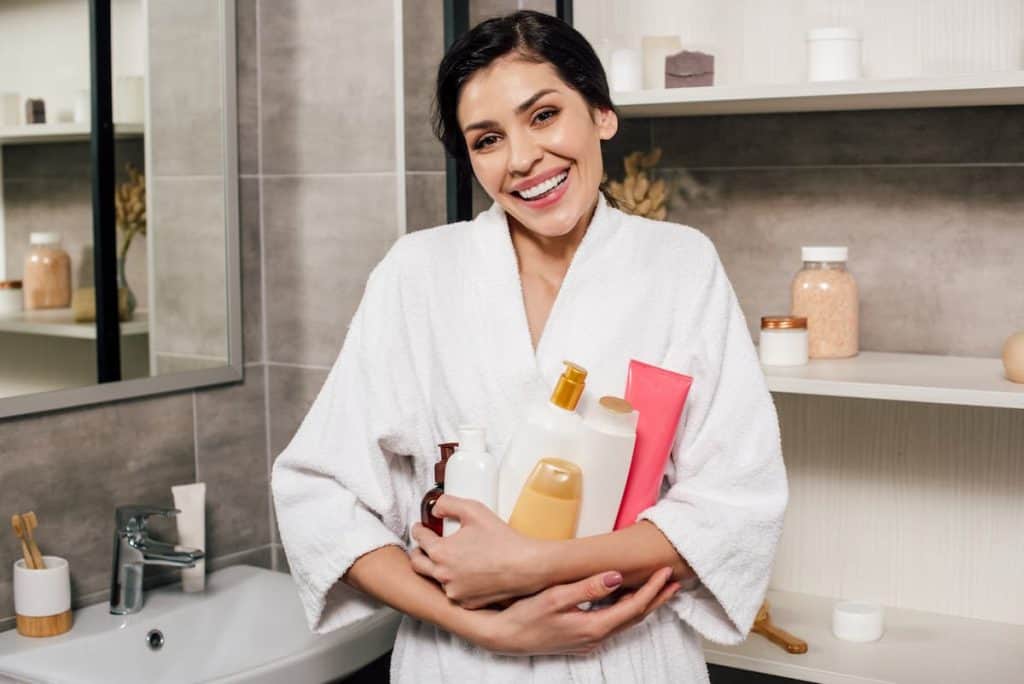 What Shampoo Is Good for Hair Extensions?
We know that with thousands of products out there, it can be overwhelming to choose the best shampoo for extensions.
You may have heard your friend rave about a certain shampoo, or watched a Youtube review about another.
However, what works for others may not work as well for your hair extensions.
In finding the right shampoo, consider the following factors.
Hair Types
One thing to think of in choosing shampoos for hair extensions is your natural hair type.
There are four basic hair types:
Moreover, hair density and structure are also factors. Do you have fine, medium, or coarse hair? Some shampoos are perfect for coarse and frizzy hair, while others may be too weighing for fine hair.
Kinds of Hair Extensions
The shampoo you need also depends on what kind of hair extension you have.
The different types of hair extensions are:
Tape-in
Clip-in
Bonded
Sew-ins
Microbeads
The kinds that are least damaging to your natural hair are clip-in and sew-in hair extensions. That's because they don't require adhesives and heat to be applied.
They are also the kinds that don't require super special shampoos.
On the other hand, bonded, tape-in, and microbead hair extensions need to be treated with extra care because the wrong hair product can cause the glue to slip off.
Ingredients
As for the product contents, hair extension professionals recommend that you use clean shampoo with natural ingredients.
They also warned against sulfate, alcohol, silicone, and parabens.
Also, avoid shampoos that contain too much oil or protein. These moisturizing ingredients can loosen hair extensions.
10 Best Sulfate-Free Shampoos for Hair Extensions
Let's now proceed to our list of recommended shampoos for hair extensions.
We've reviewed products that have safe ingredients and are specially formulated to help care for your hair extensions.
Color Safe Shampoo for Bonded Hair Extensions
Moisturizing and Repairing Shampoo for Human Hair Extensions
Read our full review here: Moroccanoil Hair Care Collection Review
Dry Shampoo for Hair Extensions
Frequently Asked Questions
What do I wash my hair extensions with?
Wash your hair extensions with sulfate-free shampoo and rinse well with lukewarm water. This way, you'll maintain the quality of your hair pieces.
How often should I wash my hair extensions?
As I've mentioned above, if you have hair extensions, you should only be washing your hair every other day or every two days. This will avoid dryness while still keeping dirt and product build-up at bay.
As for clip-in extensions, you can wash them every 15-20 wears.
What happens if you wash hair extensions with sulfate?
Sulfate will dry out your hair extensions. Because the hair pieces aren't directly attached to your scalp, they don't get sebum or natural oils.
So, washing with a shampoo that contains sulfate will add to the hair's dryness.
Use the Right Shampoo for Your Hair Extensions
Choosing a quality shampoo is the best way to care for your hair extensions. But, sometimes, a quality product is more expensive because it has better and safer ingredients.
Since you've already invested in your hair extensions, you'd want to protect them by splurging a bit more to keep them in good condition.
After all, using cheaper products may damage your hair extensions, or worse, your natural hair, in the long run. And, this can be an even more expensive mess to deal with.
Moreover, choosing a quality shampoo doesn't only mean spending more money but also giving time and effort.
Experiment with different products to find which works best for your hair type and the kind of hair extension you have.
The right shampoo plus a proper hair care routine will give you healthy hair extensions for a long time.
Get to know about other types of shampoos!
Here are some articles you may like: