This post may contain affiliate links, which means I may receive a small commission, at no cost to you, if you make a purchase.
Personal hairstyling requires several tools in your beauty arsenal just to fix your hair according to your liking.
But when it comes to making your hair curly or wavy, most people need help choosing which tool to get. In this regard, the comparison between ceramic vs titanium curling iron becomes exceptionally crucial.
Both hairstyling tools have cult followings due to diverse reasons. But each comes with its perks and problems.
Depending on your needs, you will find something better when comparing titanium vs ceramic curling iron.
So when asked about the differences between curling irons titanium vs ceramic, keep all these essential facts in mind.
Ceramic Curling Irons: What Are These?
At a Glance
| Pros | Cons |
| --- | --- |
| Distributes heat evenly | Heavier than most hair-curling tools |
| Less damaging compared to other curling irons | Tends to be costlier |
| Ideal for fine and damaged hair | Slower when it comes to heating up |
The most common material used in curling irons is ceramic.
Research about ceramic heaters reveals that ceramic materials contain adequate electrical resistance and thermal conductivity to set up and conduct high temperatures as the current passes through them.
The study also stated that this material is highly durable and robust. It also offered a fast and safe heat source.
Because of this, it can be a significant heating element for tools like heaters and curling irons.
Features of Ceramic Curling Irons
An excellent ceramic curling iron comes with a smooth, even surface that offers a uniform curl to your hair.
The ceramic material helps prevent dust and other impurities from sticking to the iron. Thus, you do not have to be concerned about getting dirt residue into your hair.
Most importantly, the ceramic material in these curling irons helps avoid uncontrollable temperature spikes that may potentially damage your hair.
Benefits of Using Ceramic Curling Irons
One of the biggest perks of using a ceramic curling iron is its ability to curl the parts of the hair closest to the roots.
Also, this styling tool helps prevent clamping the hair to the barrel. It eliminates the risks of having unsightly kinks building into the hair.
In addition, using ceramic material in your curling iron helps reduce the level of damage brought by the heat-powered styling process. Thus, you do not have to be stressed about acquiring split ends and other signs of hair damage.
How to Utilize Ceramic Curling Irons
Preparing your hair strands before using any styling tools is crucial to get the most out of them.
While ceramic curling irons are less invasive and have better heat distribution, you must use a good heat protectant spray before using the styling tool.
You must also roll and twist your hair gently all over the barrel, then hold it for several seconds before releasing the hair from the tool. Repeat the procedure per section until you finish curling your hair.
Is Ceramic Curling Iron Better for Hair?
If you plan to have a hairstyling tool with a tried-and-trusted heat conductor and even heat distribution, consider investing in high-quality ceramic curling irons.
Titanium Curling Iron: Everything You Need to Know
At a Glance
| Pros | Cons |
| --- | --- |
| Lightweight | At risk for cold spots |
| Durable material | Heats up too fast and with higher temperature |
| Faster heat-up period | May cause heat damage |
| Emits negative ions | |
| Ideal for thick/coarse hair | |
When talking about titanium, one of the first things that may come to mind is its uses in airplanes and architecture. This naturally occurring metal is also now a popular material in making curling irons.
The Royal Society of Chemistry describes titanium as strong as steel but not as dense. It can also withstand the highest and lowest temperatures.
Features of Titanium Curling Irons
The technology behind this curling product incorporates the properties of titanium on hairstyling products. Titanium curlers have titanium placed on their curling tongs to let the metal's properties improve the hairstyling results.
Some notable titanium curling iron features include a lightweight, durable design and corrosion-resistant heating plate. It can also hold higher temperatures better than other types of curling irons.
Benefits of Using Titanium Curling Irons
If you plan to invest in high-quality curling iron, titanium could be your best choice if you want to enjoy the following perks:
Heats fast. You do not have to wait for a while before you can begin gliding hot tools like curling iron titanium on your hair. As soon as you turn it on, the heating plate will immediately heat up.
The metallic attributes of titanium allow the tool to heat up fast, making it ideal if you rush every day to style your hair.
Produces negative ions. In a hair curler, titanium alloy can emit negative ions that help smoothen the hair cuticles with every glide on your tresses.
According to a report, hair styling products that provide negative ions cancel the hair's positive ions to keep its natural oils and maintain its moisture. It will result in shinier-looking hair strands each time you use the curling iron.
Negative ions also bring back the ionic balance of the hair to smoothen the strands and tame frizz. So by using titanium curling irons, you can ensure that your hair will stay soft and healthy all day.
Lightweight. Since titanium alloys are lightweight and durable, your hair curler titanium will also weigh less than the ceramic variety.
The metallic components of this hair-styling tool make it ideal for frequent use. Because of its weight, you may take it anywhere you go since it will only take a little space and weight in your purse or luggage.
Does not corrode. You can also forget about constant replacements of this tool since titanium has an anti-corrosive nature.
As a result, you do not have to think about rust and discoloration on the curling barrel that could force you to buy another curling aid regularly.
How to Utilize Titanium Curling Irons
Like any curling iron, you must ensure that your hair is heat-protected before you glide it in your strands to reduce the risk of hair damage.
Sectioning your hair is also crucial, depending on the style of curls you want to achieve. You may check out these curly hairstyle trends to get some inspiration.
In addition, you must watch out for cold spots or areas that did not receive even heat properly when the hair-curling tool is used.
Is Titanium Curling Iron Better?
You must invest in a titanium curling iron if you want something durable and lightweight to achieve your desired curly hair look.
Its ability to heat up faster than the average curling iron will also reduce your time on hairstyling.
Ceramic versus Titanium Curling Iron: Which Should You Choose?
Aside from knowing the difference between ceramic vs titanium curling irons, there are several factors to consider when picking between these tools.
Budget
High-quality ceramic curling irons can get pretty expensive, but you may also find some premium titanium curling irons with the same price tag.
To ensure the product's efficiency and safety, you should find a curling iron with the best materials. It does not matter if it is costly or at mid-range prices.
You can use the curling tools for as long as possible if it meets the general and electric standards.
Hair Type
Another critical thing to consider when considering between ceramic vs titanium curling iron is your hair type.
One of the most common questions asked when buying a curling iron is "Is ceramic or titanium curling iron better for fine hair?" But you should also check if your hair is damaged or sensitive to some styling products.
If you have thin and damaged hair, you should use a ceramic curling iron to style your tresses with less heat.
Meanwhile, you should get a titanium curling iron if you have coarse or thick hair. The device's higher temperature will help you achieve a stronger curl that will stay put for the entire day.
Durability
Once you have settled the debate about getting a ceramic or titanium curling iron for fine hair, you should check if the product is durable yet easy to use. It will help you get your money's worth knowing it will last you a long time.
Titanium curling irons are lightweight and portable. Moreover, since it is made from one of the strongest metal alloys, you can be assured that it is durable and can stand the test of time.
So you do not have to fret about dropping it constantly since it does not break easily.
Meanwhile, ceramic curling irons are fragile and heavier than the titanium variety. One drop can put a chip on the ceramic plate. It may also tire you out easily because of its heaviness.
But if you have no qualms about its weight and ensure that you will not drop it all the time, consider getting this product.
Frequently Asked Questions
Does it Matter What Type of Curling Iron You Use?
Achieving your ideal curls and waves will be easier if you use a suitable curling iron. It will also depend on the materials used in the hot plate.
If you have thin and damaged hair, you must avoid using titanium curling irons due to their high heat.
You must also avoid ceramic curling irons if you are on a budget or need to style your hair as fast as possible.
Is It Ideal to Use Curling Irons Every Day?
Using any curling iron daily may damage your hair, especially if your hair is naturally dry and coarse to begin with.
You will put your hair at risk of drying out if you expose it to heat regularly. As a result, it will make your hair more vulnerable to breakage and split ends.
You may prevent hair damage by using heat-protectant sprays containing keratin. It would also help to avoid exposing your hair to too much heat all the time and give it a pause before your next styling session.
Why Is It Hard for Fine Hair to Hold a Curl?
Your beachy waves or bouncy curls will disappear or droop in just a few hours. It could mean that you have very fine hair that cannot withstand the effects of a curling iron.
If you avoid turning the curling iron's heat too high, you may prevent this from happening. So better invest in a ceramic curling iron instead of a titanium one for this purpose.
It would also help if you used some tried-and-tested curling products to get the curls to stay all day after using your curling iron.
How Long Does a Regular Curling Iron Last?
Electric hair curlers usually last between 500 to 1000 hours of use. So if you want to enjoy using the styling tool for a long time, you must invest in high-quality curlers that meet all the industry standards.
It would help if you also learned how to care for your curling iron properly. Cleaning the curling plate regularly using alcohol and cotton will prevent dirt and residue buildup.
You must also ensure the iron is unplugged and cooled before storing it correctly.
The Wrap-Up: Is a Titanium or Ceramic Curling Iron Better?
When choosing the suitable curling iron for your hair, you must consider all your needs and the perks you may get from the styling tool to prevent any regrets.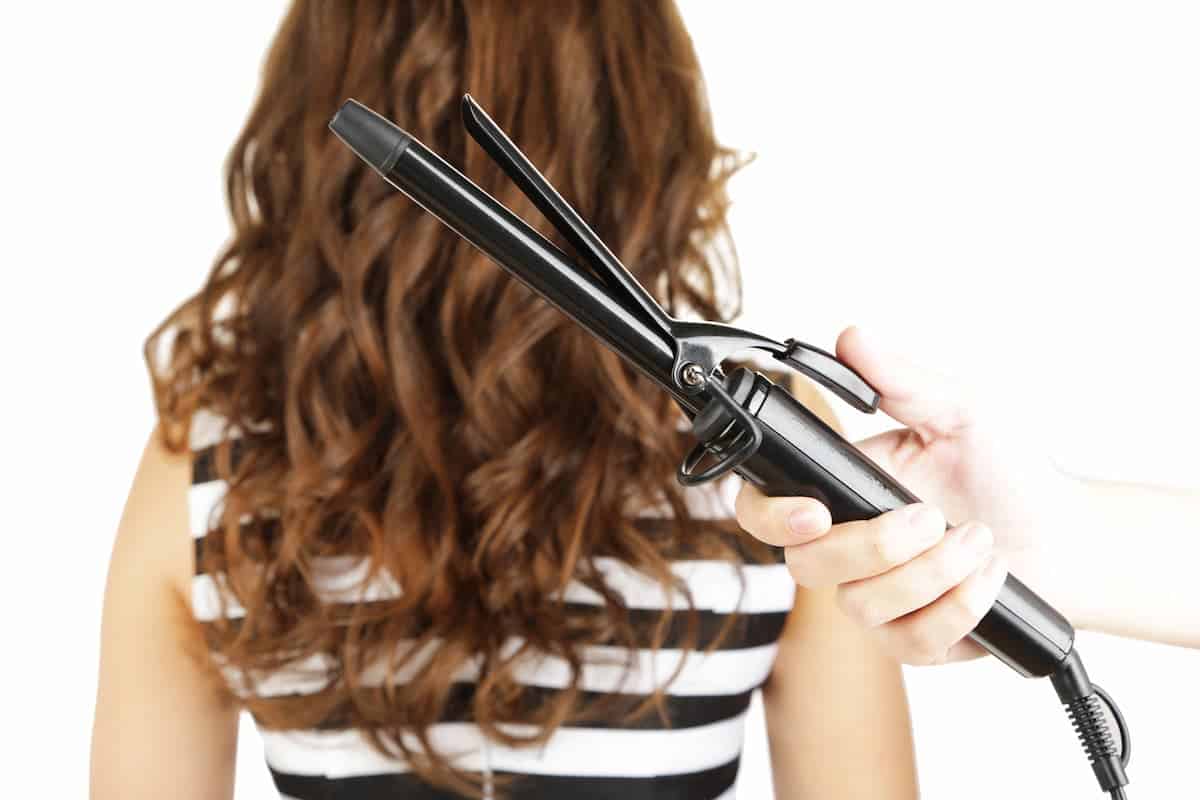 Keep in mind that ceramic curlers are gentler and emit even heat when used. Consider getting ceramic curling irons if you have thinner or more sensitive hair.
However, you should also remember that ceramic curlers are expensive and easy to break. For this reason, you must only get this product if budget is not an issue.
Meanwhile, buying curling irons with titanium plates is advisable if you aim for efficiency and longevity. It is also ideal for people who want to finish styling their hair faster.
But if you have brittle or damaged hair, you may reconsider buying titanium curling irons. It may cause further damage to your hair when exposed to high heat.
So when asked what is best: ceramic vs titanium curling irons? You must always weigh your options first to know which one suits your needs.
Want to Know More About Hair Care and Styling?