This post may contain affiliate links, which means I may receive a small commission, at no cost to you, if you make a purchase.
The winter holiday season brings us lots of reasons to switch up your standard beauty routine. From parties that call for extra sparkle to dry weather that makes even oily girls need more moisture – let's look at some new products you may find yourself reaching for this season. We've got lots of fab picks, courtesy of the Glam Beauty Board (where we heart this are proud members!)
A winter beauty extravaganza!
China Glaze Pizzazz and With Love
Let's delve right into the sparkle category, shall we? It would be hard for me NOT to start with this little party in a bottle…
China Glaze has two polishes from their Holiday Joy collection that could get you through the season on their own; a one coat red called With Love and a confetti glitter explosion called Pizzazz. Because it's China Glaze, you get great coverage, a perfect formula (not too thin, not too thick) and long wear.
Pizzazz is multicolor glitter of various sizes suspended in a clear base. Silver and magenta dominate, but you can see yellow, blue and green in there too. On it's own, you get a rather sheer coverage. But over a base (and with two coats) I was able to build it up quite fabulously. Here it's shown over a grey base, which I really loved. This is New Year's Eve in polish form!
That stunner shown above is With Love and it is indeed just one coat. It's a bright pure pinup sort of red that's just beautiful.
Philosophy has two new products that offer things that are always in season; smelling good and great skin!
New to their line of delicate Grace scents is Living Grace
($42 for 2 oz.). The idea behind this scent is to "help center a woman's mood, enabling her to fully embrace the beauty of living in the present moment each day".
It's perfect for the holidays, isn't it? When you can get so wrapped up in all the minutia (like say, searching four stores for the perfect wrapping paper), that you can forget what you really should be concentrating on (love, family and friends).
Living Grace's notes of fresh Neroli, Lily of the Valley and warm musk kind of remind me of clean laundry. It's quite lovely.
Has time been doing a number on your skin? Let Full Of Promise
Dual-Action Restoring Cream ($65 for 2 oz.) help you bring out its true potential.
With a long list of promises that all add up to beautiful skin (volume, definition and glow, amongst others) Full of Promise boosts collagen and elastin with proprietary peptides and marine microalgae. And of course, expect advanced hydration along the way as well.
It's too early for me to tell if these promises have been kept, but four week studies have found improvements in 82-90% of participants. But I'm instantly in love with the texture of this cream, rich but not greasy, with an almost balm-like luxurious feel.
Almay offers a trio of products that are the equivalent of a warm, cozy sweater (which ironically, are all part of their 2013 spring releases).
First up is Intense i-Color for Blues
($7.50) called Bold Nudes. It's a warm brown trio laid out in a foolproof diagram for placement. This is the sort of easy color you'll find yourself reaching for regularly. They're shimmery and nicely pigmented, and did indeed enhance my blue eyes nicely. A solid showing!
Also from the Intense i-Color is their Liquid Shadow + Color Primer ($7.50). I got to try #054, which is for green eyes. It's a beautiful shimmery tan that you can sheer out with its flat, flocked applicator to just a soft sparkle – or you can lay it on thick for a colored base. The formula has a lot of silky slip to it, so it feels great while applying. But as a primer, that silkiness didn't mix very well with my oily lids (it creased on me a few hours in). Dry lids will probably love this though.
from left: Liquid Shadow + Color Primer, Bold Nudes trio
But it's the Smart Shade Mousse Makeup ($9.99) that really amazed me…
The light/medium shade I tried began as a greyish tone and turned into a shade that closely matched my skin right before my eyes.
The formula feels great going on as well. It's got a bouncy whipped cream sort of feel to it, and a silicone-based ingredient listed first that gives it that primer sort of feeling that drier skinned folks will flip for.
Me? I could watch that magic matching act all day! The coverage is on the light side, somewhere between a tinted moisturizer and foundation.
As we noted when we previously reviewed it, the secret behind Buxom Sculpted Lash Mascara
($19) is their S-curve brush. It's designed to pull, contour and sweep your lashes into their sooty and sexy best, snaring and coating every lash and sweeping them up and out.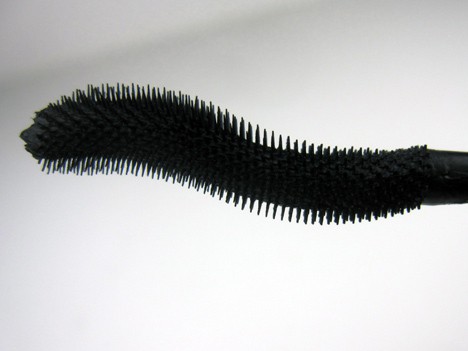 The shade, True Black, is super dark and the formula is thin so it coats lashes well and leaves them clump-free. LOVE!
Another previously reviewed product is the Too Faced Glamour To Go Spun Sugar Edition
($22). It's eleven amazing products in one little portable package; eight eye shadows (four warm golden beige and brown shades, four cool silver and grey shades), a shimmery highlighter with a hint of pink, a clear gloss with a hint of gold shine, and a shimmery bronzer.
If you find yourself humming Silver and Gold (the Burt Ives classic song from Rudolph), you're not alone. At the blogger unveiling of the Too Faced holiday collections, co-founder Jerrod mentioned that their whole office did the same thing!
(Check out our complete review for more photos and swatches.)
Spun Sugar eye shadows
There are two more products in the winter Beauty Board lineup to keep your complexion looking clear and glowing….
Goldfaden MD Pure Start Gentle Detoxifying Facial Cleanser ($32 for 5 oz.) is a clear gel that produces a really frothy, thick lather. It's got a nice subtle herbal scent, with just a hint of the grapefruit oil it contains peeking through. It's cruelty free, as well as mineral oil, alcohol, silicone and gluten free. It has hydrolyzed wheat protein that's said to increase skin's firmness and moisture.
If you're looking for a more even skintone, check out this French import; Vichy Laboratoires ProEven
($43.50 for 1 oz.). It promises a more glowing complexion through gentle exfoliation and a luminous micro pearl formula, and an overall more even skin tone with dark spots lessened.
It hasn't been long enough for me to notice a difference in my tone, but I'm enjoying the light formula and general fanciness one feels when applying a french product. Oh la la!
The two areas of my body that suffer the most with winter dryness are my hair and hands. There are two drugstore saviors to offer some relief…
From one of our Green Monday favorite brands, Burt's Bees Ultimate Care Hand Cream
($12.99) is absolutely delightful. Made with Baobab oil which comes from something known as "the Tree of Life" in the African savanna, it's nourishing, quickly absorbed, feels luxurious and smells amazing. You can't ask for anything else ask in a hand cream.
Umberto Beverly Hills Repair Treatment Masque ($9.99 for 6 oz.) is a rich, weekly masque that has been taming my dry locks and frizzies since the moment it arrived. I love the old school, beauty parlor sort of scent to it too.
Another drugstore selection is Physician's Formula: pH Matchmaker Blush
($12.99). Rose is a shockingly pink shimmery blush with a silver overspray that mellows to YOUR perfect pink by working with your skin's pH.
From left: first applied and 60 seconds later
Formula wise, I like this blush a lot. But personally $13 is a bit more than I want to pay for a drugstore blush. And I feel like most of that price is due to unnecessary bells and whistles; a lit mirror and a flip up compartment that reveals a flat wide brush (a-la Benefit). Strip those out and drop the price, and I could have a HG blush on my hands!
Finally, what fun it is to discover a new line! From Susan Posnick I got to try ColorEssential Lipstick ($19), an uber-moisturizing lipcolor formulated with minerals and Vitamins A and E.
London and Santa Fe
Known for its universally flattering shade line up, I tested London, a bronzed berry, and Santa Fe, a coppery dark gold, both with gold micro glitter.
Theses lipsticks feel amazing and I love the crème brûlée scent. But perhaps what I liked best about these was something that I can't show you, the feel of the packaging. The caps are magnetic and they close with such a satisfying snap that I found myself opening and closing them numerous times in a row just to watch and listen!
we heartsters, do any of these products tickle your fancy? Will you be adding any of them to your winter line-up?
Disclosure: This review includes products that were provided by the manufacturer/PR firm for our consideration. It also may contain an affiliate link, a link that gives us a small commission if you purchase the item. For more info, or any questions, please see our disclosure policy.