This post may contain affiliate links, which means I may receive a small commission, at no cost to you, if you make a purchase.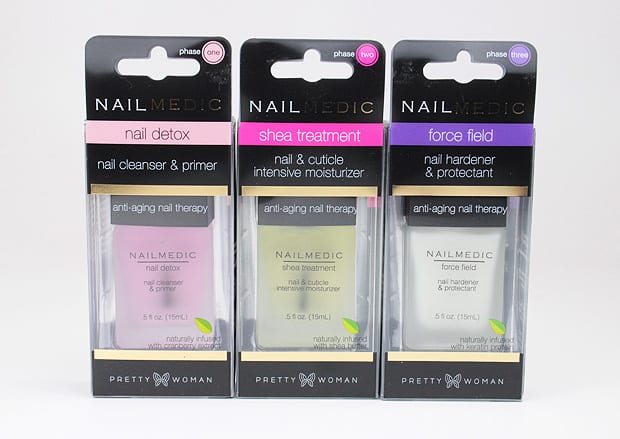 sponsored post
Are your nails brittle? Do they split and peel? Do your cuticles look tortured?
If so, I feel your pain. Because all those things I just described; that's my nails to a T.
For every time my nails look like this:

There are 10 times more that they look like this:

Here's that horror in closer detail:

Yuck. That's one sad looking thumb.
The good part? There's something I (and you) can do about it in just 3 easy and inexpensive steps: Nail Medic by Pretty Woman.
In a sea of nail products that cover your nails (color, texture, glitter, etc!) Nail Medic aims to let your natural nails shine on their own. Their 3 phase anti-aging therapy system cleanses, revitalizes and moisturizes your nails back to better health.
Here's how to get healthy nails in just 3 steps:
Phase 1: cleanses nails and cuticles
Phase 2: repairs and fortifies
Phase 3: primes and protects.
Select the product from each phase that best meets your needs.
There are 4 products available in Phase 1, and I tested Nail Detox for my discoloration. It's a nail cleanser, which was a totally new concept to me. But wow, did I ever need this! Cranberry Extract and Lemon Extract purify the nail, while Soap Bark Extract and Witch Hazel Extract further detoxify the nail plate.
This instantly made my nails brighter. Yes, instantly. For anyone who wears a lot of polish and suffers from discoloration, this is an absolute must-have.
Of the 5 products available in Phase 2, I got to try Shea Treatment to moisturize and nourish my dry digits. As someone who's addicted to cuticle oil, I was expecting to love this. Especially with the moisturizing combo of Shea Butter, Jojoba Oil and Argan Oil. But what I was really impressed with was how light it felt and how quickly it absorbed not only into my cuticles, but into my nails as well. Rather than the oily film that's normally left with most cuticle oils, my fingers got all the goodness, not everything I touched.
Finally, from the 5 products to choose from, Force Field was my Phase 3. This is a nail hardener to strengthen soft, weak nails like mine with Keratin Protein, Bio-Minerals and Vitamin E. It has a milky white effect, which makes nails look really pretty. While I didn't experience any out-of-the-ordinary growth, I definitely had less breakage and my splitting has almost entirely disappeared.
I used the products nightly for 4 weeks, and noticed true improvement to my nails within about a week.
But don't take my word for it, check out the after pics:

The real test? That sad thumb! Take a look at it now:

Splitting and discoloration gone, and the smooth cuticles of a baby! Very impressive.
Check out Nail Medic by Pretty Woman at your local Walmart for just $7.99 per product. Your nails will be very happy that you did.
This sponsored post was created in partnership with Pretty Woman. All opinions are my own.
You may also like these nail ideas: