This post may contain affiliate links, which means I may receive a small commission, at no cost to you, if you make a purchase.
You know we love any excuse for a party. But theme parties hold a special place in our hearts. What better time to throw one then the Season 3 premiere of the best drama on TV? We're here to guide you with all you need for a swinging 60s party.
join me for a cocktail, won't you?
One important thing to keep in mind when planning, Mad Men takes place in the early 60s, which is practically still the 50s. Before all the hippies started stinking everything up with all their peace and love, fringe-filled nonsense. From cheese balls to Chubby Checker, with any choice you make think "would Don Draper approve?" The key to any successful theme party is to be authentic.
Coming straight from your secretary job to the party? Watch out for creepers!
Dress
Make sure to tell people to dress to impress. Suits are preferable for men (but nice slacks and a dress shirt would be ok too) party dresses for the ladies. Hats are strongly encouraged. Anyone in jeans should be sent home. We're serious.
hey everyone, let's smoke!
Decor
Cigarettes, lots and lots of cigarettes. If you're an actual smoker, go get yourself a carton and display them loose in hi ball glasses everywhere around your house (don't forget the bathroom!) Lucky Strikes preferred, as that is a Sterling Cooper advertising account. If you're not a smoker, don't want your house to smell like an ashtray or just so the non smokers (like me) can join in the fun; get some candy cigarettes for a less cancerous decor. Speaking of ashtrays, you'll want lots of them as well. Gather every one you that you can find, along with old matchbooks too.
If you shuffle the real smokers outside, don't forget a few decorations for the Smoking Lounge. Take some inspiration from the era and go for an exotic Polynesian feel. That means cheesy tiki inspired candles
and lights, add a faux wooden tiki torch
and voila! A tropical smokers paradise.
lonely retro glasses, waiting for champagne…
oh, there it is!
Back inside, gather all your retro decor from around the house and concentrate it in the party area. If you have a rotary dial phone, replace your cordless with it (you can easily find these at thrift stores). Remove anything that is obviously of today (modern magazines, remote controls). And clear surfaces for drinks.
Most importantly, now is the time to pull out your good china, best serving platters, fancy tablecloths and fabric napkins. Betty wouldn't have scrimped, neither should you.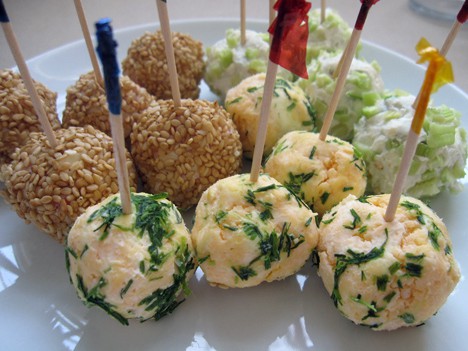 cheese balls, the perfect retro food or the MOST perfect retro food?
Food
Food should be kept light as to not detract from the smoking and drinking. A nice cheese ball tower would be perfect. Or a fabulous cheese mouse. And say, look! We have a whole sampling of cheese based appetizers on we heart this right now!
deviled eggs, always a hit
A super easy addition would be bowls of salted nuts scattered throughout the room. It's also a breeze to pay homage to Pete's infamous Chip and a Dip platter (Season One, Red In The Face) – get your very own chip/dip
platter, fill with the most basic of potato chips (no fancy flavors – just salt please) and whip up the classic soup mix French Onion Dip. If you have a bit more left in you after the cheese bonanza, I recommend a Flaming Astro Weenie Pineapple (go ahead and look, you know you want to).
swedish meatballs, much easier to whip up than your ikea bookshelf!
Drink
Now we're talking! Set up a bar front and center, your party is going to revolve around it. If you don't have a dedicated bar space, a fabulous solution is a bar cart
. (I've got one just like it. I always get a thrill pushing it out of it's corner all "May I mix you a cocktail?" ~T) Line up neat rows of of collins, hi ball and martini glasses Of course, you'll also need a vintage cocktail shaker, every garnish imaginable (olives, onions, citrus fruit, twists) and lots and lots of booze. A great touch would be a cocktail guide book (Mr Boston's DeLuxe Official Bartenders guide would be perfect, it's been printed since 1935!)
In addition to Betty's drink of choice, the Tom Collins, make sure to have the makings for Manhattans, Brandy Alexanders (Peggy's a fan), lots of neat Scotch for all the real men and Heineken, another Sterling Cooper account. Also make sure to have odd, old timey mixers like Creme de Menthe for Grasshoppers. This is one time you don't want to limit yourself to a signature drink.
fact: it's physically impossible to put out too barware for a Mad Men party
One item of note, if you know someone who could use some extra cash (a teenager would be perfect); this would be a great time to hire a driver for the night. Have them pick guests up and bring them back home at the end of the evening. It will be money well spent to know your guests get home safely.
Music
For your listening pleasure, we've made Mad Men playlist on iTunes. Here you'll find songs used in Season 1 and 2, plus top hits from 1962 and 1963. Even though you'll be playing this from your ipod or a burned CD, if you have a record player (stay with me youngsters) put an album on and let it revolve, just for the show of it.
I think the playlist (and really, the time period in general) is best summed up by the Song Wives and Lovers by Jack Jones. Here's some sample lyrics:
(Pay attention, you lazy wives.)
Hey! Little Girl
Comb your hair, fix your makeup
Soon he will open the door
Don't think because there's a ring on your finger
You needn't try anymore
Day after day
There are girls at the office
And men will always be men
Don't send him off with your hair still in curlers
You may not see him again
sherri's no lazy wife
The playlist:
The Twist-Chubby Checker
Wives and Lovers -Jack Jones
Botch-A-Me (Ba-Ba-Baciani Piccina) – Rosemary Clooney
I Can Dream Can't I? – Andrews Sisters
On the Street Where You Live – Vic Damone
Manhattan – Ella Fitzgerald
Band of Gold – Don Cherry
Hey Paula – Paul and Paula
Can't Get Used to Losing You – Andy Williams
She's a Fool – Lesley Gore
Little Red Rooster – Sam Cooke
Surf City – Jan & Dean
Breaking Up Is Hard to Do – Neil Sedaka
The Wanderer – Dion
Fly Me to the Moon (In Other Words) – Julie London
Let's Twist Again – Chubby Checker
Purchase the playlist here.
If you follow these guidelines, you can assure your party will be a smashing success. And all the activities you see in the collage above; drinking, dancing and hopefully something sexy will be in the cards.