This post may contain affiliate links, which means I may receive a small commission, at no cost to you, if you make a purchase.
Nowadays, beauty enthusiasts have been raving about eyelash extensions.
You probably wanted to try them but are still undecided about which eyelash extension style you should get—classic or hybrid lashes.
If you are still new to eyelash extension, it is vital to know the difference between various eyelash extension types to help you decide which is the perfect lash style for you.
Fortunately, you are on the right page! We will provide a detailed comparison of hybrid lashes vs. classic lash extensions—the differences, similarities, pros and cons, cost, and more.
What Exactly Is an Eyelash Extension?
Eyelash extensions are semi-permanent lashes—usually made up of silk fibers, faux mink, or synthetic lashes—that are individually hand-glued on top of the natural lashes.
During this procedure, a certified lash technician will carefully apply these lash extensions one by one on your natural lashes using a semi-permanent, specially-formulated glue that won't damage or irritate your natural lash.
Usually, a full eyelash set takes between two to four hours to complete, depending on the lash extension style you want to achieve.
Eyelash extension is the best if you want to glam up your face effortlessly every day!
Check out this video to learn everything you need to know about eyelash extension and the different types of eyelash extension you can choose from:
Classic and Hybrid Eyelash Extension: Knowing the Difference
This article will focus on the difference between classic and hybrid lash extensions.
Here's a quick table about their key features and what makes classic and hybrid lashes different:
| Classic Lashes | Hybrid Lashes |
| --- | --- |
| Applied with a 1:1 lash ratio | Applied with a 1:2 or 1:3 lash ratio |
| Achieves a natural look | Achieves a more dramatic look |
| 100% classic lashes | 30% classic lashes and 70% volume lashes |
| Application lasts from 1.5 to 2 hours | Application lasts from 2-3 hours |
| Enhances length, lash thickness, and curl | Enhances length, fullness, and curl |
To help you imagine how these lash extensions would look on you, here's a side-by-side comparison of classic lash extensions and hybrid lash extensions: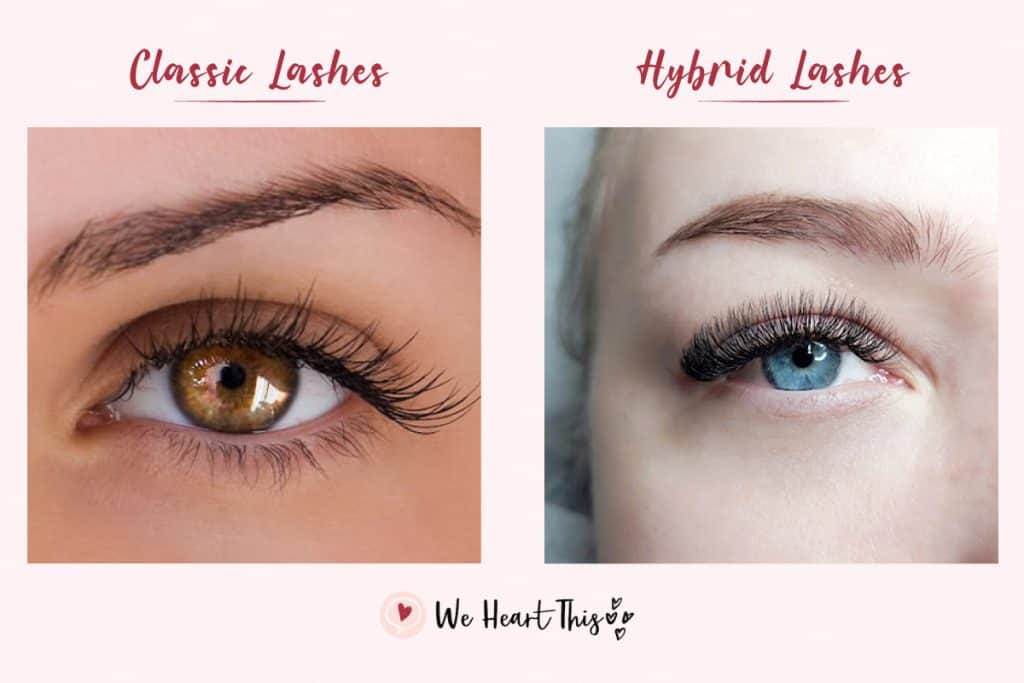 Similarities of Classic Set Lashes and Hybrid Set Lashes
Though these eyelash extension styles are different at some point, classic and hybrid lashes also share similar features:
They require regular lash refills, ideally every two to three weeks, to maintain a full lash line.
They don't damage the natural hairs, provided that they are applied properly by a certified lash technician.
They must be brushed and cleaned twice daily with gentle, oil-free, and alcohol-free eyelash cleansers.
They are perfect for a no-makeup look.
Here are some of our eyelash cleansers we highly recommend that you can use for cleaning your lash extensions:
Non-burning and non-irritation formula
Oil-free
Highly trusted by lash experts
Infused with nourishing and natural formula
Lengthens the life of lash extensions
Hypoallergenic
Nourishes & protects
No irritation & burning
Deep cleansing
Classic Eyelash Set: Pros and Cons
In classic eyelash extensions, individual extensions are applied to every natural lash you have. Sometimes, this set is called "1:1" because its ratio is one extension to one lash.
The lash technician will get a single extension and dip it into adhesive, which will then be applied under or on top of your natural lash. They will repeat this process until every mature and medium lash is completed.
The classic lash set should be your best go-to option, especially if you want to achieve longer-looking lashes and a more natural look.
Pros
Most Available
Most comfortable
Most Inexpensive
Natural
Perfect for everyday wear
Quickest application duration
Soft look
Cons
Don't offer much volume
Most common
Not good for everyone
Hybrid Eyelash Set: Pros and Cons
Hybrid Eyelash Extension is a combination of the 1:1 classic lash technique and an advanced fanning technique; Hence, the name hybrid.
The volume fanning technique is a method used to create volume extensions. This technique involves bonding 2-8 lash extensions to create a "fan lash"—which will then be applied to each of your natural lashes.
This technique helps create lash volume and depth. Also, you can ask your lash tech to customize it and be creative based on how full you want your lashes to be!
After that, the 1:1 lash technique will be applied to your lashes between the volume fan lashes to achieve a wispy lash look—perfectly complementing your eyes and natural lashes.
Also, if you have gaps or sparse areas in your natural eyelashes, getting the hybrid extensions is the perfect style to help disguise them.
To perfectly achieve the wispy look, make sure that your lash technician is certified and trained to do both lash extensions and Russian volume eyelash extensions.
Pros
Best of both worlds
Ideal to try before the volume set
Not too simple, not too dramatic
Perfect for those with lash issues
Cons
Requires an extremely skilled lash tech
It costs more than classic
Lengthy application time
Frequently Asked Questions
Can you put mascara on hybrid lashes?
If you have hybrid or volume lash extensions, you should never use mascara on them as much as possible—regardless of the brand or formula.
Mascaras can only hurt your lash extensions, making the fan lashes shut. As a result, your lashes will stick together and look clumpy.
So, it's best to play it safe and ditch your mascaras from now on!
Why do I need to get lash fills?
There are two main reasons why you should get a lash fill appointment regularly.
First of all, your natural lashes have a growth cycle. As they regrow, your lash extensions lose a bit of their luster and fullness. Over time, they will naturally fall out and need to be refilled to maintain that fuller look.
Second, you need lash refills when the adhesive starts to break down, and the lash extensions fall off.
If you want to continue having fabulous lashes, professional lash techs usually recommend getting lash fills done every 2-3 weeks.
Will eyelash extensions damage my natural lashes?
High-quality eyelash extensions require skills, precision, and time. However, some cases potentially damage your natural lashes.
For instance, when the extensions are glued to more than one natural lash, the lash that grows faster will pull out the other lashes attached to it.
Moreover, breakage can also happen to your lashes when the length or weight of the extensions exceeds what your natural lashes can deal with.
If this happens to your lashes, apply a lash serum to help them grow stronger and faster.
Here's a good lash serum you can purchase on Amazon:
This premium lash-enhancing serum promotes the appearance of longer, thicker, and more nourished eyelashes.
Primary Benefits: One-swipe wonder; Ophthalmologist tested; Cruelty-free
Features:
Helps improve lashes in three months.
Infused with amino acids and vitamin peptides.
Suitable for contacts and lash extensions
If you have short, thin, brittle lashes, you should get this lash serum to nourish them!
To prevent these damages from happening on your lashes, it is important to only trust a certified lash technician to perform your eyelash extension treatment—regardless of your preferred style.
How to Choose the Right Eyelash Extension Set for You?
If you are still on the fence between classic vs hybrid lashes, we have listed some checklist—we hope you might appreciate—that can help you decide the best type of lash extension for you:
Get Classic Lashes IF:
You want a natural, subtle look
You have full natural lashes
You have thick natural lashes
You want to wear it for everyday use
Get Hybrid Lashes IF:
You want to achieve a more dramatic, fuller lash look
You like a more voluminous extension and mascara
You have thin or sparse lashes
You want to keep your extensions for long-term
Classic Vs. Hybrid Lash Comparison Chart
Conclusion: Which Eyelash Extension is For You?
As you can see, both the classic and hybrid lash extensions differ in some aspects—application, cost, and effect.
Since both of these extension types offer something that cannot be achieved by one or another, beauty enthusiasts usually opt for them for various factors.
Some people get classic lash extensions if they want more natural, subtle lashes that are perfect to wear daily. At the same time, other people opt for the hybrid to get that wispy, fuller lashes.
So, it really depends on your preference, budget, and commitment to maintaining it.
If you haven't tried getting this treatment, you should not miss it!
Try having lash extensions at least once in your life!
We promise you; you will love it!
Trying to Find Other Lash Tips?
You may like: