This post may contain affiliate links, which means I may receive a small commission, at no cost to you, if you make a purchase.
Looking for a little more confidence? Start with your skin!
It is no secret around WHT Headquarters that I love skincare. Why? Because this is where everything starts. Skin tells the truth. Tired? Too much sun? Stressed? Sometimes my skin says more that I want it to.
Is your skin saying too much, too? The first thing to do is try something new to shake up your game. That's exactly what I needed to do. So, I was thrilled to receive IT Cosmetics Confidence in a Cream ($48, 2 oz), their first "official" skincare product and good for all skin types.
My skin is sensitive, and frankly, sometimes downright snobby to certain fragrances and preservatives, and finicky to anything too heavy. I have to admit, upon opening the substantial jar (it's got a nice heft and beautiful lid) I was nervous looking at the thick cream. Was it going to be too rich for my skin? Turns out, not at all! You only need the smallest amount because it's very concentrated. But that little bit spreads easily across your face, neck and decollate and, most importantly, absorbs quickly.
Confidence in a Cream hydrates without becoming greasy or heavy. I was thrilled my redness seemed instantly minimized. With further use over the next couple of weeks, my skin also appeared happier and healthier, without any breakouts.
Confidence in a Cream contains a proprietary "Anti-Aging Armour Regenerative Concentrate" that rejuvenates, repairs and restores skin, and promotes an even skin tone. It is also said to reduce the look of pores, discoloration and fine lines and wrinkles.
In addition, it's paraben-free, hypoallergenic and non-irritating, and contains collagen, hyaluronic acid, peptides, ceramides, antioxidants and colloidal oatmeal.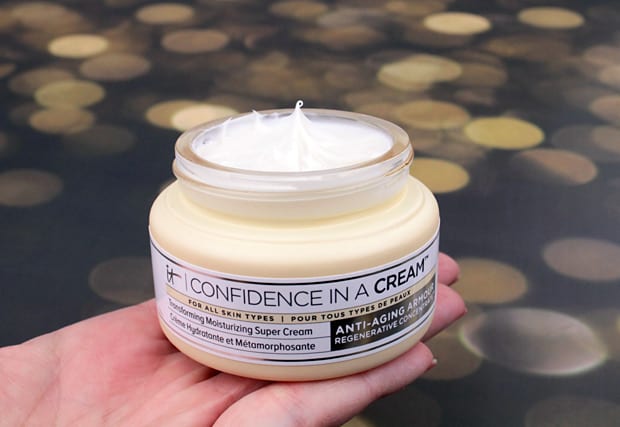 Like all products by IT Cosmetics, this product was developed with plastic surgeons who are leading experts in skin rejuvenation. They were all hard at work for 7 years to bring you the formula. And I must say to them all: thank you for the added confidence!
Have your tried IT Cosmetics? Do you have a product that gives you more confidence?