This post may contain affiliate links, which means I may receive a small commission, at no cost to you, if you make a purchase.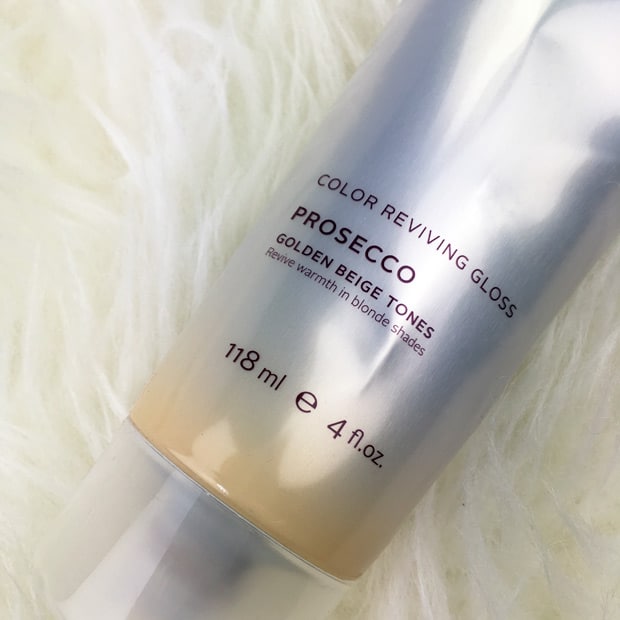 sponsored post
I'd bet you've already started to change things up for fall, right? Bright, shiny lip gloss has been replaced with rich matte lipstick, flip flops have stepped aside for boots, iced lattes have been ousted by pumpkin spice everything. But what about your hair?
I don't know about you, but my hair was looking a little too sunny for cooler temperatures. Luckily Madison Reed knew exactly what to do.
From the hair color experts comes Madison Reed Color Reviving Gloss ($30) If you've ever toned your hair (or more likely, had a hairdresser tone your hair) you'll be familiar with the premise. But rather than just adding a wash of semi-permanent color like a toner would, Color Reviving Gloss does much more.
Ingredients include:
• Keratin: to help repair damaged hair
• Ginseng Extract: which assists in retaining moisture
• Argan Oil: restores shine and leaves hair super smooth
There are eight shades to choose from, and their website helps you choose which shade is right for you depending on your desired results (you can add warmth, neutralize brassiness or just add clear shine).
Applying is easy, just place on dry hair and comb through. 20-35 minutes later, wash it out. Then, marvel at the results!
I chose Prosecco, a golden beige designed to restore warmth to my blown out highlights and an overall soft gold tone. Which is exactly what it did! I adore the results, which lasted about 2 weeks/6 shampoos for me. Each tube has 2 uses.
Madison Reed Color Reviving Gloss in Prosecco, before and after!
Looking for something more permanent? Madison Reed also offers hair color. They'll walk you through finding the right shade for this as well, asking in-depth questions about greys, current color, desired color, tone preference (cool or warm). Even if you don't know what you want, they help you figure it out!
They also have a whole line of products to help maintain your color and a really fabulous Root Touch up Powder Duo that comes with 2 shades for realistic results.
Madison Reed Root Touch Up Powder Duo in Cascata + Pinoli for blonde hair
So, whether you're looking for a hair color revival or a complete overhaul, check out Madison Reed.