This post may contain affiliate links, which means I may receive a small commission, at no cost to you, if you make a purchase.
Happy New Year weheartsters! We're starting off the year with something we love the most; a good list. We asked our lovely review team to tell us their top three favorite beauty products that they tested in 2010. Without further ado and in no particular order, here are the top picks (chosen from approximately 150 reviews)…
1. MOR Little Luxuries perfume oil – MOR got more votes than any other brand! But, is that any surprise? The products are as beautiful inside as they are out. The item that appeared on the most lists? The adorable and affordable Little Luxuries perfume oils. Alyssa said of her perfume, Cassis Noir, "The packaging is gorgeous and the bottle itself is even better. Plus the scent is deep, seductive and feminine. It's the kind of scent you want to put on before you slip on something kind of naughty and lounge around in soft sheets all day." She's right, total va-voom.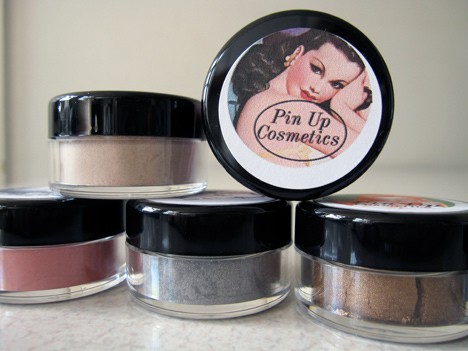 2. Pin Up Cosmetics loose eyeshadows and blushes – Speaking of va-voom, Pin up Cosmetics gets top ranking from the team as well. And how great that an indie brand made the list? Sherri shares her thoughts on Tough Cookie eyeshadow "It's the shadow that I use more than any other in my arsenal. Plus, there's a lot of product in that good-looking little package! The color is close enough to brown to be neutral but just enough of something else (rust/eggplant) to be unusual. Simply perfect."
3. Urban Decay Vegan palette – this perfect palette wowed us all! Marilyn sums up our love perfectly: "The packaging is GORGEOUS, and the products inside are awesome in terms of quality, color, and staying power. I also love that the shadows are vegan, and the palette is made out of recycled paper–I love makeup companies with a cause!"
4. Erno Laszlo facial soaps – though we love new beauty breakthroughs, sometimes it's the good ol' classics that really excite us. Such is the case with this line of traditional soaps, in formulas for every skin type. Melinda loves it for her oily skin: "It makes my skin squeaky clean without drying it out, and helps control oil and acne". And Pam loves how it quenches her dry skin, as she says leaving it feeling "perfect".
5. OCC Lip Tar – this might just be the product we were most excited to try. We had heard gushing about this wonder product for some time. What a great surprise to find out the raves were well deserved! Mandabear agrees: "It's top quality lip color. Controllable pigmentation with only a dot of product? Amazing."
6. Rosebud Mocha Rose lip balm – this smart bunch loves a good multi-tasker! From cuticles and dry elbows, to the perfect balm, Rosebud does it all. Jennifer told us "I use it every day, multiple times. I use it when I have a smokey eye and when I'm not wearing any makeup at all. It moisturizes, has a slight scent I love, and a pretty, subtle color."
7. EmerginC Protocell cream – EVERY single person who got this to test put it on their top product list (me included!) Melissa summed it up for us: "This cream's magical formula impressed me so much, I bought another jar as soon as the first one was gone. I still don't understand how it can be so light, yet so effective!"
8. Fiberwig LX mascara – this also hold the record of the only product to be on the list 2 years in a row! With the LX formula there was a wand redesign (that honestly, not everyone loved) but the formula has wowed us without fail for a second year. Tiffany says "Fiberwig is my dream mascara. It's so hard to find mascaras that don't smudge and leave me with raccoon eyes at the end of the day. This stays exactly where I apply it until I take it off at night."
9. Hourglass Prodigy lipgloss – Hourglass is one of the brands we heart the most. Their luxurious formulas and packaging always impress us. So, it's no wonder the team flipped for Prodigy. Erin agrees "Love the innovative shape of the packaging. And Hourglass always seem to be at the top with their lipgloss formulas!"
10. Dr. Dennis Gross Alpha Beta Daily Peel – I was so happy to be able to share one of my top 3 Holy Grail skin care items with the team, and even happier to know that they loved it as much as I do. Krista explains why: "perfectly portable individual packets, super easy to use, and fantastic results–clearer skin, improved tone, brighter complexion. Where have these been all my life?"
we heartsters, what were YOUR favorite products of 2010?
Disclosure: This review includes products that were provided by the manufacturer/PR firm for our consideration. For more info, or any questions, please see our disclosure policy.