This post may contain affiliate links, which means I may receive a small commission, at no cost to you, if you make a purchase.
Because just one hair style is never enough…
photos: we heart this
Some days I'm quiet and reserved and I just want to do my job and get home to my kindle or DVR. Other days I'm all about being social and finding where the fun is at. More times than not, my hair ends up matching my mood. Some days I want a sleek, professional look, others I want flirty, bouncy or downright sassy locks.
I bet a few of you feel the same and your bathroom cabinet is probably as overstuffed as mine with flat irons, curling irons, curling wands, diffusers and condensers, not to mention those multiple bottles of product to help achieve the above mentioned manes. The trend setters at Remington know that one look is never enough, and they have come up with a solution to feed our chameleon hair habits, while reducing clutter in our cabinets, all without breaking the bank.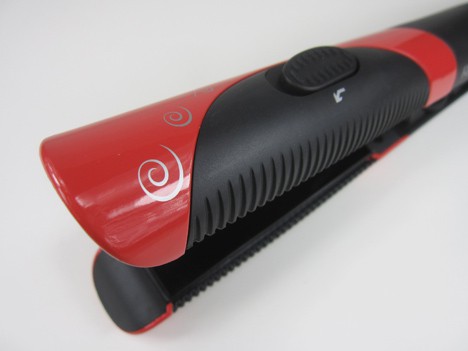 The Ultimate Stylist ($32.99) delivers four looks with one cool tool. This flat iron slides out to create curling wings so you can go from straight hair, to tight curls, voluminous spirals, or loose beach waves.
The Ultimate Stylist is packed full of additional features for its low price. It has the all-important ceramic plates for less damage and quicker styling. A 30 second heat-up time will achieve salon high heat of 400⁰F. There are 30 variable heat settings and the dial, as well as the on-off switch, are located on the inside of the handle, which I like so my hand doesn't inadvertently change the setting while I'm styling.
A few more bonus points should be awarded for the plates that can be locked shut when not in use, as well as the 360⁰ swivel cord to help combat cord tangling and aid in styling ease. Oh, and the 60 minute automatic shut-off means you never have to worry if you actually pulled that cord before you rushed out the door.
So will the Ultimate Stylist have the review team doing some spring cleaning on our overstuffed bathroom cabinets? We'll see when everyone checks in – especially our reviewers with long locks. My recently shorn hair doesn't go past my chin, so my best test was with the straightener.
I can attest that this iron does get HOT. I would advise that you use a good heat protectant cream at least until you find your exact setting – I did not at first, and didn't know anything was wrong until my husband walked in the bathroom and said "Do you know your hair is smoking? Can't you smell it burning?!" After that I turned the setting way down, put some thick cream on, and worked my way up the dial until I found my proper temperature.
I got my thick, coarse hair straight in a decent amount of time – not as quickly as with a higher-end iron, but not bad at all. The curling wings were awkward for me at first, but I varied my technique after watching this video and by pulling much thinner pieces of hair, I was able to achieve some good curls toward the top of my head. That was pretty exciting and did have me longing for my longer hair!
Pros:
• Low price point for a ceramic iron
• Up to four different looks possible, depending on length and thickness of hair
• 30 second heat up
• 30 variable heat settings
• 400⁰F salon high heat
• 60 minute automatic shutoff
• Easy action slide to create curls
Cons:
• Takes longer to straighten than with a salon iron
• Very small sections of hair must be pulled through to get good curl results
• Can damage your hair if you don't use a heat protectant cream
we heartsters and Testers – have you tossed a few tools and added some cabinet space thanks to the Remington Ultimate Stylist?
You may also like:
Disclosure: This review includes products that were provided by the manufacturer/PR firm for our consideration. For more info, or any questions, please see our disclosure policy.